Event Innovators 2019: Brett Hyman
The president and founder of NVE Experience Agency grows his business by identifying—and filling—gaps in the experiential marketing industry.
November 12, 2019
Photo: Prado Photo
Brett Hyman is a born entrepreneur. The 35-year-old Los Angeles native kicked off his career planning the after-party for his high school prom and launched his first business in college at Tulane University. That company, dubbed Night Vision Entertainment, eventually morphed into NVE Experience Agency, one of the country's most prominent event production and experiential marketing agencies with clients including Amazon Fire TV, W Hotels, GQ, and Adidas.
"I had to tell my parents that I wasn't going to law school," laughs Hyman, who transferred to USC in 2005 after Hurricane Katrina. "With [Night Vision Entertainment], I was a promoter in Hollywood, and I helped create a lot of structure and organization and infrastructure to what was a pretty chaotic nightlife business. That's where it all began."
In 2013, Hyman decided to shift his focus entirely to corporate events and production, and NVE Experience Agency was born. "I started to realize that events were not just a means to an end, but were a vehicle to help brands convey a marketing message, or tell a story, or engage and build their passionate evangelists and friends," he explains.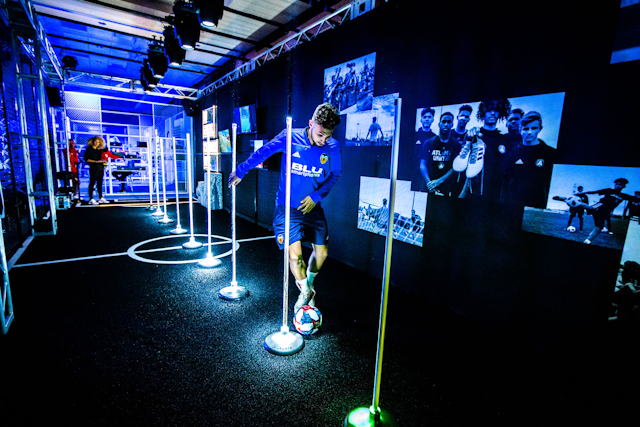 In April, Major League Soccer and Adidas tapped Hyman and his team to create a player lounge at the GA Cup in Dallas. At an interactive dribbling station, a tech-integrated agility course compared guests' abilities to those of top athletes.Photo: Courtesy of NVE Experience Agency
Today, NVE has more than 80 employees in its Los Angeles headquarters and an additional 10 in New York. As the company grows, Hyman continues to look for other ways to expand—which led to the launch of Treehouse Fabrication & Scenic in 2017.
"I looked at acquiring a company, and I realized I'd rather build it myself and really learn the craft," he says, noting that he wanted to create a fabrication company that really understood the unique needs and challenges of experiential marketing and events. He tapped a former event producer to run the business and now serves as its executive chairman.
For World Pride, held in New York in June, NVE built an eye-catching, flower-covered float for W Hotels.Photo: Courtesy of NVE Experience Agency
The partnership with Treehouse, which functions as a standalone company, ensures that NVE can control more of the production process, explains Hyman. "We can ensure that quality and efficiency are always high, which ultimately allows us to pass a really great price onto clients since there aren't two different entities marking things up, the way a normal production business might be."
This same thinking led to Hyman's most recent venture: the acquisition of millennial-focused start-up The Future Party this past April. NVE is working with the media company to expand its event capabilities—and, in turn, is tapping into The Future Party's 10,000-member community around the country.
"I'm really exploring what the full experiential ecosystem needs to be in this new era of social, interactive, and digital," says Hyman, who was particularly drawn to The Future Party's success with micro-events that engage fans year-round. "I thought one thing that was immediately missing from our ecosystem—and probably the greater ecosystem—is that understanding of community."
He continues: "A lot of traditional event production is thinking about what we're going to do and how we're going to do it. The Future Party answers the question of, 'Who is going to be there, and how do we engage that wider community to make [this event] more than a one-hit wonder?'"
Hyman plans to keep expanding his business to fill gaps in the industry. He's currently working to launch a content division, plus an interactive division focused on AR, VR, and other technology. 
Hyman also shares this passion for creating well-rounded experiential through published articles at the likes of Forbes, Fast Company, and AdAge. His goal with this type of thought leadership is to advance and improve the entire experiential marketing industry.
"When I'm sharing content, I'm sharing my vision of where the industry is headed, to educate the brands that aren't doing it yet, to make them think a bit bigger," he explains. "I illustrate NVE's thought process so brands that feel like-minded can approach us and ask those questions, and we can engage in conversations about where we're all headed."
Back to the Most Innovative People in Events and Meetings list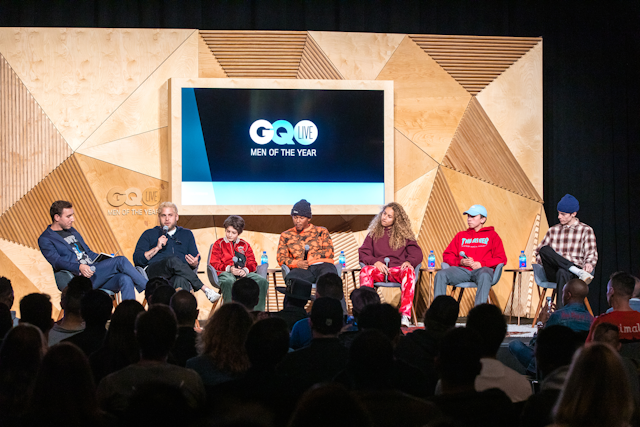 NVE Experience Agency produced the first live GQ Men of the Year event in Los Angeles in December 2018. Highlights included a custom-fabricated stage backdrop, plus a pop-up shop, live performances, and a rooftop reception.Photo: Kyle Goldberg