Top 10 Innovative Brands 2019: #5 National Geographic
The brand uses unique live events to bring its diverse programming to life.
November 19, 2019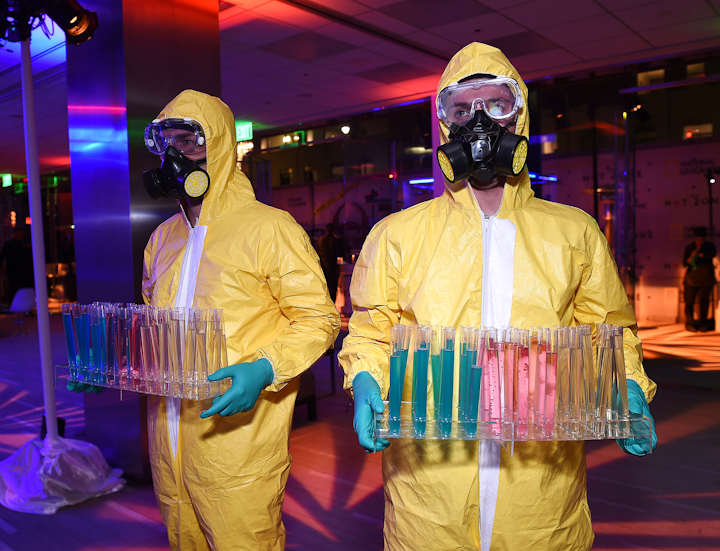 Photo: Frank Micelotta/National Geographic/PictureGroup
It's been a year of transition for National Geographic, as controlling interest of its television channel was bought by Disney—along with most of 20th Century Fox's other assets—in March. But Chris Albert, the executive vice president of communications, marketing strategy, and events, thinks the merger can only help the company's already robust slate of programming and out-of-the-box marketing initiatives.
"With the Disney merger, we are thrilled to be able to collaborate with other events teams within the company," says Albert. "It actually has opened up more opportunities for us to grow our event strategy."
Even before the merger, National Geographic's lean internal events team hosted an impressive lineup of premiere celebrations and promotions with unique show tie-ins, memorable interactive experiences, and focuses on sustainability and activism. One recent highlight came from D23, Disney's annual fan expo held in Anaheim, California, in August. National Geographic worked with Inspira Marketing Group on an educational activation dubbed "Beneath the Blue," where artists created life-size sculptures of marine animals and coral made from recycled single-use plastics and steel; roughly 8,400 pieces of reclaimed plastic were used. Projection mapping enhanced the under-the-sea look, and attendees were educated on National Geographic's "Planet or Plastic?" mission to reduce single-use plastics.
That focus on activism extends to the channel's new six-part documentary series Activate, which is co-produced by the nonprofit community Global Citizen and highlights the work of grassroots activists. The show takes an out-of-the-box twist on traditional product placement and sponsored content: It's underwritten by Procter & Gamble, and each episode includes information about how the consumer goods corporation is addressing the theme of the episode.
Not that National Geographic has ever been afraid to step outside the box, especially with its TV show promotions and premieres. In December 2018, for example, the network promoted its limited series Valley of the Boom, which focused on the tech boom of the 1990s, by turning WeWork co-working spaces in New York, Los Angeles, and San Francisco into '90s-style Internet cafés.
The brand worked with BCXP on the nostalgia-inducing spaces, which featured '90s computer games such as Oregon Trail, plus a step-and-repeat created with floppy disks. In exchange for social-media posts, guests could win '90s-theme prizes from a vending machine; they could also participate in onsite consultations with LinkedIn experts and have professional headshots taken.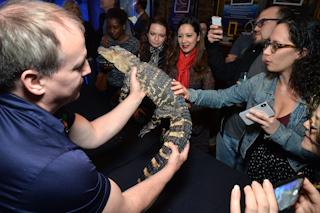 A press happy hour promoting docu-series Hostile Planet featured live animals such as a baby alligator.Photo: Anthony Behar/National Geographic/PictureGroup
And to promote the nature docu-series Hostile Planet, the brand hosted a press happy hour in New York in March. Guests entered through a lush, jungle-theme lobby, and held live exotic animals such as a Moluccan cockatoo, a baby alligator, and a three-banded armadillo. Facts about the different biodomes featured in the show were printed on napkins.
On the West Coast, meanwhile, the Los Angeles premiere for The Hot Zone in May transformed the Samuel Goldwyn Theater into a biohazard level 4 facility. Bartenders wore hazmat suits, food and drinks were served in Petri dishes and test tubes, and guests dined on nitrogen ice cream and other on-theme treats. And at Comic-Con International in July, the network promoted its World's Biggest Great White special by having five handlers carry a 20-foot-long fake shark through the streets of San Diego.
But one of the highlights of the year, says Albert, was the channel's Emmys for-your-consideration event, held at the Greek Theater in Los Angeles in June and produced by the Firm. "With the sheer amount of quality content, it's no surprise that Emmy competition becomes more challenging year after year," explains Albert. "We hosted almost 5,000 people for a chance to interact with our talent and experience our shows in unique ways." 
The daylong event, which the brand hopes to host annually, featured immersive activations such as a rock climbing wall and VR experience for the documentary Free Solo and a 1990s-style arcade for Valley of the Boom. There was also a cryotherapy lounge for Life Before Zero, and a Henna tattoo station for Story of God. A sound mixing stage showcased how The Hot Zone's score came together, and a live orchestra performed music from the shows.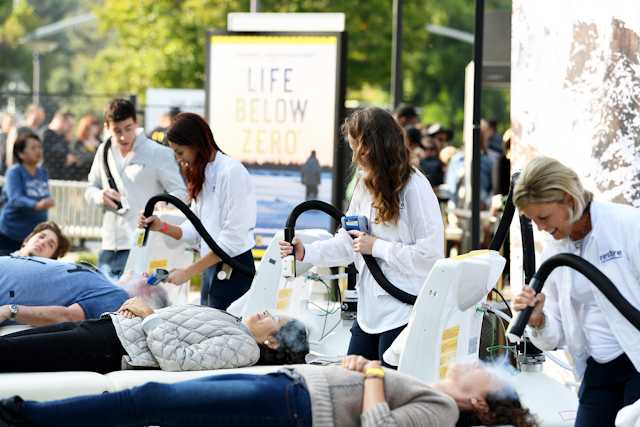 National Geographic's 5,000-attendee Emmys For-Your-Consideration event in Los Angeles included a cryotherapy lounge for Life Before Zero.Photo: Todd Wawrychuk/National Geographic/ABC
"National Geographic may not be able to compete in scale and scope like some of our competitors—but where we can compete is in our passion to support our filmmakers and talent, both in front of and behind the camera," notes Albert. "Our live events give us the opportunity to share this passion and showcase our programming to the community."
He continued, "For us, it's always about trying to come up with something unique where people can interact and experience our content in different, impactful ways."
Of course, the National Geographic brand extends well beyond television; its 131-year-old magazine still draws a reported 6.5 million subscribers per month. And in February, National Geographic became the first brand to top 100 million followers on Instagram. (As of this story, its follower count has risen to a whopping 125 million.) 
The company has a unique approach to Instagram, allowing its 130-plus photographers to post directly on the feed. "We have that 100 million number because they let the photographers control the stream," explained Nat Geo photographer Aaron Huey in an interview with Adweek. "Content is what other big brands are putting up. We are putting up our original stories on our own terms. That authenticity is what people are looking for."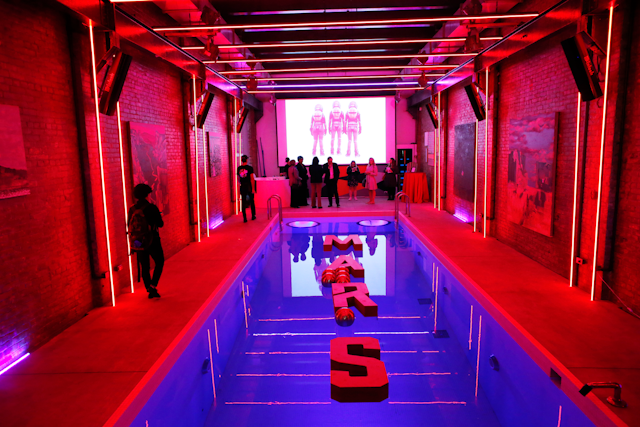 To celebrate season two of National Geographic's Mars, the brand hosted an intimate luncheon in New York in November 2018. The gathering featured a Mars-inspired menu (complete with 3-D printed chocolate) and a conversation with NASA food scientist Dr. Michele Perchonok. Photo: Kena Betancur/National Geographic/PictureGroup