Top 10 Innovative Brands 2019: #9 Booking.com
The travel accommodations platform has tapped into its niche within the experience economy.
November 19, 2019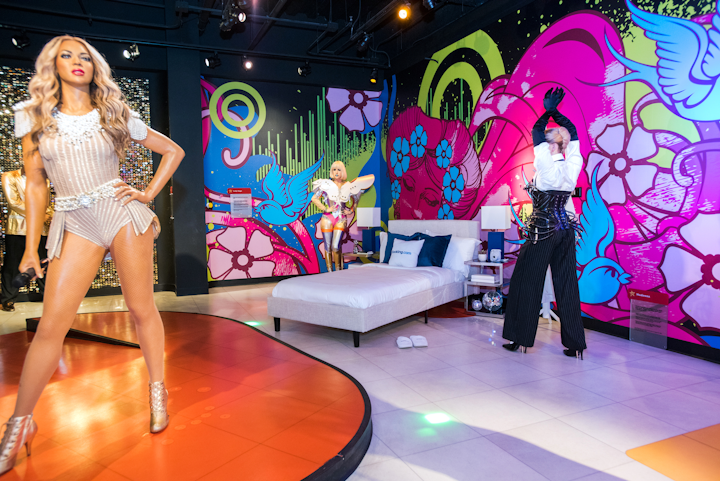 Photo: Courtesy of Booking.com
F.Y.I.: You could've slept with Brad Pitt—sorta.
Earlier this year, Booking.com launched its "Ultimate Slumber Party with the Stars" package at all Madame Tussauds locations across the U.S., including New York, Washington, Nashville, Orlando, Las Vegas, San Francisco, and Los Angeles. The sleepover featured V.I.P. entry to the attraction, a "selfie butler," and the chance to spend the night with a room full of celebs—or their wax likenesses anyway.
At Madame Tussauds in Orlando, guests stayed in rooms inspired by The Big Bang Theory.Courtesy of Booking.com

The Madame Tussauds stunt was just one of several recent one-of-a-kind stays consumers could have booked through the travel site this year. Other examples included a giant sandcastle on Coney Island, a dungeon in San Francisco, and a replica of the Addams Family mansion, which was tied to the release of the animated movie.
"We're always looking for new, fun ways to showcase our unique and alternative accommodations across the globe for our guests, leveraging key moments in time so that we can reach a broad audience," says Leslie Cafferty, senior vice president and head of global communications at Booking Holdings Inc. (The Amsterdam-based travel search engine is owned by Booking Holdings, which also owns Priceline.com, Kayak, Agoda.com, Rentalcars.com, and OpenTable.)
For years, Booking.com has offered a variety of unconventional accommodations, from national landmarks to caves to igloos. Recently, though, the brand has made big strides leveraging its huge listing inventory as well as newly created properties—such as the sandcastle—with its event marketing strategy.
"We really kicked off our entry into activations with our 'Book the U.S.' list in 2018, which highlighted the most unique accommodation in every state with three marquee accommodations—the Empire State Building in New York, the Nick Jonas tour bus in California, and the AmericanAirlines Arena in Florida," Cafferty explains.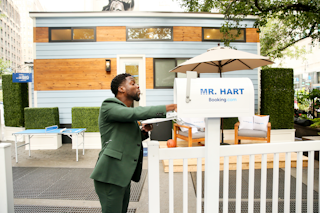 Kevin Hart teamed up with Booking.com to curate a tiny home in New York's Herald Square in September 2018.Photo: Angela Pham"This was a fully integrated program that involved PR, influencers, social, paid media, email marketing, and more. The initiative was a big success and we used key learnings to optimize activations moving forward, whether it was the Kevin Hart Tiny House in Herald Square or the 'Sand-sion' on Coney Island, both of which generated global, national, and regional attention and were booked by guests within seconds of going live."
In June, Arjan Dijk, who was previously Google's vice president of global marketing, was named senior vice president and chief marketing officer at Booking.com. Cafferty says that Dijk "has provided fresh thinking and vision that will help take our marketing efforts to the next level" and that the brand is currently in planning mode for the end of the year and the beginning of 2020.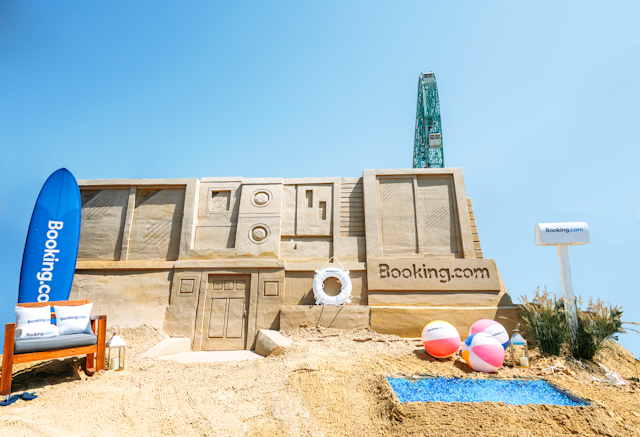 Located at Luna Park in Coney Island, Brooklyn, a giant sandcastle was available for guests to book in August for $29 per night.Photo: Courtesy of Booking.com