Top 10 Innovative Brands 2018: #1 Google
Through thoughtful, interactive sponsor activations plus its own massive conferences, Google and its related brands connect with customers in unconventional ways.
October 10, 2018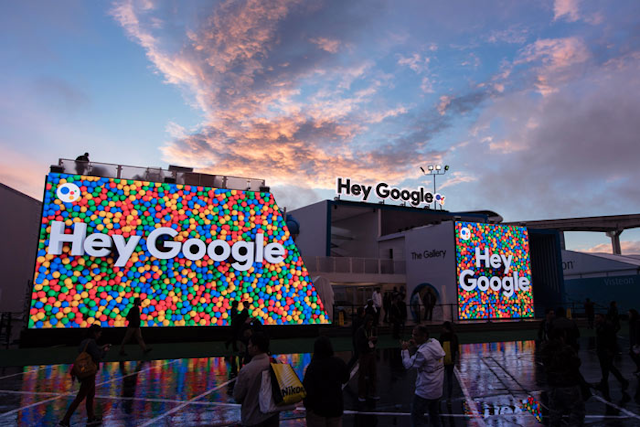 In January, Google had its first major presence at C.E.S. in several years. Designed as a promotion for Google Assistant, a 6,000-square-foot, three-story "playground" outside the Las Vegas Convention Center highlighted how the assistant can impact consumers' day-to-day lives. Photo: Courtesy of Google It's perhaps no surprise that one of the biggest brands in the world is also one of the most innovative when it comes to events and experiential marketing.
Underneath the Alphabet Inc. umbrella, Google owns big-name companies, including YouTube, Android, and Zagat—and continues to expand, drawing in more than $26 billion in the second quarter of 2018 alone.
Events have long been an integral part of the brand's strategy, both through its own massive conferences as well as through creative activations and marketing techniques. 
"'Purposeful and playful' remains at the heart of everything we do," says Philip McDougall, a creative director for the brand. "[We want to] create spaces that are equal parts inspiration, education, and entertainment."
McDougall largely works on Cloud-related events, including the buzzy Google Cloud Next. The San Francisco-based conference, which celebrates developers who build on the Google Cloud, grew to a whopping 25,000 attendees in 2018, a massive jump from 11,500 people the year prior. While the increase can partly be explained by customer growth, McDougall says the format of the conference, which takes a "world's fair"-inspired approach, also drew more interest.
"Our theme in 2018 was 'Made here together,' referencing our open-based philosophies and belief that the Cloud is for everyone," he explains. "So we focused on bringing an even wider community of thinkers and doers into the heart of the event … and created a colorful, fresh-flavored space where moonshots, mashups, and meet-ups between Googlers and our customers and partners could play out."
Cloud Next isn't the only internal event that takes an untraditional approach to conference planning: The brand's annual I/O developer conference has taken on a music festival-inspired format for the last few years. While this year's gathering stuck to a similar formula, it continued to expand, with information-sharing techniques, a ninth stage, and an increase in fun photo ops and activities. The conference also added forums that were less technical, such as a discussion on how artificial intelligence will impact the healthcare industry and a session with a Black Panther producer about designing for inclusion.
"As our events expand in size we focus super-hard on human-scale design," says McDougall. "We deliver environments that feel very personal and friendly, yet all-inclusive and high-energy, too."
Google also, of course, has plenty of consumer-facing events and activations that also don't skimp on innovation. For New York Fashion Week in February, for example, designer Rebecca Taylor teamed up with Tilt Brush by Google, a virtual-reality app that allows users to "paint" a three-dimensional space. The immersive Rebecca Taylor x Tilt Brush installation at her meatpacking district store in New York featured light-infused 3-D projection mapping that was enhanced with Tilt Brush and special effects through augmented reality.
Another clever stunt came from Google Home Mini in October 2017: To promote the virtual assistant speaker, the brand hosted a series of nine pop-up doughnut shops around the country (the idea came about because the Mini is roughly the size and shape of a doughnut). At a kiosk, visitors were able to ask the Mini a question, which triggered a box to slide down a chute. The box either contained a doughnut or a Mini. 
"The philosophy of 'show, don't tell,' is core to the way we turn up," explains McDougall. "We want to take the magic of our technology, find the people that can most benefit from it, and simply connect the two."
A clear example of this idea came during the third annual Girlboss Rally, held in Los Angeles in April. Instead of a typical sponsor activation or photo moment, Google Chromebook created a series of workshops about how entrepreneurs can use their tools. In an added thoughtful touch, signage on the walls discussed gender inequality in the start-up community.
And this past January, Google had its first major presence at C.E.S. in several years. Designed with event firm Sparks as a promotion for Google Assistant, a 6,000-square-foot "playground" outside the Las Vegas Convention Center highlighted how the assistant can impact consumers' day-to-day lives.
The playground took over three levels, with the first featuring a Google Home Mini Donut Shop and a juice bar powered by Google Assistant. On the second level, a multi-room display took V.I.P.s through a 360-degree theater, while the third floor offered meditation sessions and a Starbucks cafe. A 21-foot slide brought attendees back to the main level. 
Google's C.E.S. presence also included three 20-foot-tall gumball machines strategically placed throughout Las Vegas. Consumers could interact with the machine by asking a question, which triggered the release of a giant gumball featuring Google-branded prizes and gift cards.
"We look to fill every learning space with surprise and delight photo moments—color and creativity is a great catalyst for engagement," says MacDougall. "It's a natural extension of the philosophy we bake into our own Google campuses."
Back to the Top 10 Innovative Brands list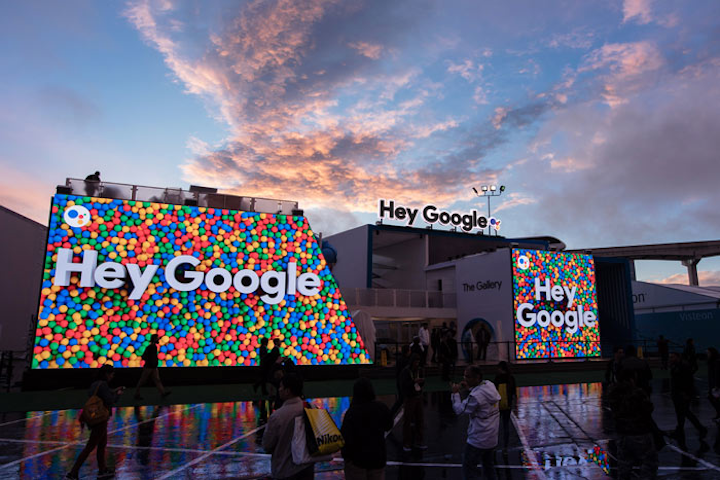 Photo: Courtesy of Google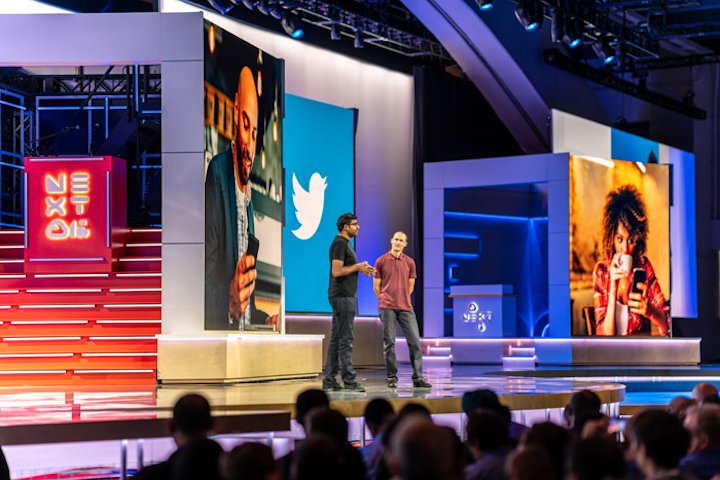 Photo: Bennett Sell-Kline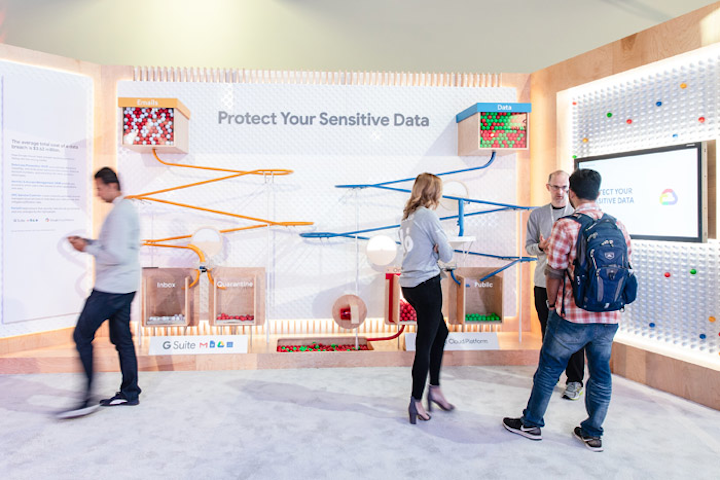 Photo: Mark Wickens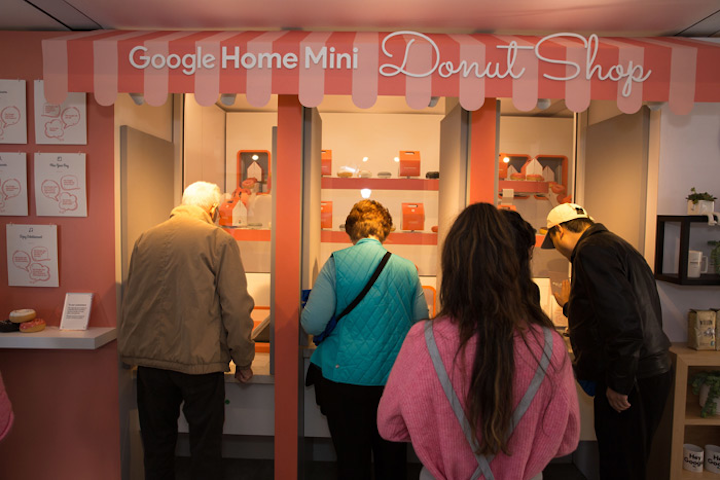 Photo: Courtesy of Google
Photo: Courtesy of Google
Photo: Courtesy of Google
Photo: Chris Swoszowski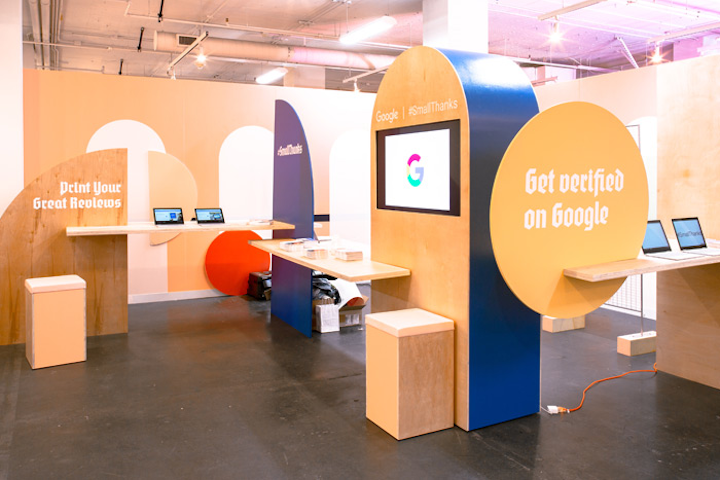 Photo: Ben Draper
Featured Venues/Suppliers: