New York's Top 100 Events 2012
February 7, 2012
With most industries steadily getting back on track after the struggles of the recession, the city's event calendar is once again packed year-round. Oversize happenings like Fashion Week, Comic Con, and the Auto Show are now bigger than ever, but the city is also home to upstart events celebrating everything from blogs and social media to handcrafted cocktails. These are the 100 events that make the biggest impact year after year—plus a few to keep an eye on.
Fashion Industry Events
1. Fashion Week is estimated to pour more than $200 million into the city's economy during each of the semi-annual shows. February 9-16 and September 13-20.
2. Council of Fashion Designers of America's Awards, a $10,000-a-seat black-tie gala hosted by Anderson Cooper in 2011, is a must-attend event for industry bigwigs. June 4.
3. Up From 4: Fashion Group International's Night of Stars Benefit is widely watched by the fashion-conscious, both for the awards given out, and to see what celebrities, designers, and editors wear on the red carpet. October.
4. Fashion's Night Out may have lost some of the industry buzz it elicited upon launching in 2009, but it has grown into a consumer behemoth with versions in 250 cities. September.
5. New to the List: Victoria's Secret Fashion Show, which debuted in New York in 1995, has gone through many iterations over the years. In 1999, an Internet broadcast hyped during the Super Bowl brought unprecedented attention; in 2001, it was aired on TV for the first time. After two years in L.A. and one in Miami, the show returned to the 69th Regiment Armory in 2009, where it has since settled on a fashion-and-rock format that included Kanye West and Maroon 5 in 2011. November.
6. Whitney Art Party celebrated the groundbreaking on the museum's new meatpacking district home with a stylish party that brought out everyone from designer Jason Wu to basketball star Amar'e Stoudemire. Spring
7. Accessories Council ACE Awards honored Nicole Richie as Influencer of the Year and Phillip Tracey as Designer of the Year at the 15th annual gala in 2011. November.
One to Watch: CFDA/Vogue Fund Awards has up-and-coming designers celebrated by the likes of Calvin Klein and Anna Wintour—plus hefty cash prizes ($300,000 for the winner and $100,000 for two runners-up to take home). November.
Advertising Industry Events
1. Advertising Week included 200 mini-events and 60,000 attendees in 2011, focusing heavily on social media, with the involvement of companies like Facebook, Foursquare, and Google. October 1-5.
2. Advertising Council's Public Service Awards brought 1,100 industry insiders to the Waldorf-Astoria for this 57th annual gala in 2011. November.
3. Clio Awards, the 52-year-old ceremony that returned to New York in 2010, was revamped again in 2011, shortened to one day, with only 14 trophies presented on stage. May 15.
4. Ad:Tech has grown to 10 shows in seven countries, and its annual New York stop is a must-attend event for digital marketing professionals. November.
5. One Club's One Show, celebrating creativity in advertising and design, has expanded in recent years to include photography, art, and interactive events during spin-off Creative Week NYC. May 7-13.
One to Watch: Ad Age's Digital Conference, now five years old, has established itself as one of online advertising's premier industry meet-ups, with a sold-out crowd of 700 in 2011. April.

Parades, Festivals & Holiday Events
1. Macy's Thanksgiving Day Parade took off for the 85th time in 2011, with more than 3.5 million spectators, along with another 50 million television viewers. November 22.
2. New Year's Eve in Times Square brings one million revelers to Times Square each year, plus live broadcasts on ABC and MTV. December 31.
3. West Indian-American Day Carnival is perhaps the city's most colorful event, bringing three million merrymakers to the streets of Brooklyn. September 3.
4. National Puerto Rican Day Parade, launched 55 years ago, has since seen attendance grow to nearly two million people. June 11.
5. St. Patrick's Day Parade, the nation's longest-running celebration of Irish-American pride, has graced the streets of New York since 1762. March 17.
6. Rockefeller Center Tree Lighting kicked off the 2011 holiday season with live performances from Katherine McPhee and Cee Lo Green. November.
7. NYC PrideFest and Parade hosts more than one million participants for a week of parties, cultural events, and the signature gay pride parade. June 16-24.
8. Up From 9: World Science Festival, now in its fifth year, attracts 150,000 attendees for its family friendly lineup of exhibitions and demonstrations from many of the world's leading scientific minds. May 30-June 3.
9. Village Halloween Parade featured 53 bands, hundreds of giant puppets, and nearly two million costumed marchers for this 39th annual event. October 31.

Political & Diplomatic Events
1. Clinton Global Initiative is one of the world's most prestigious invitation-only global gatherings, with more than 50 heads of state participating in 2011. September.
2. Alfred E. Smith Memorial Foundation Dinner traditionally brings both major party presidential nominees in election year's to the Waldorf-Astoria for a pre-election charity fund-raiser. October 18.
3. U.N. Foundation/U.N.A.-U.S.A Global Leadership Awards Dinner, attended by diplomats, business leaders, and other U.N. supporters, honored Norwegian Prime Minister Jens Stoltenberg in 2011. November.
4. The Inner Circle Show, a self-parodying summit of local politicos, saw Mayor Michael R. Bloomberg flying onto stage in a Spiderman costume in 2011. March 31.
One to Watch: National Action Network Convention, a 20-year-old event founded by the Rev. Al Sharpton, has taken on a higher profile in recent years, with President Obama attending in 2011. April.
One to Watch: Women: Inspiration and Enterprise Symposium, a two-year-old event held during U.N. Week, featured Melinda Gates, Ashley Judd, and Queen Rania of Jordan in 2011. September.

Benefits
1. The Metropolitan Museum of Art's Costume Institute Benefit, the "party of the year," raised a record $10.4 million in 2011 with an 800-person gala celebrating late designer Alexander McQueen. May 7.
2. Robin Hood Foundation Benefit couldn't repeat 2010's record-setting haul of $87.8 million—bolstered by a gift from George Soros—but the $47.4 million take in 2011 still dwarfed every other charity event. May.
3. Up From 4: The Museum of Modern Art's Party in the Garden gets buzzier every year. In 2011, it featured a Cartier sponsorship, live set from Kanye West and Jay-Z, a 1,500-person after-party, and $4 million raised. May.
4. Whitney Museum of American Art Fall Gala was relocated to Pier 57—anticipating the museum's upcoming move downtown—and raised a record-breaking $3.2 million. October.
5. American Ballet Theatre's Spring Gala celebrated the ballet's 71st season with boldface names like Anna Wintour, Prince, and co-chairwoman Caroline Kennedy. May.
6. The Metropolitan Opera's Opening Night Gala filled the Tent at Lincoln Center with 1,100 guests and an elaborate David Stark design scheme inspired by the production of Anna Bolena. September.
7. New York Public Library Lions Benefit brings 600 high-society types to honor prominent writers, including Jonathan Franzen and Ian McEwan in 2011. November.
8. Central Park Conservancy's Frederick Law Olmsted Award Luncheon, also known as "the hat luncheon," raised $3.2 million to support the park's preservation efforts. May.
9. Frick Collection's Young Fellows Ball welcomed 600 patrons to the collection's Fifth Avenue mansion for the 12th outing of one of the year's top parties for young socialites. Winter.
10. Up From 11: Friends of the High Line Benefit has grown consistently since its inception in 2001, hosting 900 guests last year, among them Diane von Furstenberg and Barry Diller, who have pledged $20 million to finance the park's completion.  May 1.
11. Society of Memorial Sloan-Kettering Cancer Center Spring Gala, which brings a mix of society types, medical patrons, and celebrities, moves to the Metropolitan Museum of Art for its fifth edition in 2012. April 25.
12. The New York Botanical Garden's Conservatory Ball marked the garden's 120th anniversary in 2011 with a 600-person party that traditionally closes the spring gala season. June.
13. Keep a Child Alive's Black Ball upped its fund-raising take to $3 million with performances from Usher, Norah Jones, and co-founder Alicia Keys. November.
14. Up From 17: Alvin Ailey American Dance Theater Opening Gala, always one of the holiday season's glitziest parties, added extra panache in 2011 with Michelle Obama serving as co-chairwoman and John Legend performing. Fall.
15. Samuel Waxman Cancer Research Foundation's Collaborating for a Cure Gala brought more than 1,100 guests to the Park Avenue Armory for a dinner, auction, and live performance from Kid Rock. The benefit raised nearly $3.2 million. November.
16. Elizabeth Glaser Pediatric AIDS Foundation's Kids for Kids Family Carnival, slightly toned down from past years in its 18th outing, hosted 600 people and raised nearly $1 million. November.
17. New to the List: Amfar New York Gala, held during one of the city's busiest periods—the February edition of Fashion Week—has been able to both attract much of the crowd in town for that event, and stand out in its own right as one of the year's most anticipated fund-raisers. The 2011 benefit, marking Amfar's 25th anniversary, honored Bill Clinton, Elizabeth Taylor, and Diane von Furstenberg, and raised $1.5 million. February 8.
18. Winter Antiques Show Opening Night Gala is one of the first must-attend events of the year on the social calendar—and is now followed a week later by the antique show's Young Collectors Night. January 19.
19. New Yorkers For Children Fall Gala honored New York Knicks star Carmelo Anthony and raised $1.7 million for the foundation. September.
20. New York City Ballet Fall Gala saw Sarah Jessica Parker, Naomi Watts, and Stella McCartney walking the red carpet at Lincoln Center in 2011. September.
One to Watch: Brooklyn Museum's Brooklyn Artists Ball brought more than 600 socialites, celebrities, and art world types to the museum in 2011, raising $575,000. Spring.
One to Watch: New York City Opera's Spring Gala falls off our list this year, but the "opera ball" still draws a loyal crowd, and we wouldn't be surprised to see it return. Spring.

Sports Events
1. U.S. Open brought 650,000 tennis fans to Queens in 2011, despite two rain-soaked weeks that led to a delay in the finals matches. August 27-September 9.
2. ING New York City Marathon had 47,000 runners starting the race in Staten Island, while Kenyan Geoffrey Mutai shattered the course record in the men's race. November 4.
3. N.F.L. Draft, now a three-day format with a live television broadcast, returns to Radio City Music Hall this spring. April 26-28.
4. Belmont Stakes, the final leg of horse racing's Triple Crown series, saw attendance rise to 55,000 in 2011, while bets placed rose to more than $10 million. June 9.
5. Westminster Kennel Club Dog Show has featured nearly 300,000 dogs over the years and will return for a 136th outing in 2012. February 13-14.
One to Watch: Veuve Cliquot Polo Classic, held here for the past four years, brought the likes of Hugh Jackman and Marc Jacobs to Governor's Island in 2011. June.
One to Watch: Five Boro Bike Tour has boomed in popularity recently, with 30,000 cyclists in 2011, making this the country's largest recreational bike race. May 6.

Entertainment Industry Events
1. Upfront Week seemed to have definitely emerged from the recession in 2011, with both broadcast and cable television networks hosting a packed four days of presentations and parties. May.
2. Tribeca Film Festival marked its 10th anniversary with 513 screenings, plus community events, panel discussions, and music performances around Manhattan. April 18-29.
3. Up From 4: CMJ Music Marathon and Film Festival has grown into New York's largest music event, bringing 120,000 fans to 80 venues across the city. October.
4. New York Film Festival, which kicks off the Oscar anticipation season with its roster of highbrow premieres, will celebrate its 50th anniversary in 2012. September 21-October 7.
5. Tony Awards, one of the longest-standing events on our list, unveiled several major changes for its 65th outing in 2011. The ceremony moved uptown from the 6,000-seat Radio City Music Hall to the more intimate 2,894-seat Beacon Theatre; the opulent after-party hosted 1,700-guests at the Plaza Hotel; and fans watched a live simulcast of the show in Times Square. June.
6. Up From 8: Museum of the Moving Image Salute celebrated the completion of the museum's $67 million renovation, while Tina Fey, Jimmy Fallon, and Ben Stiller honored Alec Baldwin. Winter.
7. New York Television Festival brings together 8,500 industry professionals and launched a spinoff London event in 2011. September.
8. Film Society of Lincoln Center's Chaplin Gala paid tribute to Sidney Poitier in 2011, with appearances by Morgan Freeman, Bill Cosby, and Mary-Louise Parker. Spring.
9. Gotham Awards kick off movies' trophy season with a gala event at Cipriani Wall Street that reliably features plenty of A-list stars. November.
One to Watch: Northside Festival showcased 250 bands in its second year, bringing 100,000 music fans for four days of shows throughout Brooklyn. June 14-17.

Food & Restaurant Industry Events
1. James Beard Awards bring 2,000 guests to Avery Fisher Hall for the food world's most prestigious prizes, followed by an increasing array of after-parties at restaurants around town. May.
2. New York City Wine & Food Festival fills lower Manhattan with 40,000 foodies for four days of tastings, parties, and celebrity chef events. Fall.
3. International Restaurant and Foodservice Show of New York brings 14,000 restaurant professionals to the Javits Center each spring. March 4-6.
4. Chef's Tribute to Citymeals-on-Wheels featured more than 50 of the country's most recognizable chefs in 2011, raising $782,000 from 900 guests. June.
5. Food & Wine's Best New Chefs Event brought 500 guests to the Upper East Side's Bohemian Hall for a celebration of the country's best up-and-coming toques. April.
One to Watch: Manhattan Cocktail Classic put on 74 events over five days in its second outing, bringing 5,500 attendees to venues across three boroughs. May 11-15.

PR Industry Events
1. P.R.S.A.'s Silver Anvil Awards are the industry's most prestigious prize for successful public relations campaigns. June 7.
2. PR Week Awards, now in its 12th year, hands out 33 trophies in a gala dinner at the Grand Hyatt. March 1.
3. Sabre Awards, new to our list last year, will expand in 2012 with new categories that recognize infographics, viral videos, and more. May 8.
One to Watch: Council of Public Relations Firms' Critical Issues Forum brings together 200 industry insiders to discuss the big issues of the day with speakers that included former White House Press Secretary Robert Gibbs and Mashable founder Pete Cashmore in 2011. October.
Beauty Industry Events
1. FiFi Awards, the "Oscars of the fragrance industry," welcomed 800 guests in 2011 and included a live audience vote for the Fragrance Superstar of the Year award. May 21.
2. International Beauty Show drew more than 57,000 attendees for the 2011 edition of one of the world's largest events for beauty industry professionals. April 22-24.
3. Breast Cancer Research Foundation Benefit raised $4.5 million in 2011, with perennial performer Elton John joined by Sting, M.C. Elizabeth Hurley, and 1,100 attendees. April 30.
Trade Shows & Conventions
1. New York International Auto Show will display nearly 1,000 new vehicle models across the newly expanded Javits Center this year. April 6-15.
2. New York Comic Con, now co-located with the Anime Festival, surpassed 100,000 attendees for the first time in 2011. October 11-14.
3. New York Boat Show saw a small dip in attendance in 2011 but at 45,000 guests is still one of the city's largest gatherings of boating enthusiasts. January 4-8.
4. New to the List: International Motorcycle Show, which visits 11 other cities before landing in New York, reeled in 67,000 attendees in 2011. January 20-22.
5. New York International Gift Fair, a biannual gathering of retailers, features 2,800 exhibitors and more than 35,000 attendees. January 28-February 2.
6. The Greater New York Dental Meeting, with nearly 60,000 participants, is one of the country's largest gatherings of health care professionals. November 23-28.
7. American International Toy Fair, the largest toy trade show in the Western Hemisphere, displays more than 100,000 products. February 12-15.
8. Up From 9: The New York Times Travel Show, a consumer expo launched in 2004, continues to grow every year, with 24,000 attendees over three days. March 2-4.
9. National Retail Federation Annual Convention and Expo turned 100 in 2011 and set an all-time record, with 22,000 attendees. January 15-18.
One to Watch: AKC Meet the Breeds, a pet convention, hosted 35,000 people at the Javits Center for its third go-around in late 2011. November.
Hospitality Industry Events
1. N.Y.U.'s Hospitality Industry Investment Conference is one of the hotel industry's highest level meetings, drawing hundreds of C.E.O.s and executives. June 3-5.
2. International Hotel, Motel and Restaurant Show features 700 exhibitors and 30,000 attendees from the lodging, dining, and travel industries. November.
3. Hospitality Sales and Marketing Association International Adrian Awards recognizes the year's best industry practices at a black-tie gala for 1,000 guests. February 27.
Art & Design Events
1. The Armory Show, New York's largest art fair, expanded further in 2011 with 270 galleries and dealers attracting 65,000 visitors. March 8–11.
2. International Contemporary Furniture Fair fills the Javits Center with exhibits from 550 designers, architects, and manufacturers hailing from 39 countries. May 19-22.
3. Cooper-Hewitt National Design Awards hosted 585 patrons for a $1 million gala, while the accompanying National Design Week featured educational events across the city. October.
4. Architectural Digest Home Design Show features exhibits from 350 brands, plus the co-located Artist Project fair and Diffa's Dining by Design table installations. March 22-25.
5. The Art Show, an intimate alternative to the sprawling Armory Show, features 70 art dealers and a gala preview raising funds for the Henry Street Settlement. March 7-11.
6. New to the List: Dumbo Art Festival brought on corporate sponsor AT&T last year, expanded to more than 500 participating artists, and saw attendance top 200,000. September 28-30.
7. Lower Manhattan Cultural Council Dinner attracted more than 700 patrons, including Robert De Niro and Whoopi Goldberg, boosting fundraising over the $1 million mark. April.
8. Dia Art Foundation Gala moved downtown to TriBeCa's Three Sixty and attracted hip art world types, like filmmaker Julian Schnabel, designer Helmut Lang, and actress Parker Posey. November.
Ones to Watch: Pulse Contemporary Art Far will move outside of Armory Arts Week for the first time in 2012 and instead coincide with the first New York edition of London's highly successful Frieze Art Fair. May 3-6.
Media Events
1. Time 100 Gala didn't have quite as much star power in 2011 as it has seen in past years, but it's still the only time you'll find everyone from Blake Lively to Chris Christie to Bruno Mars all in one room. Spring.
2. National Magazine Awards, always a must-attend evening for editors and publishers, switched formats in 2011 to a dinner event hosted by Katie Couric. May 3.
3. National Book Foundation's National Book Awards, now in its seventh decade, shook things up in 2010 with the debut of a spinoff party for young professionals in publishing. November.
4. The New Yorker Festival is a packed three days of events and discussions; in 2011, it featured big names like Owen Wilson, Amy Poehler, Frank Gehry, and Nancy Pelosi. Fall.
5. The Webby Awards, one of the first online media events to make a splash 16 years ago, has expanded to Internet Week, seven days of meet-ups, seminars, and parties. May 14-20.
6. Up From 7: Glamour Women of the Year Awards, which honored Jennifer Lopez, Lea Michele, and Gabrielle Giffords in 2011, has become one of the East Coast's most-watched red carpet events. November.
7. Peabody Awards, which celebrates quality television programming, marked its 70th anniversary in 2011 with a gala ceremony at the Waldorf-Astoria. May 23.
8. New to the List: Social Media Week brought 10,000 attendees to more than 230 events in its third-annual edition by partnering with both old media (The New York Times) and new (Google). February 13-17.
9. New York Women in Communications' Matrix Awards honored actress Betty White and Facebook C.O.O. Sheryl Sanberg, among others, at a luncheon in 2011. April 23.
10. Bloomberg BusinessWeek Media Summit, an all-things-media conference designed for an executive-level crowd, featured speakers like AOL C.E.O. Tim Armstrong and Hearst Magazines president David Carey in 2011. March 7-8.
Ones to Watch: BookExpo America inched away from paper in 2011 by partnering with International Digital Publishing Forum on a new digital exhibition space and co-locating with BlogWorld and New Media Expo's first East Coast edition. June 4-7.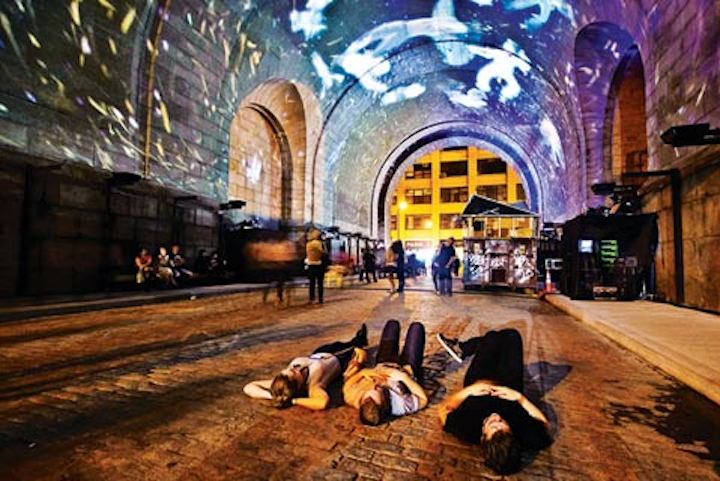 Photo: Jane Kratochvil Photography for The Dumbo Arts Festival 2011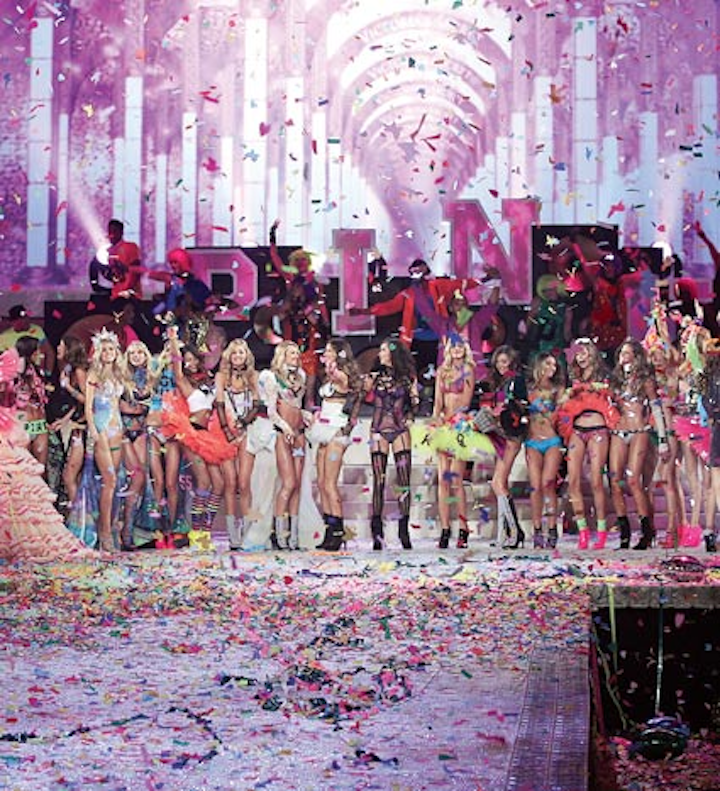 Photo: Courtesy of Victoria's Secret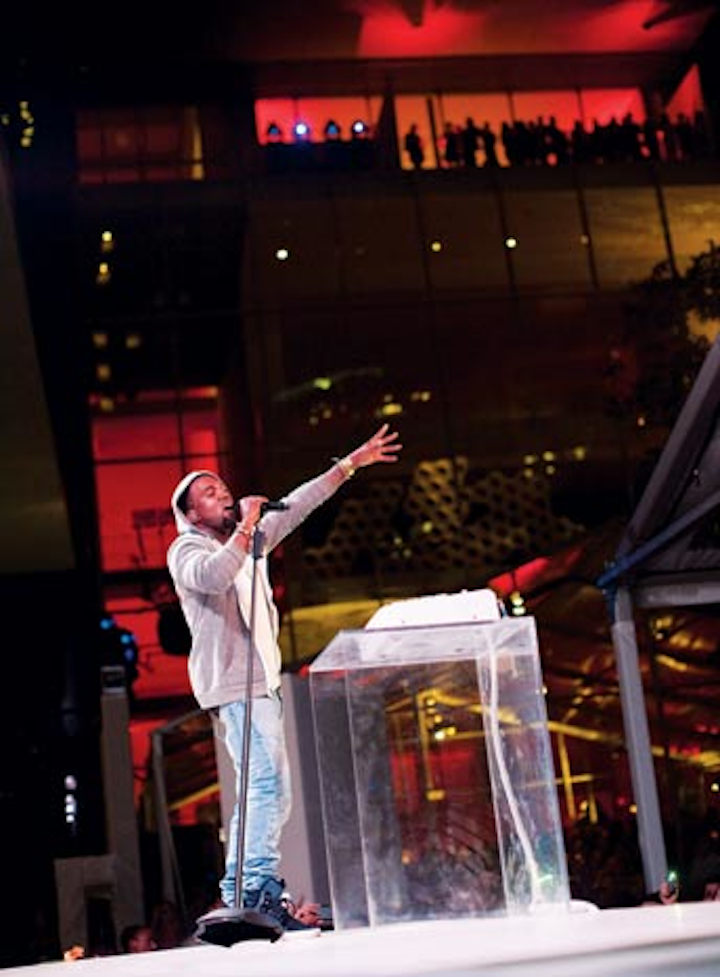 Photo: Scott Rudd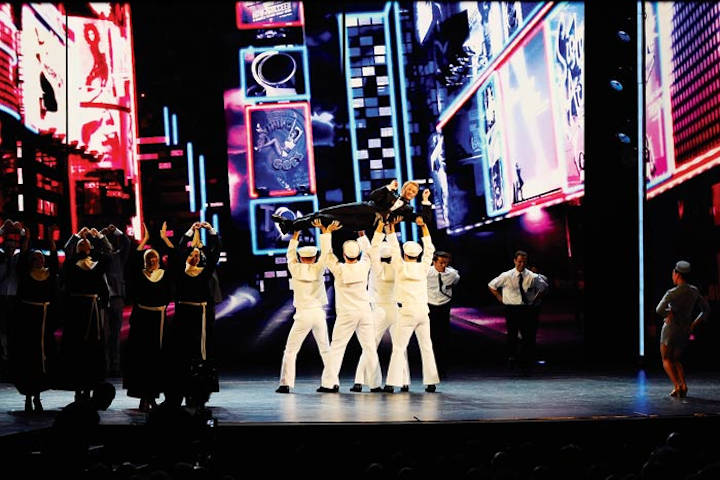 Photo: Andrew H. Walker/Getty Images
Photo: Jane Kratochvil Photography for the Dumbo Arts Festival 2011
Featured Venues/Suppliers: