Top 10 Innovative Brands 2017: #3 Delta Air Lines
The company weaves technology into events that target consumers as well as its own employees.
June 14, 2017
Delta Air Lines has tried to create goodwill, awareness, and excitement around the customer experience through innovative events around the country. The brand works together with its experiential agency of record, MKG.
"Delta is always working to develop innovative ways to improve and enhance the customer experience. When we're reaching out to customers, innovative experiential marketing allows Delta to engage in unexpected and delightful ways and, in turn, build brand affinity," says managing director of marketing communications Julieta McCurry. "We always work to align with trends, conversations, and the right people, places, and, events that our customers care most about."
For instance, to unveil Delta's new uniforms by Zac Posen and Lands' End, Delta created an event in October in Atlanta with a visually stunning runway that blended fashion and air travel, while also harnessing the social power of the company's employees: The brand invited all 80,000 global employees to tweet, share, and post using a designated hashtag, while employee models walked in a runway show commenced by Posen and Delta C.E.O. Ed Bastian.
One of the most buzzworthy parts of the event featured interactive mirrors where guests could virtually try on the looks they had just seen on the catwalk. Guests could select the looks they wanted to try on, broken down by different groups and departments at Delta; looks were then overlaid onto their reflections so they could digitally try them on. After selecting their favorite outfits, guests could share their photos on social media. A live simulcast was available to Delta employees across the globe.
Separately, during the 2016 season for Seattle pro soccer team Sounders FC, from May through October, Delta invited fans from communities all around Seattle to partake in the making of a large canvas that consisted of six different pieces of fabric, each telling the story of how Delta supports the local community with Sounders FC as the common thread. Premiered on the field in front of 40,000 fans, the canvas took shape over the course of the season. Delta also invited fans and employees to participate in the construction, and the final Fabric of Sounders FC was unveiled on the field at a September match against the Chicago Fire.
Smaller recent activations for the brand included a game-based experience at a private party the night before the Oscars in Los Angeles. To highlight routes from Los Angeles International Airport, Delta created its own version of a matching game, using plane windows as the revealing devices. Guests walked up to a wall lined with various plane windows; each was a touch screen that displayed a closed window and when touched, a video of a destination that Delta flies appeared. To play the game, guests had two chances to open and match three of the windows that had the same video behind them. When guests matched three windows, they won a prize. After a guest played, the content inside the windows switched so that every game was different.
Another prize-theme activation, Delta's Suitcase Flyaway game took place at private events the nights before the Oscars and Emmys in Los Angeles. The booth activation included a custom-developed digital touch-screen game, where guests used their fingers to match colored suitcases to their respective matching airport code conveyor belts. Top scorers of the night received prizes like Delta One and first-class flights, Sky Club memberships, and Lakers game tickets.
Most recently, 10 years after emerging from Chapter 11, Delta rang the New York Stock Exchange Closing Bell on May 3 to commemorate a transformative decade in the airline's history. As part of the milestone, the brand showcased its resurgence through an interactive travel activation focused on Delta's improvements to the customer experience. The hands-on display followed a traveler's process, from booking a flight, to the airport, all the way through landing and beyond.
"Delta is focusing more than ever on developing event marketing programs that extend beyond one-day activations and that live in social and digital spaces," McCurry says. "We are also weaving our brand into the fabric of communities by aligning with the passions of our customers and always looking for ways to be brand leaders, not only within the airline industry, but globally."
Back to the Top 10 Innovative Brands list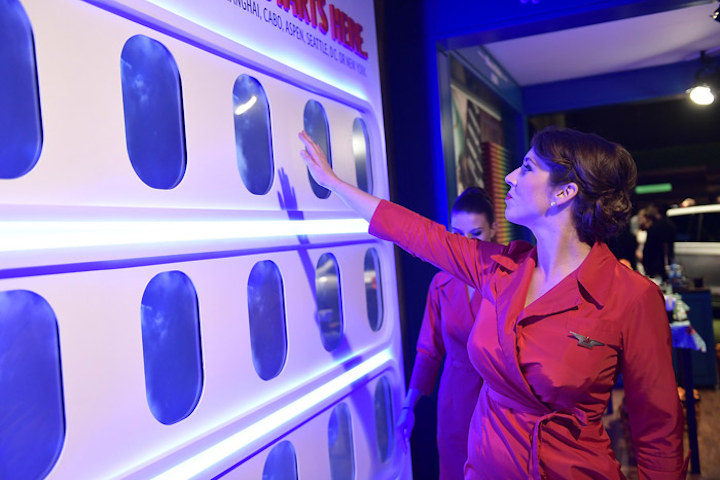 Photo: Matt Winkelmeyer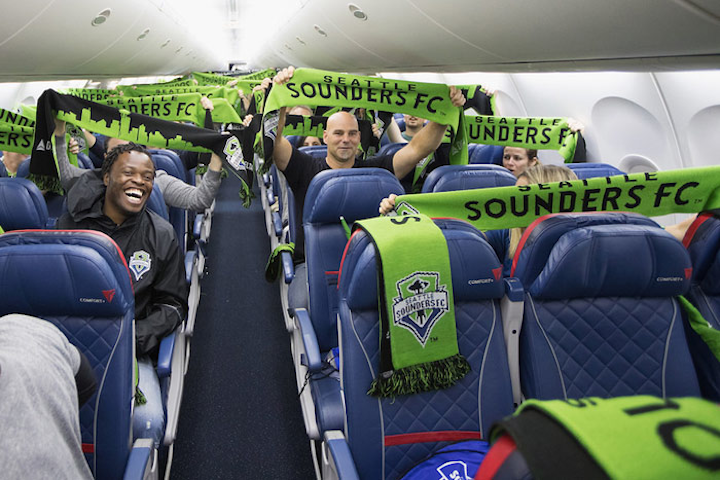 Photo: Mat Hayward/Getty Images for Delta Air Lines
Featured Venues/Suppliers: