Most Innovative Meetings 2018: #15 Surefire Girls
How crowdsourcing content makes a Gen Z event meaningful.
January 15, 2019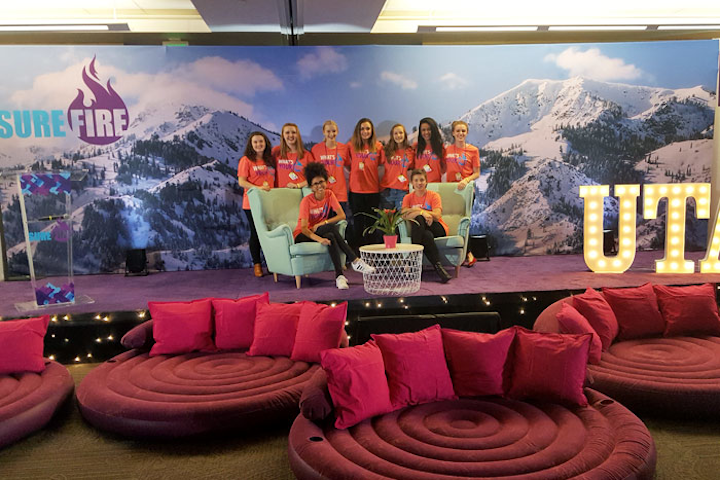 Photo: Courtesy of Surefire Girls
Heather Mason, founder and C.E.O. of Caspian Agency, has executed events for the United Nations, the Rockefeller Foundation, and a host of Fortune 500 companies, but it's a passion project, Surefire Girls, that gets her creativity flowing.
"It's like a thousand Christmases rolled into one," says Mason of the one-day event that focuses on spreading positive attitudes and empowerment to girls. "It's like the feel-good, self-esteem circus has come to town," said Mason of the event, which originated in 2013 in Los Angeles and was held in Salt Lake City last November.
From blinged-out badges to a simple-but-fun registration process that involves choosing colored rubber bracelets, this conference certainly stands out from the pack, but it's the content origination and execution that is perhaps most unusual. Instead of pushing an agenda, Mason turns to crowdsourcing, recruiting young ambassadors to lead focus groups to determine the groups' interests.
"We take the top 10 topics and find area organizations that can present complementary material," Mason said. "Our event is designed to showcase the ecosystem in that major metropolitan city and bring together organizations that wouldn't have the resources or impetus otherwise."
Whether it's "All About the Benjamins," focusing on finances or "Foot in the Door," discussing internships, the sessions have no more than 25 participants. It's all in an attempt to capture that holy grail of events—engagement—but by crowd-sourcing, Mason has hit on something new in the industry.
"The girls come up with the ideas for the sessions, they're interviewing the speakers, it's all about what they want," said Mason, who believes it's only a matter of time before the adults catch on. "In marketing, we crowd-source everything, so why don't we do it with events? Survey your audiences about what they want. See if they want more networking time and give them what they want. I think the days of the sage on the stage are going away. The next generation just isn't going to put up with it."
Previous: #14 M.P.I.'s World Education Congress

A version of this story appeared in the Winter 2018 issue of BizBash.

Featured Venues/Suppliers: