Outdoor Spaces for Summer Events
May 28, 2003
New Outdoor Spaces

Ava Lounge
The new terrace above this stylish hotel bar has wood floor tiles and furniture, plus lots of plastic ivy on the walls (it's much cooler than it sounds).

Deck at Pier 59
Located on the second floor atop Pier 59 Studios, the Deck is a restaurant and outdoor bar space.

Dos Caminos Soho
The SoHo branch of B.R. Guest's original Dos Caminos on Park Avenue South offers a 60-seat outdoor patio.

Penthouse 15
Located in Hell's Kitchen, Penthouse 15 features a 2,500-square-foot rooftop deck overlooking the surrounding neighborhood.

Old Outdoor Favorites

Above 60
The boutique hotel 60 Thompson's summer rooftop terrace.

AMC Empire
This cinema megaplex features terraces that overlook the heart of Times Square.

American Museum of Natural History
The Arthur Ross outdoor terrace has fantastic views of the Rose Center for Earth and Space.

American Park at the Battery
A spacious outdoor terrace sits upon the water offering views of Brooklyn and the Statue of Liberty.

B Bar & Grill
A spacious 2,000-square-foot patio adjoins this East Village spot.

Boathouse in Central Park
During the warmer months, the Garden Pavilion is opened up to include space outdoors, enabling the area to accommodate as many as 1,500 guests for a reception.

Bridgewaters
An narrow outdoor terrace wraps the south and west sides of the event space, offering views of the Financial District.

Bronx Zoo
Operated by the Wildlife Conservation Society, the Bronx Zoo can host both corporate and private meetings and events. It features formal dining and picnic areas, as well as the Dancing Crane Caf?. Zoo tours and after-hours animal viewing are available at events.

Brooklyn Botanic Garden
Adjacent to Prospect Park, the Brooklyn Botanic Garden occupies 52 acres and has more than 12,000 different kinds of plants in its collection.

Bryant Park
Home to swank events like New York's Fashion Week, Bryant Park's eight-acre venue can accommodate as many as 5,000.

Bryant Park Grill
The restaurant's stone terrace is sandwiched between the New York Public Library and Bryant Park.

Caf? St. Bart's
The caf?'s Great Terrace overlooks Park Avenue.

Carousel at Prospect Park
Dating from 1912, the carousel was originally located in Coney Island, and moved to Prospect Park in 1952. It can accommodate 60 guests.

Central Park—Conservatory Garden
This six-acre garden is the park's only formal garden and is actually comprised of three gardens that are colorful and peaceful year-round.

Central Park—Great Lawn
Central Park's recently renovated great lawn includes athletic fields, pedestrian paths, a special events area and Turtle Pond.

Central Park—Rumsey Playfield
The playfield's outdoor stage is home to SummerStage, and
can also be rented to host concerts and special events.

Central Park Zoo
The Central Park Wildlife Center serves as a unique backdrop to countless events each year, from formal galas to company picnics. Winter events can be held in the rainforest building or the penguin exhibit.

Chazal
A lovely outdoor sidewalk patio with views of the renovated Madison Square Park can seat up to 90 for modern bistro fare.

China Club's Jade Terrace
A rooftop garden and lounge amidst Times Square.

Cooper-Hewitt National Design Museum - Smithsonian Institution
The lovely terraced Arthur Ross Terrace and Garden opens onto the mansion's lawn, which may be tented for sit-down dinners.

Damrosch Park/The Tent at Lincoln Center
The Tent at Lincoln Center covers Damrosch Park each spring, and now features floor-to-ceiling glass windows, bathrooms and bright interior lighting. Catering is by Restaurant Associates.

Django
This restaurant has an 80-seat wraparound outdoor caf? perched four feet above the street.

Dyckman Farmhouse Museum
The last remaining farmhouse in Manhattan with formal gardens kept in 18th-century style on a half-acre park.

Guastavino's
Place guests on wicker chairs at umbrella-shaded tables in this restaurant's lush garden terrace.

Hotel Giraffe
The penthouse here has a rooftop garden on Park Avenue South.

Hudson Hotel
A rooftop garden provides magnificent views.

Intrepid Sea-Air-Space Museum
This Navy aircraft-turned-museum-and-event space can host 2,500 guests on its 900-foot flight deck.

Kate Wollman Rink—Prospect Park
The "other" Wollman rink, located in Prospect Park, can be reserved for pedal boat parties in the summer and early fall. It can accommodate as many as 300 guests for private rink rental.

Lighthouse at Chelsea Piers
The Lighthouse features an open-air deck overlooking the water that can be used year-round.

Lincoln Center
The plaza is a grand open-air space modeled after Michelangelo's Campidoglio in Rome, which features a round black granite fountain as the centerpiece. The space can hold 2,000 people.

Loggia
The 6,000-square-foot outdoor restaurant and event space at the Flatotel occupies the breezeway between the hotel and its neighboring building. Catered by in-house restaurant Moda, Loggia can accommodate 150 for a sit-down function or 400 for cocktails.

Maison
The midtown restaurant's outdoor patio can seat 200, and 14 tables and a bar are set aside especially for smokers.

Merchant's House Museum
Behind the house is a 25-by 50-foot garden that can be tented for events.

Metropolitan Caf?
Simple American food in a garden setting, with an outside patio, a warm exposed-brick dining room and a sunny atrium, as well as four private rooms seating groups from 25 to 400 people.

Metropolitan Museum of Art's Iris and B. Gerald Cantor Roof Garden
Among the delights at the world-famous Met is a gorgeous sculpture- and shrubbery-filled roof space with views of Central Park.

The Mews
The landmark building operated by the Cipriani family has an open rooftop.

Milk Studios
This Chelsea studio offers a very raw 15,000-square-foot rooftop.

Morris-Jumel Mansion
Sits on a 1.5-acre park in Harlem.

Mount Vernon Hotel Museum & Garden
As the name implies, there's a garden on the grounds of this Upper East Side historical museum.

Museum of the City of New York
With a back terrace and a front courtyard, the museum enjoys some fine outdoor spaces.

New Leaf Caf?
This lodge-like restaurant in Fort Tryon Park offers outdoor dining space with views of the Hudson River Valley.

New York Academy of Sciences
The academy's outdoor courtyard features seasonal
plantings.

New York Aquarium
Want to dine with dolphins? The New York Aquarium hosts special events and meetings, offering dolphin shows, animal feedings, and behind the scenes tours. The entire aquarium can be reserved for large events, or the Sea Cliffs exhibit can suit a more intimate affair.

New York Botanical Garden
This Bronx-based garden offers 250 acres—more than almost any event requires. The Garden Terrace Room, with capacity for 600 dinner guests or 1,000 for a reception, scales it down a bit. Abigail Kirsch is the garden's exclusive caterer.

Palm House at Brooklyn Botanic Garden
Part of the Steinhardt Conservatory, the Palm House is a unique glass Victorian conservatory with lily pools and surrounding gardens, and offers a scenic setting for as many as 400 guests. Charles, Sally & Charles is the exclusive caterer for the Palm House.

Park
Chelsea hotspot with a rooftop deck off the penthouse. The Park also offers a street-level garden adjacent to the restaurant.

Pier 54
Survivors of the Titanic unloaded from the Carpathia at this old Cunard pier; today, special events like the Gay & Lesbian Pride Dance employ the space. Book it through the Hudson River Park Trust.

Pier Sixty at Chelsea Piers
The space's Hudson River-facing glass walls open up to
a terrace.

Primal Light Studios
A deck and rooftop offer stunning views of the west side.

Prospect Park—Boathouse
The boathouse is a national landmark housed in a 1905 Beaux Arts white terra-cotta building.

Prospect Park Picnic House
With its view of Prospect Park's Long Meadow, the Picnic House can accommodate as many as 250 guests for concerts or 175 for a party. The 3,600-square-foot space has a raised stage, fireplace, piano and two restrooms.

Queens Botanical Garden
Located on 39 lush acres within Flushing Meadows-Corona Park, the garden includes a Victorian-style Wedding Garden, and the auditorium, deck and lawn can be rented for receptions.

Rink Bar and Caf?
From May through October, the Rink Bar replaces the famous ice skating rink in Rockefeller Center. The caf? seats 250 for banquets and 500 for receptions; a private area is available for more intimate groups of 18.

River Caf?
One of Brooklyn's most famous restaurants, its outdoor patio perched at the edge of the Brooklyn Bridge faces the water and can seat 120 or hold 150 for cocktails.

Seaport Caf?
At South Street Seaport offering views of the East River.

Sky Studios
This swank space features a terrace garden, swimming pool and rooftop garden.

Splashlight Studios
Splashlight's fourth floor studio offers a 2,500-square-foot outdoor terrace.

Studio 450
A large outdoor deck off the penthouse event space offers a great view of the Hudson River.

Tavern on the Green
A landscaped outdoor terrace accompanies this classic New York venue.

Verbena
Verbena's gorgeous outdoor patio emits a peaceful calm just outside its subterranean dining room.

Wave Hill
The Great Lawn is available after public hours for outdoor
functions.

Water's Edge
Water's Edge offers great views of the East River and the Manhattan skyline from its terrace.

Wollman Rink in Central Park
Wollman Rink isn't just for skating. In both winter and summer, it hosts everything from private parties to product launches. The venue can accommodate as many as 3,000 guests and includes more than 50,000 square feet of indoor and outdoor event space, a state-of-the-art sound system, theatrical lighting, private bathrooms, a party tent and a green room.

World Financial Center, Winter Garden & Plaza
The 10,000-square-foot open-air piazza provides breathtaking
views of the Hudson River, and events can be held weekday evenings and weekend afternoons.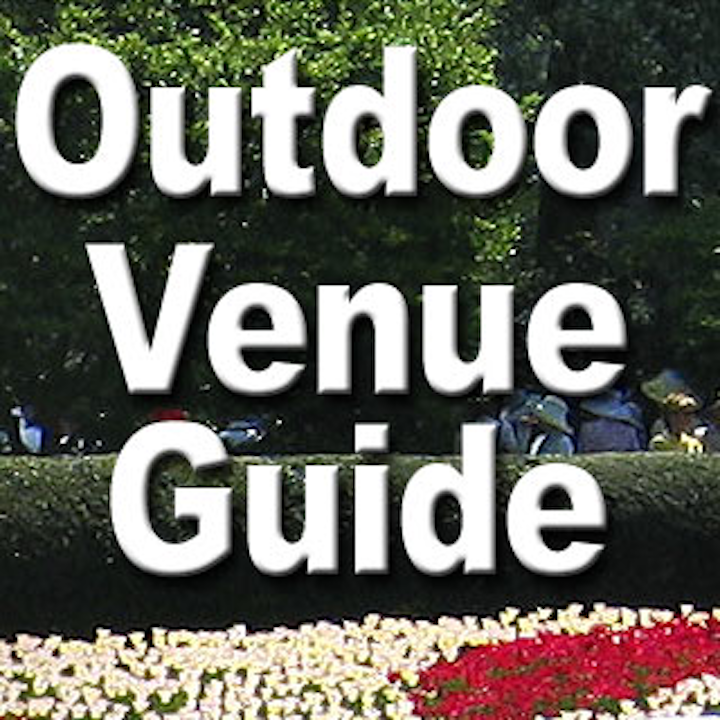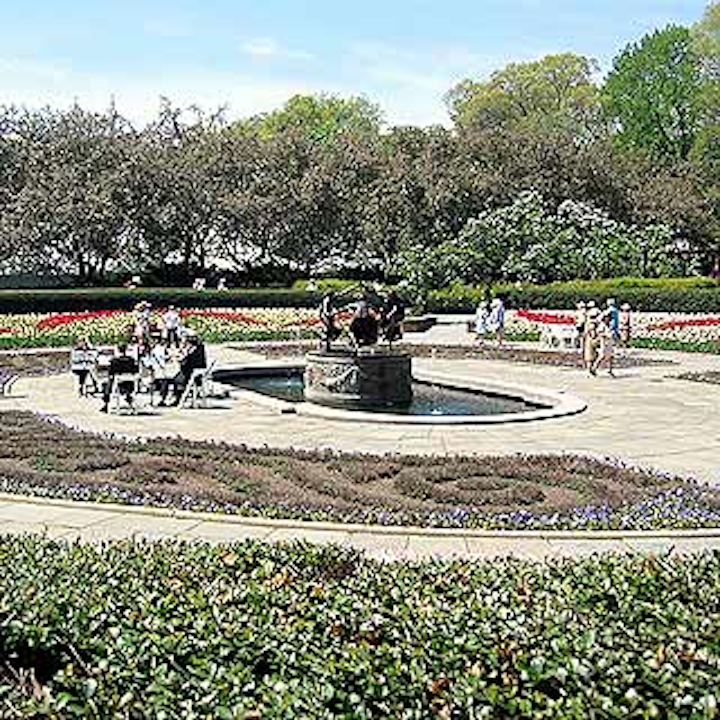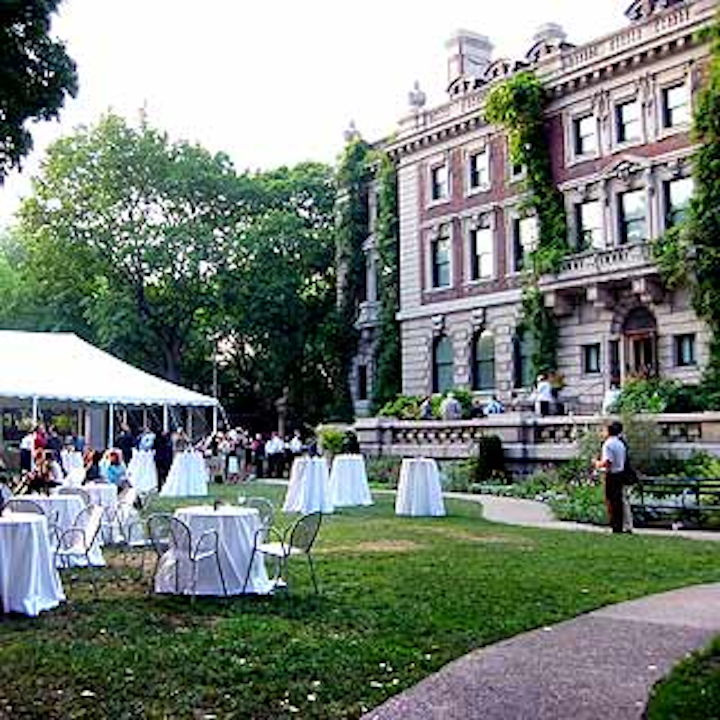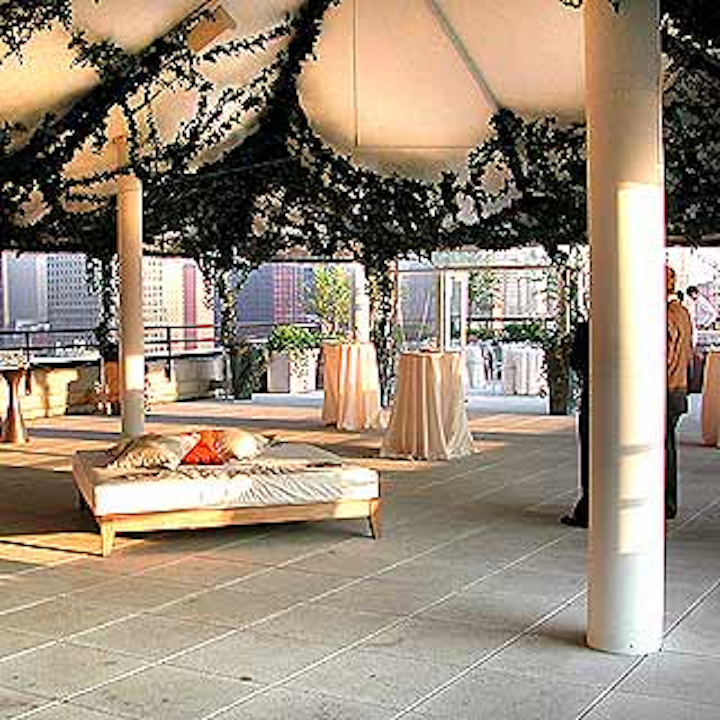 Featured Venues/Suppliers: