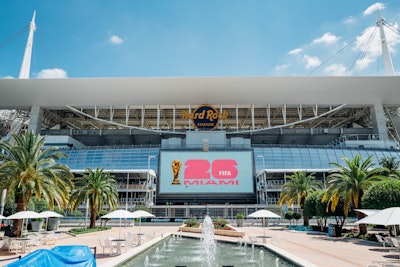 Photo: Courtesy of The Greater Miami Convention & Visitors Bureau
If you build it, they will come. Like Field of Dreams, many cities across the U.S. are taking that adage to heart and investing big bucks into their sports infrastructures in order to attract more events, as well as enthusiastic fans.
As part of their strategic marketing goals, tourist bureaus and destination marketing organizations are placing more of an emphasis on sports tourism, turning out-of-town fans into vacationers with an experience that extends beyond the stadium. This includes hotel packages that are specifically designed for sports tourists with sports-themed check-in gifts and shuttles to major sporting events, as well as restaurants providing increased flexibility in operating hours to accommodate event crowds.
This strategy also applies to those fans watching at home. An alluring shot of Miami during the NBA Finals—priceless promotion for the city—can entice viewers to book a future visit. So, playing host city to a sporting event can have an enormous impact.
Earlier this year, Visit Anaheim, the official destination organization for the city, released research on the rise of sports tourism. The national survey of 2,000 adults found that 45% have left the country to see a game, and that 35% have specifically planned a vacation based on when and where their favorite team is playing.
"After being cooped up for two years with the pandemic, people are eager to get out there and book their revenge travel vacations," said Jay Burress, president and CEO of Visit Anaheim. "Travelers are making up for lost time and tacking on as much as possible by combining sporting and live events with their vacations."
Nicole Rogers, executive vice president and chief sales officer of the San Francisco Travel Association, echoed that sentiment, saying that "professional sports leagues are making big efforts to globalize their fan bases, which includes bringing live events to new regions. ... Attracting a global audience to destinations gives fans the opportunity to combine watching their favorite team live while experiencing a new city or culture at the same time."
The global sports tourism market was valued at $587.87 billion in 2022 and is expected to reach $2.14 trillion in revenue by 2030, according to an analysis by Grand View Research, a market research and consulting company. And thanks to the increase in spending on sports infrastructure across many cities, this growth is anticipated to explode even more.
For example, Anaheim is expanding the types of sporting events that it hosts, including the Volleyball Nations League, which will take place at Anaheim Convention Center July 4-9. Burress said that this will set the stage for the Olympics in 2028, when Anaheim and the Honda Center will host indoor volleyball.
In addition, ocV!BE, a mixed-use community with the Honda Center as the anchor, will include two new hotels, residential living, office spaces, indoor and outdoor amphitheaters, a food market hall, over 20 new restaurants, public parks, and more. The first phase is scheduled to be completed in 2026 followed by full completion in 2028.
Over in the middle of the country, Milwaukee's expansion of the newly renamed Baird Center (previously known as the Wisconsin Center) will include over 300,000 square feet of exhibit hall space, 24 new meeting rooms, and a fourth-floor ballroom. These upgrades will allow larger sporting events to take place in Milwaukee with simultaneously occurring events due to expanded loading docks, explained Leslie Johnson, VP of sales and event experience at Visit Milwaukee. The expansion is set to be completed in early 2024.
In 2022, sporting events generated $80 million in total economic impact for the Greater Milwaukee area, bringing in 111 events, generating 68,336 room nights, and attracting 271,076 visitors to the city. So far in 2023, Sports Milwaukee, which markets Milwaukee as a top destination for amateur and professional sports events, has generated $23.3 million in total economic impact for the area.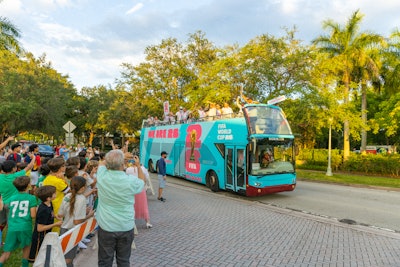 "For us, sports tourism is not just about a really high-profile, sexy event," said Rolando Aedo, chief operating officer at the Greater Miami Convention & Visitors Bureau. "It's also amateur sports because our ultimate goal is to get as many people to come into our community and stay in our hotel rooms."
"It's great to have a Super Bowl, and it's great to have a World Cup, but it's equally impactful to the hotels if you can book a volleyball tournament in the middle of summer where you've got volleyball players from all over the country and their family members coming into our community. They're staying in our hotels and patronizing our restaurants," he said, adding that Miami's hotel room prices can sometimes be a bit too exorbitant for rate-conscious youth leagues.
Aedo also noted that sports-related meetings and conventions are other important facets of sports destination marketing. In the past, for example, Miami has hosted a trade show event called Soccerex, which basically deals with the business of soccer.
So, how can a city score sports business like this?
Referring to San Francisco's winning bid to host Super Bowl LX in 2026, Rogers said that one of the key requirements is "showing that your destination has the capacity to handle the large influx of visitors and ancillary events that come with the game."
This includes meeting a room night commitment minimum and securing commitments from venues that can host both private and public events. San Francisco Travel—in partnership with fellow DMOs Discover Santa Clara, Visit San Jose, and the San Francisco Peninsula—sourced and secured over 20,000 hotel room night commitments from properties across the region, and worked with the Bay Area Host Committee leadership to secure special event venues that will host programming throughout San Francisco, including fan activations at Moscone Center, in the week leading up to the Super Bowl.
She added that San Francisco International Airport also served as a big advantage because it provides direct routes to key domestic and international destinations. The 49ers and Levi's Stadium have also made commitments to update, improve, and enhance the fan experience for the Super Bowl in 2026. Looking ahead, San Francisco will also welcome the 2026 World Cup, the 2028 PGA Championship, and the 2033 Ryder Cup.