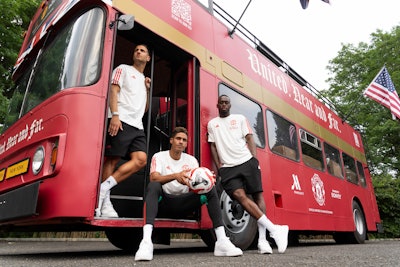 Photo: Ben Hider
Manchester United counts about 650 million fans worldwide, according to Reuters, making it one of the most popular football clubs in the world. This is one of the reasons Marriott Hotels and Marriott Bonvoy joined forces with the team in 2019 for a global marketing partnership—a partnership that U.S. fans and revelers alike could see brought to life this past July.
The hotelier giant worked with experiential agency 160over90 to execute "United Near and Far" experiences for fans on both U.S. coasts, celebrating the first time Manchester United has traveled stateside in five years. The tour kicked off on July 22 in New York City at Hudson Yards for a viewing party of the team's sold-out match at MetLife Stadium, where more than 82,000 people were in attendance, against Arsenal.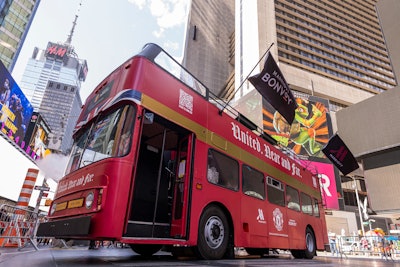 "As a team that travels the globe, including to the U.S., we wanted to celebrate that," said Tonia Constable, vice president of global marketing partnerships for sports, entertainment, and brands at Marriott. "And we wanted to celebrate that by bringing British revelry here to the U.S. and showcasing this idea that no matter where you are in the world as a fan of Manchester United, we as Marriott have the ability to help bring you closer to that."
At Hudson Yards, more than 500 fans were treated to an authentic 1968 double-decker red bus (salvaged from a barn in North Carolina) that was transformed into a British-style pub. On match day, the Hudson Yards Plaza was used to create the Marriott Hotels Greatroom Garden, a British-style pub garden with pub eats, a bar, a DJ, and the match streaming on a big screen.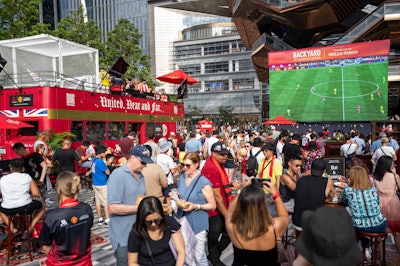 Josh Pate, SVP of global experiential for 160over90, said the bus refurbishment proved tricky. "It had been sitting in a barn, but we got it in working order and decorated it for the event, but that was probably the biggest challenge just because of the need to be authentic," he explained. "We wanted to find a double-decker bus, not find an RV and make it look like one, but we found the real thing."
The "Near and Far" experience then followed the team to San Diego for its match against Wrexham AFC, whose comeback was followed closely on the FX series Welcome to Wrexham.
"We wanted to lean into the Wrexham fandom and its cultural phenomenon," Constable said of also choosing the San Diego tour stop for the live experience (the team also traveled to Houston and Las Vegas, but the experiences were only held in the other two markets).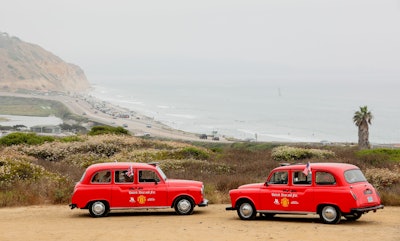 British touches in San Diego included three branded red taxis bringing fans to and from the match at Snapdragon Stadium from select Marriott properties. For this Manchester United tour, Marriott also incorporated a once-in-a-lifetime experience for Marriott Bonvoy Moments winners. The Moments program allows members to redeem points to purchase lifestyle, entertainment, sport, culinary, and other experiences globally. Here, for example, one lucky Moments winner got to travel with the team on its plane from New York to San Diego.
"Those are the things that you walk away from and say, 'Wow, that will leave a lasting impression on me for a lifetime,'" Constable said.
This is just the latest example of Marriott's experiential creativity when it comes to activating at sporting events, from its famous Courtyard in-stadium sleepover experience at the Super Bowl to its Miami Formula 1 event with the Mercedes-AMG Petronas team at The Ritz-Carlton, South Beach earlier this year—both produced with the help of 160over90.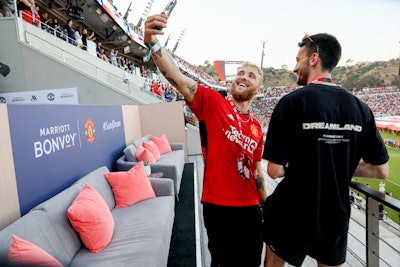 "When you think about travel and hospitality coupled with brand relevance and just the power of sport holistically, that's why we're in this space," Constable said, "to capitalize on that passion and that fandom."
As for the future of brand activations at sporting events, Pate said it's becoming less about "how many cities you can hit" and more about "one-off types of events that are very unique." He added, "Experiential is one of the best ways to interact with a consumer or a fan and have them experience something positive and fun with your brand. That's what we're seeing a lot of right now. Teams and brands are looking for a way to get in front of consumers and create these impressions that are lasting for them."