This Week in Canada: a Virtual Northern Lights Show, Pandemic-Inspired Short Plays, the Popularity of Virtual Meetings, and More
BizBash's new Canada-focused column covers the week's biggest event news.
August 6, 2020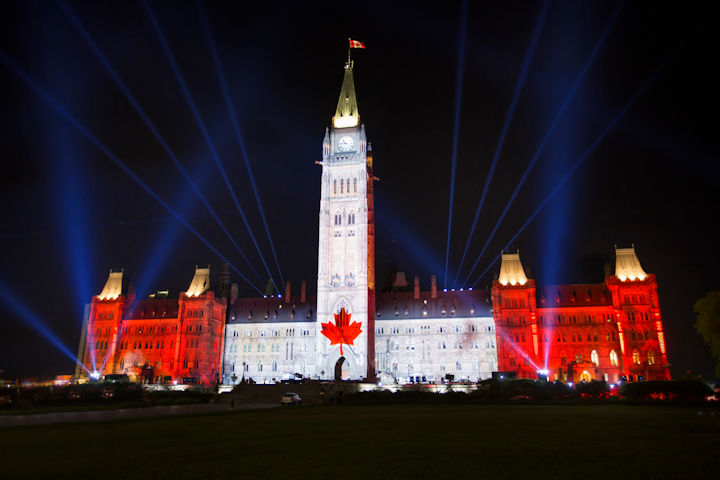 Photo: Courtesy of Canadian Heritage
Welcome to BizBash's newest column, covering Canada's biggest event news from coast to coast. Got a tip? Get in touch!
Provincial News
British Columbia: GuruShot, an interactive photography game app, will open its first Canadian exhibition at Vancouver's The Space from Aug. 7-9. The gallery mixer aimed at up-and-coming photographers includes GuruShot's "Nature Photographer of the Year" and "My Exhibition Shot" exhibits, which feature more than 250,000 images from 48 countries. Throughout the year, The Space offers private events with up to 150 guests, as well as art lessons and business and marketing courses.
Alberta: The eighth annual Calgary Floating Lantern ceremony will take place online on Aug. 8. The multicultural, multifaith event—which this year commemorates the 75th anniversary of the bombings of Hiroshima and Nagasaki—advocates for denuclearization and peace-keeping initiatives.
Also, St. Albert hosts its annual Rock'n August car show, featuring drive-in movies, games, and rotating food trucks. The event raises money for four Alberta-based diabetes-focused charities.
Manitoba: Last week, the Canadian government announced the allocation of $600,000 to support two of Manitoba's most popular tourist destinations. Winnipeg's The Forks, a historic village and marketplace that attracts over 4 million visitors annually, is receiving $500,000 to maintain 1,500 jobs and assist in safe re-openings. Churchill, known as the polar bear capital of the world, is receiving the balance.
Ontario: Toronto's The Six Brewhouse is moving out of its 5,000 square foot space—which offers an upper- and lower-bar level and a street-level patio—in the Trinity Bellwoods area. The venue is being taken over by Collective Arts, a Hamilton brewery focused on interweaving craft beer concepts with art and music through curated audiovisual experiences, beer gardens, and live entertainment events.
Also, the Royal Ontario Museum (ROM) has announced that it's exhibiting its Indian chintz collection of printed and painted textiles on Sept. 12. 
Quebec: Starting today, Montreal's Tableau D'Hôte Theatre is putting on a series of outdoor short plays throughout the Pointe-Saint-Charles neighborhood until September. Each story depicts characters from various communities grappling with loss of connection and having to navigate a different world as the result of a pandemic. Free bilingual performances will take place at secret locations, which will be unveiled via email or social media hours before showtime.  
Coast to Coast
Canadian Heritage announced that the annual Northern Lights show, traditionally displayed on Parliament Hill, is now available as a free, 35-minute virtual event. Ottawa-based production company TKNL designed a 3-D modeling of the Parliament buildings combined with audio and visual effects. "Northern Lights is a one-of-a-kind experience," said Steven Guilbeault, Minister of Canadian Heritage. "The images, narration, and soundtrack brilliantly depict the pivotal moments that have defined our history and culture. Being proud to be Canadian is what unites us, even when we have to stay two meters apart."
Even once COVID-19 physical distancing measures recede, more corporate meetings in Canada are expected to take place virtually, according to a report by CBC. Given the success many companies have had conducting virtual annual general meetings (AGMs) on short notice this year, experts at the Shareholder Association for Research and Education (SHARE) predict that organizations will continue opting for online or hybrid meetings as technology challenges are mitigated. Hansell LLP, a Toronto-based corporate advisory law firm, found that 54% of AGMs done in Canada this year were virtual-only, and 13% were "limited hybrid"—wherein shareholders could remotely ask questions but not vote.
Overheard
"We found we extended our reach and the pickup, not only for the live events and participation, but on rebroadcast [it] has been huge. Bringing it into a virtual space allows people to be anonymous and to just watch and to not even show their name or their face, and to participate and engage with the content. We really raised the bar for ourselves, but I think for Canadian Pride in general."
—Pride PEI festival chair John Kimmell, speaking to CBC about how this year's virtual celebration created greater accessibility and inclusivity for the Island's queer community.  
On the Scene
Over the long weekend, Nambi & The Rhythm performed for the 2020 RBC Bluesfest at Place des Festivals Zibi's new drive-in theater in Gatineau.