10 Event and Catering Rules From Chef Geoffrey Zakarian
The famed chef and restaurateur shares his biggest tips and tricks for menus, tablescapes, wine pairings, and more.
October 3, 2013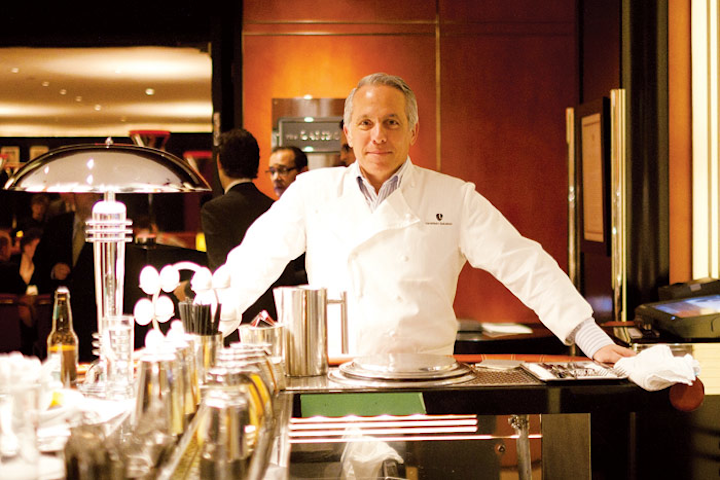 Photo: Ramsey De Give
A culinary industry veteran with more than 30 years' experience, Geoffrey Zakarian is the chef and partner of the Lambs Club and the National restaurants in New York City, as well as several other restaurants throughout the country. He is also a writer, radio host, Iron Chef champion, and judge on The Next Iron Chef and Chopped.
1. The number-one rule for making an event menu is to create a story from start to finish and stay focused. People often get distracted, offering many types of cuisines such as sushi, pasta, lamb chops—just stick with one point of view. The season of the event is a good place to start.
2. At an event or wedding, the cocktail hour should be no more than one hour. Typically, cocktail "hours" go way longer than that, and everyone gorges on hors d'oeuvres and stands around waiting for dinner. It is better as the host to lead your guests into dinner well before they are looking at their ­watches wondering when it is going to start.
3. My favorite tablescapes have simple flowers and ­calligraphed menus with the guests' names at the top. This alleviates the need for place cards and is such an elegant and personalized touch. I like to make sure that florals are not blocking the view across the table or impacting people interacting.
4. To make a buffet-style event feel elegant—depending on the budget—dress up the table with more decor. Fresh flowers, fresh herb landscapes, fresh bread and cheese displays—anything that gets the eye interested. Steer clear of typical chafing dishes. Take the time to source unique vessels for both hot and cold food. And even in large vessels or on large platters, plate the food as if it was an individual entrée, rather than just having a big tray of beef, vegetables, etc.
5. For an intimate dinner, plan out the seating ahead of time. Make it easy—why put your guests under pressure to make decisions?
6. For wine pairings, I like to start with champagne, move to a Sancerre or a rosé, and finish with a heavier wine for the main course. I also prefer to pair specific wines with each course rather than offer a choice of red or white throughout. It helps to keep the focus of the meal.
7. It is all about the lighting. It is a detail that often goes overlooked at restaurants and events alike. We spend so much time working on the lighting at both the National and the Lambs Club. And when budgeting for an event, it seems like an easy line item to cut, but don't strike it off the list! It is invaluable.
8. Flowers. Planners and hosts tend to love our dining room at the Lambs Club because the decor stands on its own. But our Stanford White Studio and larger Club Room [the restaurant's private spaces] are even more unique when transformed with flowers. And at the National, we do lush arrangements of branches and greens, which lend a very comfortable welcoming feeling. We have great relationships with Verde Flowers and L'Atelier Rouge. It is so exciting when I see either the National or the Lambs Club transformed by the vision of a floral designer for a wedding. It always takes my breath away.
9. Find a mentor, and make sure they are the best mentor around. Work next to them, even if it is for no pay. You will never, ever regret it.
10. Take care of yourself, exercise, and never forget that you need to be the ­seemingly smartest person in the room at all times—so make sure you at least appear to be! Seriously, though, you have to be on top of everything at all times. Focus on the details. Be present and have your head looking forward at all times.
Featured Venues/Suppliers: