How to Pick the Right Food Setup for Your Event
Service style can impact your guests' satisfaction with their meal and can also help you achieve your event objectives.
December 4, 2014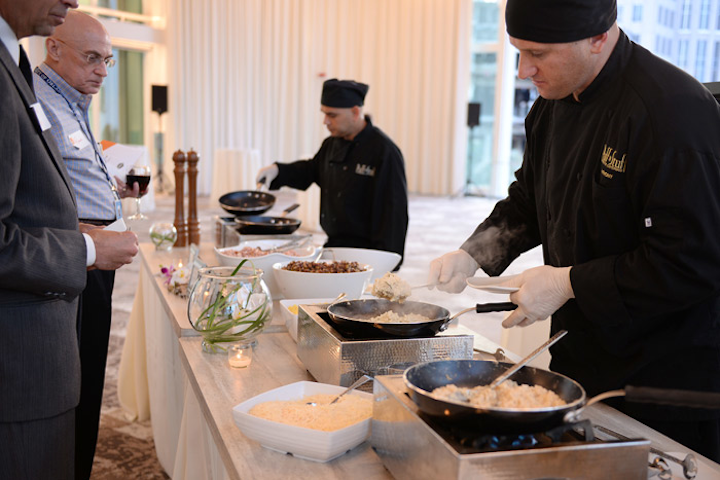 Photo: Courtesy of Puff 'n Stuff Catering
When your event includes food, how you serve guests is just as important as what you serve them. We asked several catering professionals to tell us how they help clients determine the appropriate food setup for their events.
Heidi Brice is director of sales for Puff 'n Stuff Catering in Orlando; Bill Starbuck is event coordinator for Along Came Mary Events in Los Angeles; Vincent Dreffs is director of catering for Gaylord Opryland Resort & Convention Center in Nashville; Katherine Piotrowski is a sales consultant for Jewell Events Catering in Chicago; Chap Gage is president of Susan Gage Caterers in Washington, D.C.; and Barbara Bass is vice president of catering sales for Wolfgang Puck Catering in Los Angeles. Our experts agree that the style of food setup should be based on factors such as the event's time, location, menu, budget, and the host's objectives.
Plated meal
This is the most formal service, so naturally it's a fit for events with a formal vibe such as black-tie galas and fund-raisers. Caterers also suggest table service for events that involve a presentation or educational content during the meal since it keeps guests in their seats, minimizing noise and allowing everyone to focus on the speaker. A sit-down meal is also good for intimate conversations and can be an effective way to encourage small-scale networking. With this service, the menu is usually limited to one or two entrées, so if many of your attendees have dietary restrictions it may not be an effective option. Keep in mind the venue needs to have enough space to accommodate the tables, the chairs, and room for servers to move around. In general, a plated meal is the most expensive type of service.
Buffet
A buffet is good for large crowds and events where guests may be arriving at various times. It's also a great way to offer a variety of food, accommodating picky eaters and those with dietary restrictions. To keep service flowing, be sure to create ample lines to access the food. "Our magic number is 75. Once the guest count goes above 75 attendees, we add an additional bar, and if there is a buffet, we will make the buffet double-sided or add another buffet to mirror the original," Piotrowski says. If you have limited space, consider a vertical display with modern shelving for your buffet, Gage says. For large crowds, Dent advises against offering "build-your-own" concepts such as deli buffets and fajitas because they slow down the line. To encourage mingling, provide a mix of seating options such as standard tables, high-tops, and lounge furniture.
Passed hors d'oeuvres and small plates
Keep the focus on guest interaction with strolling waitstaff that offer hors d'oeuvres and small plates. "By bringing the food to them wherever they are, [guests] don't have to stop their conversation in order to get something to eat. This is the most budget-conscious option because the client can control the quantities," Brice says. When planning the menu, consider the timing of the event: If it's during the dinner hour, offer more substantial food. Starbuck suggests passing small plates that include a starch, a vegetable, and two small pieces of meat that can be eaten with just a fork. When passing hot items, consider serving them atop a base of mashed potatoes, grits, or pasta—items that can help to hold in the heat, Dreffs says.
Action stations
Create an interactive experience with chef-attended action stations, which allow guests to have their food made to order while they watch. This is the best option to accommodate dietary restrictions and preferences, and it also can add a fun, energetic vibe to an event. If networking is important, offer limited seating and food that can be consumed easily. "Providing a world-class meal without the appropriate accoutrements to eat it is the biggest industry faux pas," Dreffs says. "For instance, if you only have scattered cocktail tables, we would never suggest items that require a knife and fork to eat."
Featured Venues/Suppliers: