2017 Preview: 9 Food Trends That Will Be Hot in the New Year
From eco-friendly eats to the new kale, find out what guests will be dining on in the coming year.
December 28, 2016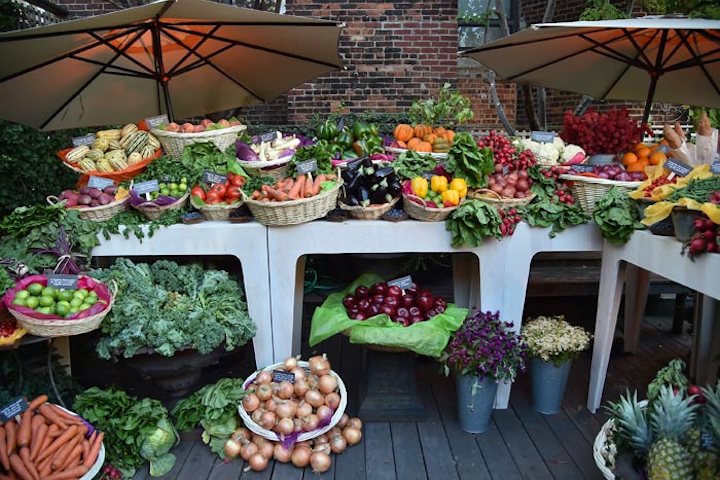 Photo: Mike Coppola/Getty Images for Citi
With 2017 just around the corner, we asked some industry pros for their predictions on next year's hot food trends. From lots and lots of veggies to new catering options, here's what to expect.
Special Diets
"Guests are even more health conscious than ever before. In 2017, it will be about going beyond offering vegetarian, organic, and all-natural options like we do now and including more vegan, raw, and plant-based dishes. And finding new proteins instead of meats," says Eric Klein, vice president of culinary for Wolfgang Puck Catering. Due to the increasing demand for gluten-free and vegan options, executive chef Chris Brown of Citizen Catering in Toronto created a house-made cracker for an hors d'oeuvre that's made from sea lettuce hand-forged in Nova Scotia. They've also begun incorporating cashew cheese into dishes like squash blossom risotto.
Next-Level Street Food
Food trucks have become the norm at all types of events, and now many hotel culinary teams are bringing the concept of street food into the boardroom. For example, at the Waldorf Astoria Orlando and Hilton Orlando Bonnet Creek, chefs create Mediterranean specialties such as rotisserie chicken shawarma wrapped in house-made naan bread that's baked in a mobile tandoori oven and served with a choice of traditional toppings. And at the Conrad Miami, located in the city's business district, groups can snack on a local treat: warm churros paired with cinnamon cream dip.
Veggie Mains
And because of the continuing emphasis on plant-based diets, vegetables will become the star. "I think that vegetables will continue to become the cool thing to eat," says Dustin Wilson, master sommelier and co-founder of Verve Wine. "You're seeing this at leading restaurants around the globe and I think it will start to trickle down even more this coming year. The variety of fun vegetables, as well the unique new ways people are preparing them, is going to continue to inspire more meals with veggies as the center point rather than protein."
Swiss Chard
Speaking of veggies, "I'd like to see Swiss Chard take over kale as the mean green for awhile. Or spinach," sayd Laurence Edelman, executive chef and co-owner of Left Bank in New York. 
"Real Food"
"The 'real food' movement will continue to evolve," predicts chef Chris Coleman of Stoke in Charlotte, North Carolina. "Chefs will focus on local, sustainable, and heirloom ingredients using 'primitive' preparation techniques such as wood fires, curing, fermenting, and pickling." In turn, he believes avant-garde preparations and molecular gastronomy trends will fade. Gabriel Israel, chef at Green Fig in New York, agrees, saying that there will be a "re-emergence of slow-cooked proteins and vegetables—foods cooked at low temperatures for extended periods of time, ensuring a cozy, homey meal."
Conscious Consumption
Along those same lines, Los Angeles-based event planner April Luca of Gold Sky Productions predicts that more caterers and industry pros will be mindful of food waste, by adhering to "root to leaf" or "nose to tail" methods and techniques. "Whether it is meat or veggies, there are many uses that can come from an ingredient. An entire animal can be used in different dishes of the meal, meanwhile you can multi-purpose beets or carrots in a salad by using the leaves in place of your go-to spinach or kale," she explains.
Executive chef and owner Antoine Westermann of Le Coq Rico in New York says that he employs "an in-house butcher who helps me think differently about the meat I serve and finds creative uses for all parts of the animal so that nothing is wasted or left over. Using the whole animal is another way of showing respect for the animal and for the work of the farmer."
Sustainable Seafood
In addition, corporate chef Lisabet Summa of Rocco's Tacos & Tequila Bar and Big Time Restaurant Group in West Palm Beach, Florida, believes eco-friendly seafood will become more important. "With the ever-growing concerns about our oceans being depleted because of over-fishing and the outrageous rising prices of fresh seafood in our markets, I predict that sustainable farm-raised seafood operations are going to become more prevalent. ... Local aquaculture will refocus their efforts to bring better quality protein sources to the world that are sustainable, healthy, and delicious, while mitigating damage to the environment. These operations will be more highly regarded than they were in the past because of the quality and sustainability."
Executive chef Patrick Connolly of Rider restaurant in Brooklyn adds that he thinks more diners will be turned on to lesser-known, but much more sustainable seafood options, like porgy, croaker, sea robin, bluefish, and tautog. "Our new White House won't be looking out for the environment, so the responsibility falls on the people more than ever."
Mediterranean Flavors
"We really believe that Middle Eastern spices and Israeli flavors in particular will begin to pick up momentum in the culinary world, such as ingredients like sumac and pomegranate molasses, says Jordan Lerman, chef and owner of Jardin in West Palm Beach. "At Jardin, we're testing a foie gras that incorporates sumac as a seasoning and is finished with pomegranate molasses. We serve it with zatar pita bread and local tomatoes with honey-lime yogurt."
Suburban Restaurants
The team at Karlitz & Company predicts that more acclaimed chefs will be opening restaurants outside, but still within driving distance, of major cities. Examples in the New York area include Zac Pellacio's Fish & Game in Hudson, New York, and chef Terrance Brennan at the Roundhouse in Beacon, New York. "With real estate prices remaining crazy high in cities, we anticipate a continued trickle out of both the chefs and their audiences. It's hard to know who is driving whom."
Featured Venues/Suppliers: