Navigating Food Day, and the Occupy Wall Street Kitchen at Zuccotti Park
October 27, 2011
If Monday, October 24, went by and you didn't know it was Food Day, it is not your fault. The massive grassroots program, designed to inform, inspire, and elevate the national discussion on food—with 1,200 events across the nation and a showcase kickoff called an Eat In that took place in Times Square—was mostly a dud.
While I couldn't make all 1,200 get-togethers, I did drag myself to the Eat In and the "Meet Your Farmer" event held at Eataly, the Chelsea mecca for Italian edibles, and finally hoofed it to the "Autumn Celebration," which was a true grassroots effort—it was a bring-a-dish event at the home of Jenny N.
Well, it was supposed to be. Reading through the impenetrable Web site that supported Food Day, I was intrigued that Jenny N. was inviting people, strangers really, to her East Side home via FoodDay.org, so of course I RSVP'd "Yes." After assigning the covered dish part of the event to my food companion, coincidentally named Jen, I was pleased that Jenny N. accepted my response with a friendly email giving her address and apartment number.
I should back up and tell you that Jenny N.'s gathering, while it sounds odd, was the type of Food Day event that the organizers were hoping for: a grassroots sharing of food and ideas about how to make the world a healthier place. Just about every single food cause was involved. There's an organization called Meatless Mondays that promotes exactly what you think. There was a charismatic guy who talked so enthusiastically about school cafeterias that I wished I had children. They were among the dozen or so exhibitors in the tent city that surrounded the Times Square Eat In.
At another tent people gave away water bottles (I thought we weren't doing that anymore), and they explained their killer, literally, demonstration: a bunch of 20-ounce plastic bottles each with 14 teaspoons of sugar (it's quite shocking) that some sodas contained. They are not supposed to mention specific brands—this was hosted by the New York City Department of Health and Human Services—but I heard Mountain Dew being thrown around a lot. They had a pledge you could sign up for, which asked you to go one week without sugared drinks. Since I don't drink any, I was happy to pledge.
Another tent used the umbrella theme of "family dinners" to have three organizations under one tarp in what amounted to the silliest briefing of the day. Here, a professional "parent coach" gave advice to families. Many of her clients had kids who were finicky eaters, and since I wish one of my nieces would eat a little more, I asked for some tips. Her basic answer was to communicate more. I said, "And people pay you for this?"
I was able to have detailed discussions with any exhibitor I wanted because there was nobody there. I arrived at 12:30 p.m. and stayed for an hour—prime time for lunch, no? Despite the Times Square venue, tents, and amplified music, there were no consumers. I counted three video cameras and a few still photographers. Maybe a dozen passersby lingered.
As someone who has staged events in Times Square, I know it is challenging. The permitting alone to close down parts of Times Square can scare off many a professional event producer. But what I couldn't figure out was how could a Food Network host, Ellie Krieger, and superstar celebrity chef Mario Batali (now a network TV presence, on The Chew) not have drawn a crowd?
Actually, I think I know the answer. It took me hours to navigate the confusing Web site, and I never found the location of the Eat In. I had to call friends at Condé Nast and have them look out their windows to learn the event was on the island at 44th Street.
There was a crowd, a huge one in fact, at Eataly, however. Tables ringed the room proffering samples of tasty raw cheese from Italy (from Abruzzo Pantry) and smoked fish and lots of other stuff, all jostling among a boisterous crowd. I commented to a fellow guest, "Wow, this is a big turnout."
The response: "It's like this every day."
We did make it upstairs to Eataly's new rooftop beer garden, Birreria. Beer gardens are today's wine bars, right? I must say it is a fantastic location once you navigate your way there. A retractable roof and space heaters make it an almost year-round destination, and if I was hosting a summer dinner I would order plates and plates of the antipasti. Co-owner Joe Bastianich was doing an interview of some kind. I watch his mother Lidia's PBS show, so I knew he had gotten all athletic and buff for sports. Joe told me he had just finished the Kona Ironman in Hawaii. I told him I had just finished a plate of salami.
When we arrived at Jenny N.'s apartment (I'm tempted to publish her address), despite the friendly acknowledgement of our RSVP, there was nobody there (a recurring theme). As we stood in the vestibule of her building and periodically pressed the button, I wondered what had happened to Autumn Celebration. Did Jenny N. have second thoughts about inviting a bunch of strangers to her home? Or had a deranged foodie, angry that the roasted red pepper coulis that sauced the endive salad was not locally grown, become a little too enraged? My pal Jen, holding her couscous in her Tupperware tub, kept a brave face, but I could tell she was really disappointed.
Our final stop of the day was Zuccotti Park, where I wanted to check out the food service. If you've been under a rock, you probably haven't heard that while wet and exposed, one thing the Occupy Wall Street protesters are not is hungry.
That is because local restaurants and other food vendors started making donations, and a network of off-site kitchens (mostly in Brooklyn, I was surprised to learn) have collaborated on a system that churns out 2,000 meals a day in what looks like a 300-square-foot area. I wanted to take a look.
When we approached the park, one scruffy fellow held up a poster that showed a burned chicken with the head still on and a "Meat is murder" type of headline. Oh dear.
But once we wandered into the (mostly) peaceful and friendly park, we found and were welcomed into the "kitchen."
It was fascinating. An old marker board listed the meal hours; the kitchen staff use the downtime for a deep clean and restocking. We were there while the kitchen was serving, and I would estimate that I saw about 150 people line up and take away plates. Chris O'Donnell, a member of the so-called Occupy Wall Street Food Committee Kitchen, who seemed insanely busy, took time out to show us the ropes.
I noticed a stack of approximately 30 pizzas sitting on a table. They had been donated by Liberatos Pizza, which had dedicated a custom pizza to the protest called the "Occu-pie," and is one of the most generous donors. I asked, "Won't these pizzas get cold?" to which Chris replied, "We're just staging them now." While we had our interview I saw a line a block long file forward, and in minutes the pizzas were gone. Next up: pasta with salad.
It turns out that Chris is a food professional, a culinary school graduate, and he told me that the Food Committee Kitchen members were determined not only to feed, but to educate. He was articulate about food resources, hunger, and homelessness, and seemed to be the most concise and knowledgeable person Food Day had yet shown us. And inequities in the food industry for the rich and poor was something his kitchen was hoping to address.
We learned how the food is budgeted. The committee does not, at least not yet, provide food for the off-park splinter groups that associate themselves with the Occupy movement. I eavesdropped as Chris told one of the other committee members that while he had no food for these groups today, "it is on our list of items for our committee meeting." While he explained this to the nice fellow who asked politely, one renegade just marched in and grabbed a pizza. "We're trying to get away from that," Chris said. (Indeed, The New York Post reported Thursday that the committee is staging its own protest against freeloaders taking advantage of the meals.) If the committee runs out of food during a scheduled meal time, the members then buy food from one of their supporters, so everyone gets a lift from the process. Smart.
Touched by the kitchen's earnest and hard-working demeanor, Jen reached into her bag and offered her container of cranberry couscous, and Chris, after being assured that it wasn't leftovers or something worse, passed the container into the gaping maw of the Occupy Wall Street Food Committee Kitchen, and we walked home, happy to have done our part.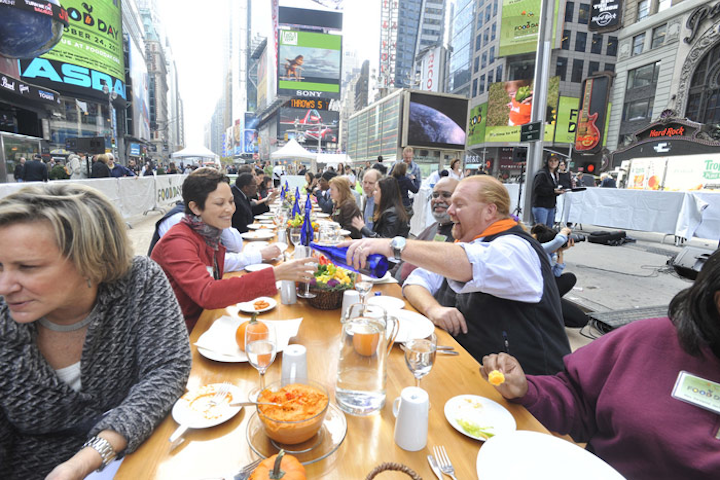 Photo: Philip Greenberg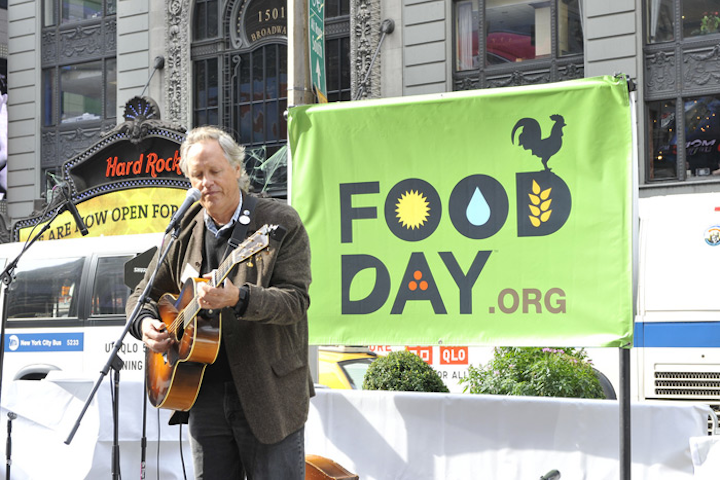 Photo: Philip Greenberg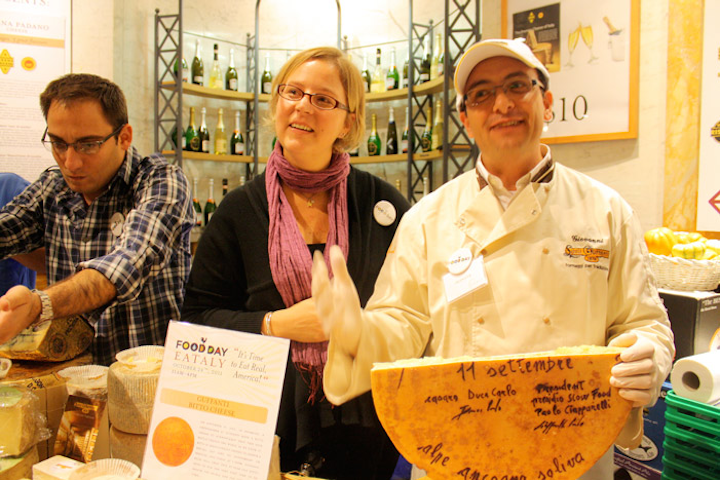 Photo: Katherine McDonald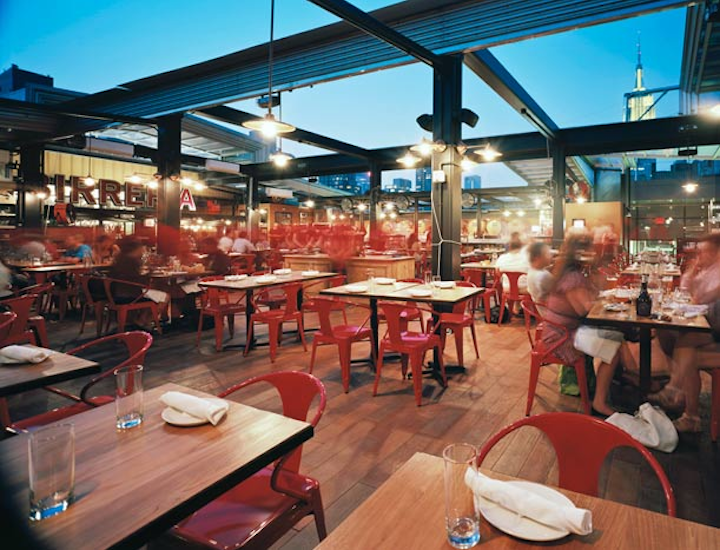 Photo: Alec Zaballero
Featured Venues/Suppliers: