Kellogg's Pop-Up Puts Fresh Twist on Breakfast
The Kellogg's Recharge Bar pop-up in New York served new takes on familiar brands such as Rice Krispies, Frosted Flakes, and Raisin Bran.
July 10, 2014
Kellogg's dished up thousands of bowls of cereal to hungry New Yorkers at a free pop-up restaurant June 24 to 27 that served only cereal and milk.
The Kellogg's Recharge Bar—located in a 2,600-square-foot vacant restaurant space in Midtown Manhattan—was not promoting any new products. Instead it sought to demonstrate the importance of the grains and protein in cereal and milk using its existing brands such as Special K, Raisin Bran, and Rice Krispies. The fare went beyond a basic bowl of cereal by offering custom combinations created by chef Christina Tosi of Momofuku Milk Bar, where she famously sells cereal-flavored milk and soft-serve ice cream.
The space, which took a week to build out, was created by Matter, a division of Edelman. The ground floor of the two-level space contained the cereal bar, seating, a performance space, a karaoke booth, and a step-and-repeat area. The mezzanine level had additional seating and a space for media interviews. Touches such as dark reclaimed wood and chalkboard paint gave the space a homelike feel.
"In conversations with the brand, we asked, what do we want this to look like?" said Liz Kennedy, Matter's vice president of brand experiences. "We liked the idea of being rustic and warm so you felt like you were at home."
Kellogg's signature red was the dominant color—used in everything from the red carpet leading into the space to the plastic cereal bowls. The decor incorporated Kellogg's products through displays of cereal boxes and floral arrangements that used milk bottles as vases filled with dry cereal instead of water. The walls were plastered with graphics that touted the benefits of grains and proteins.
For evening events hosted at the space, the communal dining tables were replaced with sofas, and rugs and dark lighting created more of a living room feel, Kennedy said.
Tosi dropped by the pop-up to demonstrate her recipes, and other celebrity appearances included Dancing With the Stars performer Derek Hough and the Roots, who performed a cover of the song "Milk and Cereal" by G. Love & Special Sauce.
More than 4,000 consumers visited the pop-up, ordering nearly 3,000 servings of cereal and milk. The most popular combination was Banana Nut: Special K served with skim milk, a drizzle of almond butter, and fresh banana slices.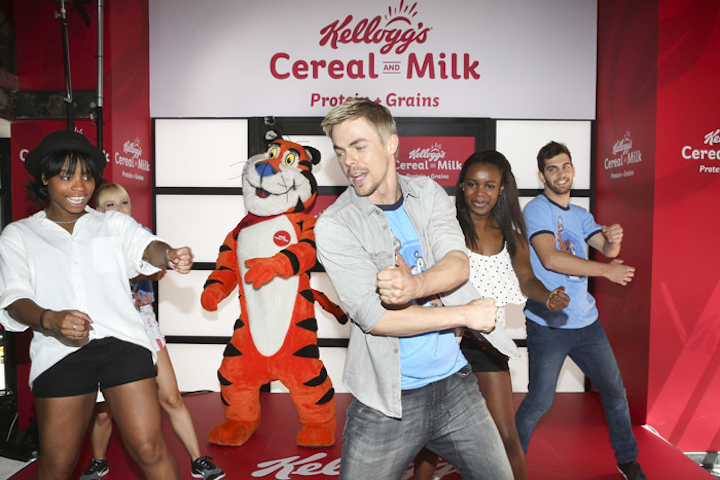 Photo: John Minchillo/AP Images for Kellogg's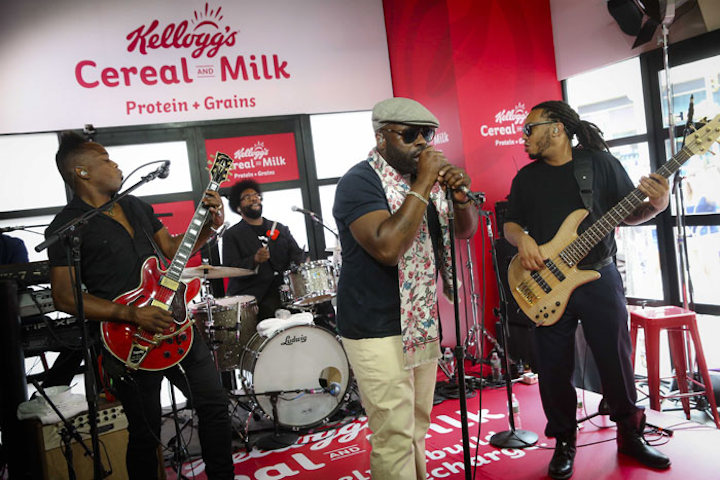 Photo: John Minchillo/AP Images for Kellogg's
Featured Venues/Suppliers: