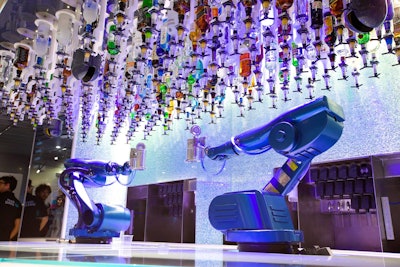 Photo: Courtesy of Scarlett Entertainment
BizBash's newest column offers a monthly check-in on all things event tech, from new virtual platforms to social distancing-focused tools to software that will make your job easier. Got a tip? Get in touch!
In Case You Missed It
Have you checked out BizBash's fall magazine yet? Called The Tech Issue, it's chock-full of tech-forward inspiration, including case studies on innovative virtual meetings, techy rentals items and more. Another highlight? A look at seven of the most influential women in event tech, who are paving the way in a male-dominated field. Read their stories here and be inspired.

---
More Event Technology We're Excited About This Month
To track and manage attendance at hybrid events
Event and community platform Swapcard has launched a new handheld app called SwapAccess, which provides event planners with an all-in-one registration and session access solution for hybrid events by scanning guests as they enter and exit sessions. Organizers can track session attendance and control access for both in-person and virtual participants on the phone and tablet app, which works within Swapcard's ecosystem. Other highlights include the ability to easily allocate educational diplomas and training certificates by taking attendance; organizers can also separate attendees into different breakout groups, easily pass interested audience members to partners who sponsor program sessions, get insights into how long people attend a session and more.
For safe and secure COVID-19 vaccine verification
Safe Site Check In recently announced that its private, QR-code digital check-in app can now handle COVID-19 vaccination verification for workers and event guests. Upon arrival, attendees use their smartphones to scan a private QR code and check in. Through the app, organizers can ask guests to privately and securely upload a picture of their CDC-issued vaccination card with dates of inoculation; organizers do not have access to personal health information or any other data on the smartphone. The app can also include custom questions, such as event evaluations, and if someone tests positive to COVID-19 the service can provide a report that includes those that were in potential contact with the infected person.
"As COVID-19 variants gain strength and employers and large event venues require proof of vaccination, consumers are rightfully concerned about the privacy of their data," said company CEO David Ward. "With Safe Site Check In, employers and hosts can quickly set up a safe and private way for people to check in and provide proof of vaccination without compromising the privacy of employees and patrons."
To easily manage corporate travel
Corporate Traveler—a global travel management platform catering exclusively to startups and mid-market businesses—has launched Melon, a new proprietary travel management solution. Launched in both the U.S. and Canada, Melon provides a one-stop solution for travel management, with features like AI technology that can easily be switched between mobile and desktop without losing functionality; users also have access to round-the-clock service, and can set personalized algorithms and even individual spend levels. What's more, program admins can track employees' whereabouts in real-time, while Melon's health and safety capabilities provide prompt alerts on risk-related events impacting travel such as country entry requirements, the latest government and supplier COVID restrictions, adverse weather, crime and more.
To engage your virtual attendees
Event marketing and management technology company Certain has launched Touchpoint Stream, a new, intuitive solution for virtual and hybrid events. The product offers a flexible, central platform for attendees to easily access live and on-demand content and engage with speakers, sponsors, event hosts and fellow attendees. By capturing attendee engagement through features such as live polling, surveys, chat, gamification and discussion boards, Touchpoint Stream creates a tailored attendee journey throughout the event; businesses can then utilize those insights to measure event success and inform future event and marketing decisions. Certain has partnered with the Kaltura virtual platform for the service.
To keep things easy and organized for your event's speakers
Full-service production company Image Audiovisuals has developed a new Presentation Management Portal that automates the process of organizing, gathering and uploading presenter materials. The system, which is part of the company's proprietary virtual platform eAttend Global, gives each presenter access to a secure portal to upload and manage their session material. It's built to handle live events, where presentation materials uploaded to the system are then sent to the session room, as well as hybrid and virtual events, where presenters can upload a prerecorded presentation and any accompanying material.
To schedule and coordinate in-person meetings at conferences and trade shows
Chili Piper, an inbound conversion platform for sales and marketing teams, recently debuted Chili Events, new tech that can automatically schedule, coordinate and track in-person meetings at conferences and tradeshows. The technology has a number of easy-to-use features, including event-specific URLs for prebooking, the ability to automatically coordinate availability across meeting spaces, calendar integrations, automatic reminders, an all-in-one event management dashboard and more.
"In-person events are hugely important for B-to-B revenue teams," said Nicolas Vandenberghe, CEO and co-founder of Chili Piper. "With Chili Events, we're making it possible for marketing and sales to not just automate booking conference and trade show meetings with key prospects and customers, but to treat those meetings like any other digital touchpoint in the customer journey, with quantifiable results and data."
For a fully produced, live virtual event
Animatic Media—an award-winning production company that offers audiovisual, event management and creative services for corporate and association events—also offers the Conference-On-Demand +LIVE platform. The service provides full, hands-on, live production services for online gatherings, aiming to generate a virtual component that rivals a polished television production. The full-service platform offers everything from registration to chat and screen-sharing to polling and Q&As. Other features are meant to bring in aspects of in-person events, like Voice-of-God recordings with music, animated "walk-in" loops, sponsor commercials and customized branding. The service also offers a customized portal for live and on-demand materials.
For fast and easy group bookings for meetings and events
Event management platform Eventsforce has launched a new ticketing and registration platform. The "Groups & Ticketing" system is designed to help organizers sell more tickets and increase revenue from group bookings. Group bookers have the choice of providing registration details themselves or using the company's group invitation tool, which allows people to complete their own registration information. A simple setup process ensures organizers can launch their events quickly, while a WordPress widget allows them to set up ticketing on multiple websites.
"The platform has been developed to solve some of the biggest problems organizers typically deal with when managing groups for events like conferences, festivals, workshops and community gatherings," explained George Sirius, CEO of Eventsforce. "It cuts out a big chunk of admin work and helps them secure money from group bookings a lot more quickly. More importantly, it gives them the tools to manage group experiences just as easily as individual attendees."

---
The Latest Promotion and Merger News
Event interpretation company Interprefy has launched new live captioning abilities for multilingual meetings and conferences. Complementing Interprefy's sign language offering, Interprefy Captions are available in 31 languages and have been designed as a visual aid for users to follow speech through translated subtitles, with real-time interpretation from professional conference interpreters transcribed into live captions using AI-powered Automated Speech Recognition technology.
Julius Solaris has joined all-in-one-event management platform Hopin as vice president of marketing strategy and events, where he'll support the company's continued growth by guiding core marketing strategies and engaging the event community. The industry veteran, who most recently worked at Swapcard and is the founder and former editor-in-chief of EventMB, will co-host Hopin's EventMinded, a mental health summit for event professionals, on Oct. 12.
Event and experience marketing agency George P. Johnson (GPJ) has acquired a significant minority stake in one of its long-term partners, full-service video agency NOMOBO. The investment allows GPJ to expand its cinematic approach to virtual and hybrid events by creating high-quality productions that make broadcasts part of the overall experience design, rather than just an add-on.
Qwick, an on-demand staffing platform for the food and beverage industry, has expanded to Los Angeles. This is the company's 11th operating city and second California location, following San Diego. Launched in 2018, Qwick provides a platform for food and beverage professionals to connect directly with hotels, caterers, event venues and restaurants.
Event software company Bizzabo has hired five new executives, bringing a total of 70-plus years of experience to the team. They are: Devin Cleary, vice president of global events; Sarah North, director of event experiences; Megan Murphy, vice president of account management; Tim Bull, vice president of sales in the EMEA; and Elijah Clark-Ginsberg, product manager.