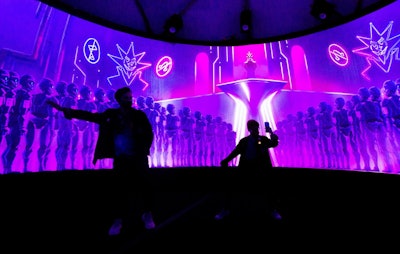 Photo: Courtesy of BMF
BizBash's newest column offers a monthly check-in on all things event tech, from new virtual platforms to social distancing-focused tools to software that will make your job easier. Got a tip? Get in touch!
Event Technology We're Excited About This Month
To learn what's engaging virtual attendees in real time
Event management software company Swoogo has launched a new in-platform attendee analytics feature called Swoogo Analytics. The tool allows event planners to track in-event attendee activity to better understand, segment and market to their audience, as well as create additional value for sponsors and other stakeholders. Building on data provided by Google Analytics, the new feature for virtual and hybrid events provides planners with exact activity matched to registration data for all attendees, so you can see who is interacting with what content and pages in real time.
To easily track COVID-19 testing and vaccination status
Los Angeles-based medical diagnostic testing service Total Testing Solutions (TTS) has debuted LINK, a HIPAA-compliant end-to-end software solution specifically designed for businesses, hospitality groups and venues to easily track test results and vaccination records for employees and guests. The system is designed to help streamline the screening process before entry, perform on-site testing, and/or confirm patrons have valid negative tests or vaccine cards. TTS has already partnered with sports teams and corporations like the Los Angeles Football Club and the San Jose Sharks, who are using LINK for fan COVID-19 testing and vaccination verification, as well as Nobu and Four Seasons hospitality groups to provide guests with access to self-collection COVID-19 test kits and other solutions. LINK will soon be introducing ID Checks too.
To keep attendees engaged long after an event ends
Event management platform Eventcombo has launched what the team is billing as a "LinkedIn for events"-like post-event platform. Community by Eventcombo aims to reinvent post-event communications and attendee engagement by easily giving clients ways to follow up with their audience after an event ends. "Currently, organizations use WhatsApp, emails, social media and other fragmented tools to keep attendees engaged; however, as the landscape of event management continues to evolve, these outdated methods account for more than 95% of attendees disconnecting once the event ends," explained Eventcombo CEO Saroosh Gull. "Community by Eventcombo offers event organizers a platform that helps them stay connected with all stakeholders post-event, within the integrated Eventcombo ecosystem of event tools that include integrated reporting and analytics, built-in event creation and management options, as well as attendee management features."
To improve your virtual and hybrid breakout sessions
Convene—a national provider of premium virtual and hybrid events with a network of meeting locations—is enhancing its virtual and hybrid meetings tool, Convene Studio, by embedding the Amazon Chime software development kit (SDK) voice and video capability into the product. Convene's breakout sessions will now be hosted on a custom-built player, allowing users to stay within the platform for breakout sessions rather than having to download new software; it also offers greater security with a fully SOC-2 compliant infrastructure, improved speaker resolution and more.
To modernize the traditional event guest book
Want a tech-forward take on the guest book at your next event? FêteFone, an audio guest book that debuted in 2016, recently enhanced its offerings with three new phone styles as well as a new virtual option for hybrid events. Appropriate for weddings as well as to gather testimonials or celebrate a guest of honor at a corporate event, FêteFone allows in-person attendees to lift the phone's receiver, hear a customized greeting and then record their message. Recordings are assembled and delivered via a digital download and an optional vinyl record. For virtual or hybrid events, the company now offers a virtual FêteFone experience, where guests can call a private local telephone number to leave their messages.
To get a virtual event up and running quickly
Cloud-based hybrid engagement platform ON24 has debuted ON24 Go Live, a new self-service solution that allows clients to quickly and easily build branded, interactive virtual gatherings by using prebuilt templates, an easy-to-use interface, marketing automation tools and more. "ON24 Go Live expands the type of experiences customers can create with a new video-centric virtual event solution to set up events fast and provide a destination for audiences to interact, while capturing actionable insights that seamlessly integrate with sales and marketing processes," said Sharat Sharan, CEO at ON24. ON24 also recently announced new innovations across its platform, including an update to its webcasting capabilities and more ways for customers to track prospect engagement data.
To find—and book—event rentals with the click of a button
The American Rental Association (ARA) has launched a mobile version of its online rental store locator. The RentalHQ app features easy-to-use search functions with fields for equipment type and location; searches deliver a list of local ARA-member rental partners carrying the rental item—such as chairs, linens, tents, servingware and more—with a mapped location, contact information and a website link for each store. "Event professionals are busy people who don't have time to search for rental items when customers are counting on them now. Our purpose with the RentalHQ app is to provide technology that makes the rental experience as easy, fast and reliable as possible," said Debby Schaller, vice president of marketing for ARA. "By using the app, event professionals will be quickly matched with nearby rental partners they can work with for a clean and safe rental experience."
To simplify bookings for group travel
Looking to get the best deals on group travel? Vindow is a cloud-based, SaaS platform that offers centralized, full lifecycle management of the procurement process—from RFP generation through contract management—powered by AI-based market analytics. Vindow's platform uses machine learning to analyze pricing patterns and predict hotel rates trends and track occupancy rates to forecast the best, most affordable travel windows. The hotel database can also be filtered based on a group's needs, like safety, LGBT-friendly areas and more. The platform is already being used by major airlines, hotel management companies and sourcing agencies, and it will officially debut to the public at next week's IMEX America.
The Latest Promotion, Funding and Merger News
Global virtual event platform Hubilo has announced $125 million in Series B funding from Alkeon Capital, Lightspeed Venture Partners and Balderton Capital. This brings the rapidly growing event company's funding to $153 million in less than 18 months. The investment will allow Hubilo to develop new business functions and platform advancements, as well as set up new sales offices in key regions.
Event experience company Bizzabo has acquired Israeli virtual event platform TeeVid. Through the new partnership, Bizzabo will now offer a full video production suite, which will allow planners to create content and video for attendees and partners that blends into a seamless TV-like experience. It's Bizzabo's third acquisition in five months, following previously announced team-ups with Whalebone and x.ai.
European tech start-up Veertly, which offers an all-in-one platform for virtual and hybrid events and digital collaboration, has received $1.9 million Euros of seed funding from VC caparison and Business Angels. The investment will be used to accelerate further growth with the expansion of the sales and marketing teams, and by adding technical innovations of the platform.
Global event production company J & S Audio Visual (JSAV) has rebranded as INSPIRE in an effort to showcase its more integrated, full-service production offerings along with creative, digital and venue services for in-person, hybrid and virtual events. INSPIRE has over 35 years of experience and creates over 2,500 events per year.
Online social events market company Evendo has raised $4.7 million in a Series A funding round. This comes after a year where the company expanded into 30 new markets across Europe, North America and Asia, and saw consistent 50% month-on-month growth since January. Evendo provides an inventory of 500,000 bookable event products, activities and services worldwide.