How to Book Hotel Rooms and Meeting Space On the Fly
Two new mobile apps offer on-demand services geared towards business professionals and guests.
March 2, 2016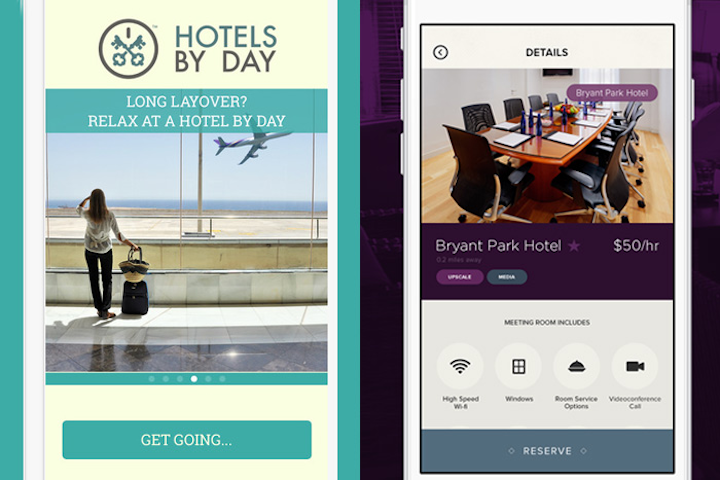 Photos (pitcured, left to right): Courtesy of HotelsByDay, Courtesy of Bizly
While traveling through Europe on behalf of a destination management company, Yannis Moati learned of a website of a somewhat salacious nature. Targeted towards couples and the "romantic" market, as he explains, it sold hotel rooms for the day. With that concept in mind, he returned to the United States and created a business-friendly version called HotelsByDay.
"Seeing the growth of the sharing economy and the bigger opportunity of providing uncommitted hotel rooms to business travelers who want to check in early or refresh after a red-eye flight, I assembled a team of hospitality pros to create [the mobile app]," founder and C.E.O. Moati says.
Launched in February 2015, HotelsByDay allows travelers to book a room for a short morning or afternoon stay. "Hotel rooms are sitting empty between overnight guests checking out early before 9 a.m. and guests checking in past 6 p.m.," Moati explains. Interestingly, app users are more local than out of town, with 67 percent being suburbanites, who live five to 60 miles from the hotel, he says. "They come into the city and instead of doing a bunch of back and forth between home and meetings on the same day, or feeling stranded in the city for hours, they can use a hotel room for the day as a base and be productive."
This type of on-demand service is helping to alleviate a growing pain that's been created by the increase in mobile workforces and flexible workspaces.
Ron Shah, C.E.O. of Bizly, learned about this need in the market the hard way—and then set out to fix it. "When my office went under construction and our conference room was out of commission in 2014, I thought we would easily rent the meeting rooms at nearby hotels to fill the need," he explains. "It turned out to be one of the most painful and expensive processes ever, with no automated way to get it done."
As an emerging markets venture capitalist, Shah had attended nearly all his business meetings in high-end hotels. "Everyone loved the great service and inspiring settings that hotels provided," he says. That experience inspired Bizly. The app allows professionals to find and book hotel meeting space (including selecting food, beverages, and amenities), charging users on an hourly basis. The platform also serves as a marketplace for hotels to fill unoccupied rooms.
Shah says that his team selects hotel partners, such as Hotel Hugo and Bryant Park Hotel, based on the components that are important to business meetings like strong Wi-Fi and seamless audiovisual options. As he explains, "enterprises need more than desks and chairs. Desks and chairs are everywhere and they are commoditized. What makes meetings productive is the touch of service that makes sure all your needs are met—food, beverage, amenities, logistics—clearing you up to focus on the business at hand."
Currently, the app is only available in New York, but Shah says there is demand from hotels around the world, with a waiting list in excess of 1,000 hotels. "We will focus in on only a couple U.S. cities this year before we move to a more aggressive global growth model in 2017," he says.
As for HotelsByDay, the company recently signed on seven properties in London and is gearing up for more international expansion; the service is already available in the United States and major cities in Canada, offering stays at hotels like the Wyndham Garden Chelsea in New York and the Hollywood Roosevelt in Los Angeles.
Moati says the company also wants to diversify, allowing users to rent meeting and conference rooms, gyms, and spas. "Basically [we're changing] the perception of a hotel stay from a rigid and expensive night stay to a 'hub'—a place where you can stop anytime, anywhere and refresh, work, rest, meet, interview."
Featured Venues/Suppliers: