What to Expect at BizBash Live: Washington, D.C.
Registration is still open for the event, which will bring together top industry thinkers on today's most pressing subjects.
July 29, 2019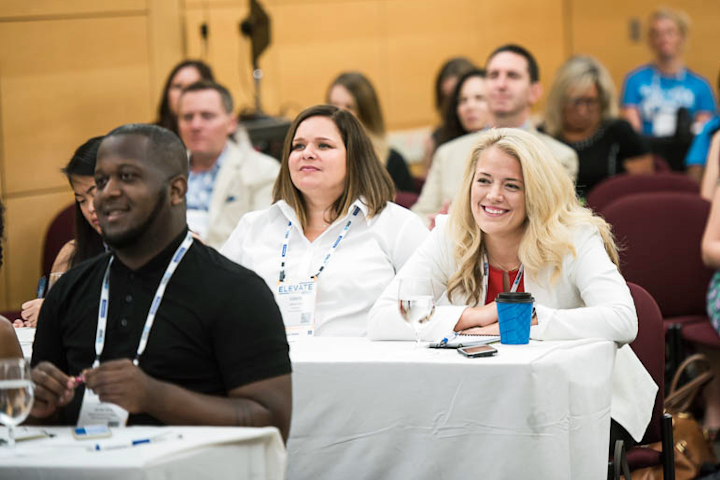 Photo: Tony Brown/Imijination Photography for BizBash
WASHINGTON—BizBash Live: Washington, D.C., an event designed to educate and inspire meeting and event professionals, comes to the nation's capital July 31 at the Ronald Reagan Building and International Trade Center.
A pop-up version of BizBash Live's industry event series, the gathering features a single track of speakers and panel discussions with networking breaks and an after-party at the Observatory at America's Square.
The schedule for BizBash Live: Washington. D.C., including morning and afternoon sessions, a luncheon, and multiple opportunities for networking and meeting with industry suppliers, is below; registration is available here.
8:30 a.m.
Registration Opens
9–9:30 a.m.
Networking With Continental Breakfast and Coffee

9:30–10:45 a.m.
Innovator Insights: Event Industry Forum Session 1

How To Think Like An Innovator
Rohit Bhargava, founder and chief trend curator, Non-Obvious Company
How to Be Less Stuffy (and Create an Authentic Connection)
Fredda Hurwitz, chief strategy and marketing officer, RedPeg
10:45–11:15 a.m.
Break
11:15 a.m.–12:15 p.m.
Innovator Insights: Event Industry Forum Session 2
The Vital Role of Events for Media Brands
Steve Clemons, editor at large, The Hill
Kris Coratti, vice president of communications and general manager, The Washington Post
David Adler, founder & C.E.O., BizBash
How AI Chatbots Can Increase Revenue, Create Community, and Drive Cost Savings
Robert Caldwell, founding partner, Sciensio
Media Training Crash Course: Preparing Your Speakers, Execs, and Yourself for the Spotlight
Jill Meister, president, Meister Innovative
12:30–1:30  p.m.
Networking Luncheon

1:45–2:30 p.m.
Innovator Insights: Event Industry Forum Session 3

Flashes of Genius: Learning the Art of Science of Creativity
Allen Gannett, C.E.O., TrackMaven
How to Create Impactful Association Experiences
Necoya Tyson, director of meetings and conventions, the American Traffic Safety Association
2:30–3 p.m.
Break
3–4:15 p.m.
Innovator Insights: Event Industry Forum Session 4
Learnings & Lessons from Successful Entrepreneurs
Dan Berger, founder, Social Tables
Yvonne McNair, C.E.O., Captivate Marketing Group
Tati Pastukhova of Artechouse
Nancy Shaffer, founder, Bravo Events
Mind.Blown.: A Performance From Mentalist and Illusionist Wayne Hoffman
Wayne Hoffman, mentalist and illusionist, Hoffman Entertainment
Experiences That Work: Creating Events That People Love
Adrian Segar, founder, Conferences That Work
4:15–6 p.m.
Networking and cocktails
6:30–8:30 p.m.
After-party at the Observatory at America's Square