This Week in Event Venues: London Goes Red for Events, Plus 'Stay Healthy' Kits, MOCA Masks, and More
Rounding up the latest news from hotels, convention centers, meeting spaces, restaurants, and other event venues across the United States and Canada.
August 13, 2020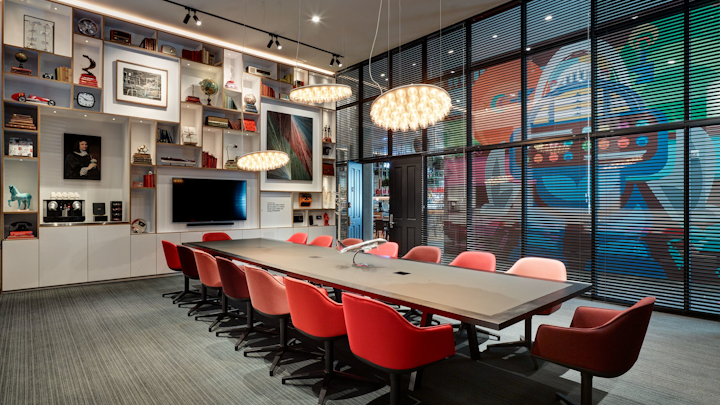 Photo: Courtesy of CitizenM Seattle South Lake Union
As hotels and event spaces begin to cautiously reopen after coronavirus-related shutdowns, we're here to round up the biggest news of the week—in one convenient place. Got a tip? Get in touch!
Here are five things you need to know this week.
1. London venues go red for events.
On the evening of Aug. 11, more than 300 hotels and arts venues across London—including the National Theatre, The Royal Albert Hall, and Wembley Stadium—were illuminated in red. Much like the U.S.'s Live Events Coalition "empty event" activations, the Red Alert campaign's goal was to shine a spotlight on the job losses in the U.K.'s live events industry. Organizers say that 1 million people in the U.K. work in the industry, and they're calling for additional government support.
2. Hotels continue to shift their accommodations in creative ways.
As hotels continue the process of safely reopening, many are thinking outside the box to make guests feel safe. At Remington Hotels' Lakeway Resort and Spa in Austin, for example, each event guest is given a "stay healthy" kit upon arrival that includes hand sanitizer, gloves, and masks. (The 168-room hotel is also offering hybrid meeting packages.) Hotel Zaza—which has locations in Dallas, Houston, and Austin—is offering special promotions such as the "All Day Empowering Package," which also includes sanitation kits, sterilized pens and paper, and the hotel group's signature box of Hot Tamales.
The Chicago Marriott Marquis, meanwhile, is offering QR code menus, spaced-out tables, and meeting catering served in individual packaging—think: sliders in their own boxes, charcuterie cones, and lunch bento boxes. And in Savannah's Kimpton Brice Hotel, a dedicated audiovisual production staffer—who has been certified through training programs with the Global Biorisk Advisory Council—is managing live stream options. The 145-room Kimpton has also reimagined its outdoor spaces for intimate events; for example, groups can now hold al fresco meetings poolside or in the hotel's leafy courtyard dubbed the "Secret Garden."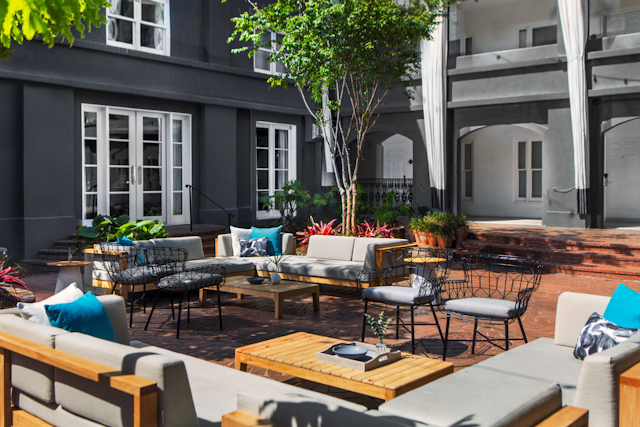 The Kimpton Brice Hotel in Savannah has reimagined its outdoor spaces for small events.Photo: Courtesy of Kimpton Brice
3. Hotels are also leading the way in best practices.
Following the announcement of its Commitment to Clean program and Global Cleanliness Council, Marriott International this week launched a revamped digital platform chock-full of content and resources for hosting safe meetings and events. The materials, housed on MarriottBonvoyEvents.com, outline redefined processes and reimagined spaces, plus best practices from cleanliness experts. Highlights include an informational video, infographics, inspirational case studies, and more. 
"Having experts in the area of hygiene, food safety, infectious disease, and infection prevention has been enormously beneficial in helping us think through everything we can do to support organizations as they begin to envision, plan, and execute future meetings and events of all sizes," said Ray Bennett, chief global officer, global operations for Marriott International and the chair of the Marriott Global Cleanliness Council. 
4. Venues are finding new streams of revenue.
For example, the Museum of Contemporary Art (MOCA) in Los Angeles is offering limited-production face masks designed by the likes of Yoko Ono, Virgil Abloh, the Andy Warhol Foundation for Visual Arts, and six other artists. The "MOCA Masks" are available online for $28, and all proceeds support the museum.
5. And also giving back to their communities.
This week, the three Hilton Hotels of Chicago—Palmer House, Hilton Chicago, and The Drake—are partnering with nonprofit organization Camp Kids Are Kids to create a virtual version of the annual urban summer camp for children living with cancer. The camp gives children ages 7 to 17 a summer-camp experience from their home or hospital bed, including counselor-led sessions, "camp bags" filled with supplies, a zoo tour hosted by Lincoln Park Zoo, and more. When enrolling, parents were entered into a giveaway to win a complimentary overnight stay in a Hilton Chicago suite in summer 2021.
And in Los Angeles, the 268-room Hotel Figueroa is hoping to uplift guests through a new curated art exhibit focused on life in isolation. Part of the property's ongoing Featured Artist Series, the curated exhibition from artist Stephanie DeAngelis has the theme of "Reconnecting With Earth, While Reconnecting With Ourselves." The artwork will be on display through the end of 2020. 
"Stephanie's reflection on how the pandemic and subsequent isolation has changed us ignites both self-reflection and conversation," says hotel managing director Connie Wang. "We hope by sharing new perspectives through art and dialogue, we lift our community in these difficult times."