This Week in Event Venues: Virtual Concerts, Hotel Home Schools, and More
Rounding up the latest news from hotels, convention centers, meeting spaces, restaurants, and other event venues across the United States and Canada.
August 27, 2020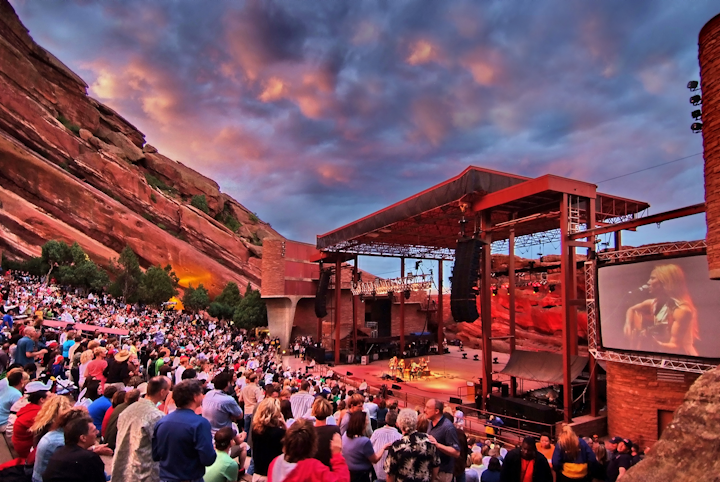 Photo: Courtesy of Red Rocks Ampitheatre
As hotels and event spaces begin to cautiously reopen after coronavirus-related shutdowns, we're here to round up the biggest news of the week—in one convenient place. Got a tip? Get in touch!
Here are five things you need to know this week.  
1. Virtual concerts are supporting music venues in out-of-the-box ways.
The historic Red Rocks Amphitheatre, located near Denver, Colo., is teaming up with Verizon-backed company Visible for "Red Rocks Unpaused," a digital music festival taking place Sept. 1-3. The free event, which fans can access via Twitter's live event page or VisiblexRedRocks.com, will feature live performances from artists such as Megan Thee Stallion, Lil Baby, and Nathaniel Rateliff & The Night Sweats. The event goes beyond the typical livestreamed concert, though: Audience chat messages will be displayed on the faces of the Red Rocks for artists to see and react to, audiences will help set off pyrotechnics (virtually, of course), viewers can vote for encore songs, and audience polling will help control the light show.
In other virtual concert news, musician Chris Daughtry has launched "Live From Home," an ongoing series to benefit live music venues around the country. Each event will benefit a different venue; for instance, the series kicked off Aug. 25 with a virtual concert to benefit Pennsylvania's Keswik Theatre, and future events will raise funds for Machine Shop in Flint, Mich.; Whisky A Go Go in West Hollywood, Calif.; and others. Tickets start at $10.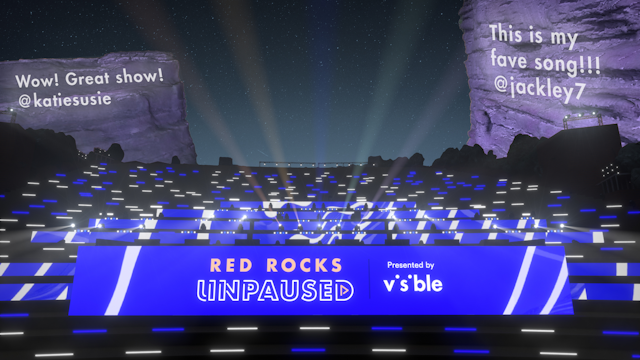 During the Red Rocks Unpaused music festival, audience chat messages will be displayed on the faces of the Red Rocks for artists—who will be at the venue in person—to see and react to.Rendering: Courtesy of Red Rocks Unpaused
2. North American venues will be illuminated in red next week.
Following the U.K.'s lead, event venues across North America will be illuminated in red on the evening of Sept. 1 from 9 p.m. to 12 a.m. in local time zones. #RedAlertRESTART aims to amplify the voices of the live event industry and encourage Congress to resume talks on the Restart Act. The U.K. event on Aug. 11 included 715 structures; organizers hope to double that for the North American event.
3. Hotels get on board with virtual school.
Some hotels have already reimagined their rooms as co-working spaces, such as the Wythe Hotel in Brooklyn, N.Y. But now, that virtual school is starting for many students, some hotels are taking it a step further. The 199-room Hotel Maya in Long Beach, Calif., is offering a "Back to Home School Blues" virtual classroom package, with special rates available daily from 9 a.m. to 6 p.m. Rooms have been converted into "hotel school" with free Wi-Fi, an ergonomic chair, boxed lunches for two, and even a "recess break" with cookies and milk. The InterContinental Hotel San Francisco is offering a similar package dubbed "Hotel Homeroom," where parents will also be given a complimentary office space.
4. New construction and renovations are taking COVID-19 into account.
Marriott's Hotel Paso del Norte, located in El Paso, Texas, recently completed a multimillion-dollar renovation with a pandemic-friendly twist: The property has installed a state-of-the-art air filtration system throughout its HVAC system. The Plasma Air system has been shown to kill 99% of bacteriophage in the air after 10 minutes of use, and it's been installed in all common areas, bars and restaurants, meeting rooms, and more.
"In 2020, there is no amenity greater than safety," explains Carlos Sarmiento, the hotel's general manager. "Reopening during a pandemic means that offering an authentic destination experience is not enough. It's imperative that we employ advanced safety precautions to promote health and peace of mind."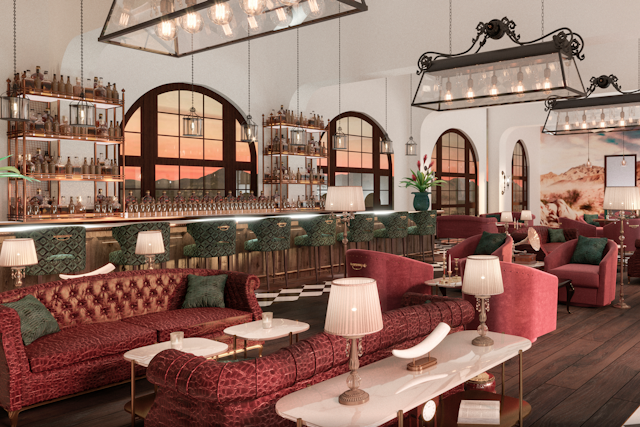 Hotel Paso del Norte has 32,444 square feet of event space.Rendering: Courtesy of Hotel Paso del Norte
5. Restaurants are generating business in creative ways.
In Los Angeles, for example, Spago Beverly Hills is teaming up with Veuve Clicquot for a two-weekend outdoor "glamping" experience starting tomorrow. A Veuve Clicquot-branded retro camper will be set up outside the Wolfgang Puck eatery, offering unlimited champagne to accompany an outdoor meal. Tickets start at $125 per person for two-and-a-half hours of champagne and food; tables can be reserved for two to six people.
Meanwhile, in Canada, a "Pik Nik" event took place in Calgary on Aug. 20. Guests purchased tickets for $99, which gave them a picnic-inspired four-course meal from a selection of local chefs; guests were then instructed to wear all white, pick up their picnics from the chefs' restaurants, and head to a local park to eat while watching a virtual concert from local musicians. Proceeds from the event went to restaurant charity program MealShare. Pik Nik plans to bring the event to Vancouver and Toronto in the future.
Bonus: New and Upcoming Openings to Know About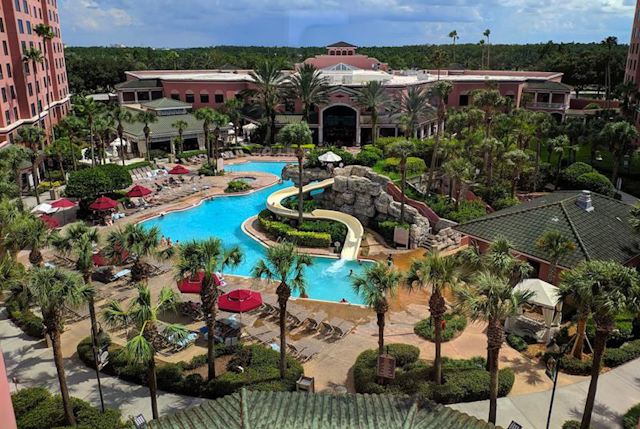 Caribe Royale Orlando bills itself as Central Florida's largest all-suite convention hotel.Photo: Courtesy of Caribe Royale Orlando
Caribe Royale Orlando has announced a $125 million phased renovation to its 1,215 one-bedroom suites and lobby; construction, which should be completed in spring 2021, will also add a grand ballroom. The new 50,000-square-foot ballroom will bring the hotel's total meeting space to 220,000 square feet, which includes three additional ballrooms, 54 breakout rooms, three boardrooms, and 120 lakeside villas that can be used for breakout sessions.
Allegiant Stadium, home to the Las Vegas Raiders, is now available for private events. Located adjacent to the Las Vegas Strip, the new stadium has 10 different event spaces that can host a wide variety of gatherings, from small events for 25 to a 65,000-person venue buyout. Areas include the Coors Light Landing, which holds 2,500 and is next to the Al Davis Memorial Torch. The venue is operated by ASM Global.  
Grand Hyatt Nashville is slated to open next month at the 17-acre Nashville Yards development. The 591-room hotel will have 77,000 square feet of event and pre-function space, including a 20,000-square-foot grand ballroom, 32 meeting rooms, and a covered outdoor terrace. The property will also have seven dining outlets, an outdoor pool deck, and easy access to the 1.3-acre Nashville Yards park. 
And Hotel Kansas City is slated to open on Oct. 1 in downtown Kansas City, Mo. The boutique property will have 20,000 square feet of event space, including three ballrooms, a 6,000-square-foot rooftop space, and several areas for smaller gatherings. The property is on the National Register of Historic Places, and the event spaces feature preserved details from the early 1900s.