Is "Sweatworking" the New Networking?
Event hosts are ditching traditional networking events in favor of group workouts.
March 2, 2016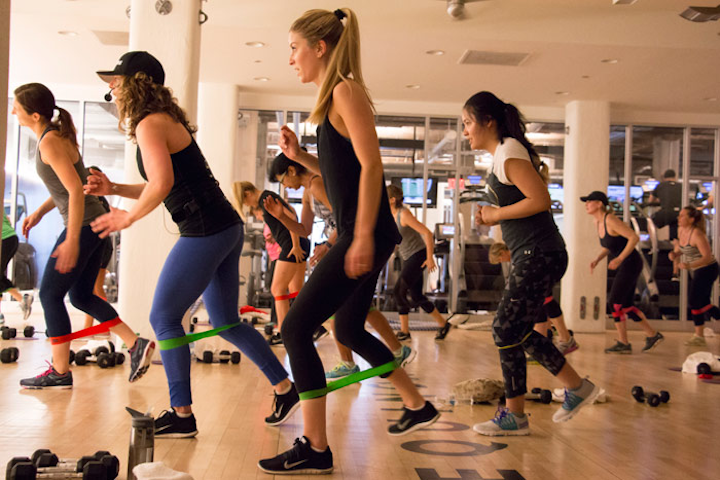 Photo: Courtesy of Equinox
"Sweatworking" is a term being used to describe a new kind of networking. Instead of gathering for drinks and conversation, groups are bonding over workouts followed by healthy snacks. The trend has led to increased bookings in gyms and fitness studios nationwide.
"Exhale has seen a huge uptick in corporate events, including teambuilding and networking events, as well as private workouts," says Kim Kiernan, director of public relations and communications for Exhale. With 28 international locations, and an opening in Bermuda slated for the summer, the boutique fitness studio offers workouts and healing spa therapies such as acupuncture for stress reduction. For many of its corporate event bookings, Exhale leads private groups through classes in yoga or Core Fusion, a proprietary fitness class, that includes weights, mountain climbers, karate kicks, yoga poses, and more. After the workout sessions, some hosts provide guests with mini spa treatments and healthy snacks such as fresh juices.
Studio Three offers yoga, interval training, and indoor cycling classes. The fitness studio opened in Chicago just last November but has already received requests to host networking events and private workouts. Many of the private sessions are customized to offer various types of exercise and could include a 45-minute cycling session followed by a half hour of restorative yoga. According to studio manager Lizzie Albert, groups often leave high-intensity workouts with a renewed feeling of connection. "Nothing brings people together like a joint butt-kicking," she says. "The endorphins help, too."
Sweatworking can also happen in a one-on-one format. Outside of a formal networking event, "we're seeing that guests will bring a colleague or a client to yoga or Core Fusion, to further their relationship and network [outside of an office setting]," Kiernan says. "Sweatworking is a great way to build [relationships]. Combining networking with your workout is perfect for busy, time-strapped business people, and people are making health and wellness a priority in their lives."
Equinox, an international fitness club chain, has a corporate program called High Performance Living. The Team Engagement Programs, lasting two to six weeks, can be catered to single departments or entire companies and include teambuilding activities. Project Run, for example, lets participants log miles on a treadmill over the course of the challenge; at the end, the team with the most miles wins prizes. The gym also hosts one-off group activities including an intense, full-body workout known as "Ropes and Rowers" or calming 40-minute yoga sessions. According to Christina Marshall, Equinox's director of marketing for the central region, working out as a group "is a great way of building camaraderie, increasing communication, and working on overcoming adversity as a team."
Featured Venues/Suppliers: