8 Anticipated Venue Openings and Renovations Across the U.S. and Beyond
These ongoing projects enhancing meeting and event venues will get planners pumped for future live events.
June 9, 2020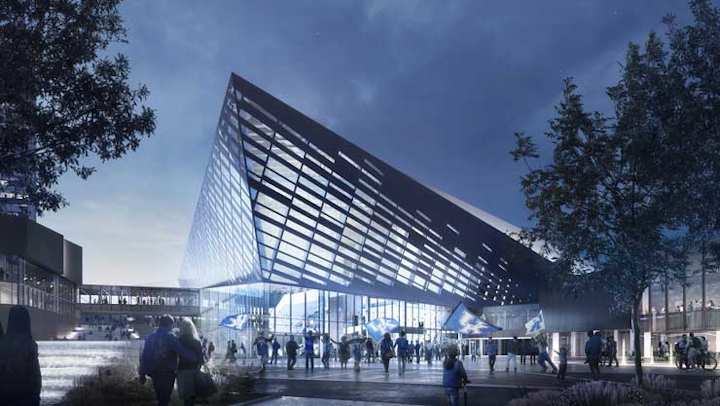 Photo: Courtesy of Central Bank Center
Travel may be standing still, but activity continues on construction projects that will benefit planners for years to come. We look beyond social distancing and other restrictions to days when these buildings will be filled with attendees at engaging conferences and events.
Jacob K. Javits Convention Center, New York
Come March 2021, the $1.5 billion renovations and upgrades to New York's Jacob K. Javits Convention Center will add more than 1 million square feet of new space on Manhattan's west side. Among the highlights is a 1,500-person rooftop pavilion and terrace overlooking the Hudson River. A one-acre rooftop farm designed to grow at least 20,000 to 30,000 vegetables and 100 solar panels demonstrate a commitment to sustainability.
Las Vegas Convention Center, Nevada
Phase two of the upgrade and renovations to Las Vegas Convention Center are on target for completion by January 2021. This phase will add 1.4 million square feet to the facility—600,000 of which is dedicated to exhibit space—as well as a main entrance and grand lobby off Convention Center Drive. The massive project is scheduled to be completed in 2023.
The Greater Fort Lauderdale/Broward County Convention Center, Florida is currently undergoing a $1 billion renovation, set to be complete in 2023.Photo: Courtesy of Greater Fort Lauderdale/Broward County Convention Center
Greater Fort Lauderdale/Broward County Convention Center, Florida
A $1 billion upgrade will double the Greater Fort Lauderdale/Broward County Convention Center to 1.2 million square feet when completed in 2023. A 65,000-square-foot waterfront ballroom will be the highlight. A new headquarters hotel will add 800 rooms and 73,000 square feet of meeting space, plus outdoor event space. The two projects are the centerpiece of a convention center district that will include restaurants, shopping, and cultural attractions. Visit Lauderdale is confident this new facility and area will fit into the needs of the new normal.
"Looking ahead, we anticipate an increased interest in the use of outdoor facilities and venues, and not just for social functions," says Ed Simon, executive vice president of Visit Lauderdale. "General sessions, breakouts, and other sessions can all be set up outside. Personal space will become an important factor when selecting venues, and facilities such as our expanded center that can offer a larger ratio of space per attendee in meeting rooms will have a distinct advantage." 
Congress Center Hamburg, Germany
A complete modernization of the Congress Center Hamburg in Germany is slated to be finished by August. It will include about 130,000 square feet of meeting space, as well as an impressive grand foyer and 50 breakout rooms. Speaking on behalf of the German Convention Bureau (which works with the CCH), managing director Matthias Schultze takes the long view of the climate. "The ongoing COVID-19 pandemic confronts our community with the complex question of when international travel to business events will be possible again. The answer to this question will depend on a variety of factors, though. These include the future course and spread of the virus, official regulations imposed by countries and regions, as well as the developments in medicines and vaccines. From our point of view, it is compulsory to consider different scenarios for the event industry's restart and make plans accordingly. Being prepared for different eventualities will ultimately maintain the industry's flexibility and will allow for quick adjustments if necessary."
The Langham, Boston
One of Boston's luxury properties is undergoing renovations that will go into early 2021. Group reservations for The Langham, Boston, are being accepted for March 2021 and beyond. Guests will experience a complete transformation of all guest rooms and event space (including the 200-person Lincoln Ballroom), plus the addition of a new club lounge and a new bar and restaurant. Michele Grosso, managing director of The Langham, says, "This renovation will highlight the architectural grandeur of this iconic building, but will also launch The Langham as a new American classic within the luxury hotel industry."
Central Bank Center, Kentucky
VisitLEX reports no delays in work on two major projects in Lexington, Kentucky. There is $278 million being poured into Central Bank Center and Rupp Arena, home of the University of Kentucky Wildcats. The CVB hopes for 100,000 square feet of exhibit space to be open in late 2020. The project adds to the competition of two downtown hotels and a pedestrian walkway in a push to reinvent the experience in Lexington.
At the Hyatt Regency Grand Reserve Puerto Rico, event pros can expect 41,000 square feet of new meeting and event space.Photo: Courtesy of Hyatt Regency Grand Reserve Puerto Rico
Hyatt Regency Grand Reserve, Puerto Rico
Already accustomed to adapting to Mother Nature's challenges, Nereida Amador, director of sales and marketing at Hyatt Regency Grand Reserve Puerto Rico, is preparing the hotel for groups ready to leave their homes for paradise. "We expect business to stabilize in the next 18 months," says Amador, who is fielding calls for fall 2020.
The hotel has 41,000 square feet of new meeting and event space and is implementing changes for guests' safety. "Our guestrooms include Steril-Aire UVC systems, which provide high-output UVC that destroys the DNA and RNA of microorganisms and is effective against all types of viruses," notes Amador, adding other protocols will follow the Hyatt's Global Care & Cleanliness Commitment program.
The Hotel Roanoke & Conference Center, Virginia
The Hotel Roanoke & Conference Center, Curio Collection by Hilton, located in Virginia's Blue Ridge, unveiled plans for interior and exterior renovations of its Pine Room Pub. Targeting a reopening date in September, the project includes a new 40-seat lobby bar, open kitchen experience, and outdoor patio. "The investment by ownership of The Hotel Roanoke & Conference Center demonstrates their long-standing commitment to the hotel and our community," says Brian Wells, general manager of The Hotel Roanoke & Conference Center. "We are excited to share more details of the future space, including concepts, themes, and menus, in the coming months."
This story first appeared on Connect (BizBash's parent company) here.