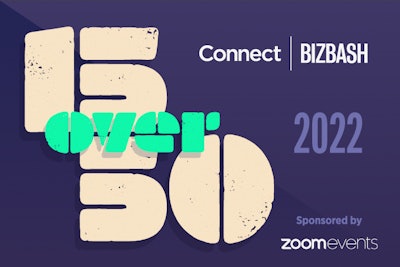 Connect x BizBash 15 Over 50 is sponsored by Zoom Events, a comprehensive virtual event platform with the power to create hybrid and virtual event experiences attendees will love. Learn more at events.zoom.us.
---
Connect and BizBash have teamed up to introduce our first co-branded "15 Over 50" feature, an impressive list of experienced corporate and association planners, incentive organizers, sales managers, event designers, marketers, and other event professionals who inspire us with their longevity and leadership. Click the links below to learn how these powerhouses each got their start, the biggest changes they've observed over their careers, the advice they'd give their younger selves, and more.
Caryn Mambro
Chief Creative Officer, Opus Agency
David G. Breen
Principal Designer/Founder, VDA Experiential Event Design Agency
Don Welsh
President & CEO, Destinations International
Ellie MacPherson
SVP of Customer Experience & Insights, Creative Group Canada
Gary Radin
Principal, GMRdesign
Janice Cardinale
Heart-Centric Entrepreneur, Cardinale Creative
Jason Katz
President & Founder, Atmosphere Event Communications
Jenn Glynn
Managing Partner, Meeting Encore Ltd.
Julie Coker
President & CEO, San Diego Tourism Authority
Laura Palker
President & Founder, National Trade Show Alliance

Melissa Deslauriers
Director of Sales & Marketing, bb Blanc Inc.
Melvin Tennant
President & CEO, Meet Minneapolis
Nancy Shaffer
President, BRAVO! Events

Rolando Espinoza
Creative Director, Champagne Creative Group & Champagne Experiential Studios
William P. Miller
Creative Director & President, W.P. Miller Special Events
---
About the "15 Over 50" process: Nominations are submitted by colleagues and peers through Connect and BizBash's websites. They are then reviewed by our editors, and finalists are vetted before the final list is selected for publication. Honorees must be over the age of 50 as of Aug. 1, 2022. Job titles and responses reflect the honoree's status as of Aug. 12, 2022.
While our features may be sponsored by standout companies, to ensure the list remains impartial, sponsors do not have the ability to review or curate any part of the list themselves.