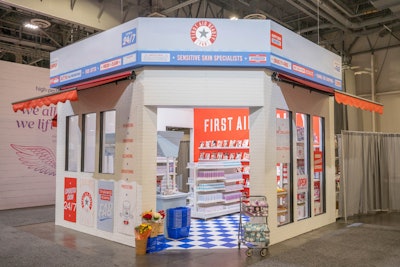 Photo: Courtesy of Gladiator Productions
Event professionals work hard to never repeat themselves. But what happens when you're working with four clients—all in the same industry, at the same trade show?
It's a challenge the team at Gladiator Productions faced at Ulta Beauty's most recent field leadership conference (FLC), which took place in Las Vegas last month. Founder Seth Dolan and his team were tasked with building booths for several beauty brands: Briogeo, First Aid Beauty, Anastasia Beverly Hills, and ghd.
Logistically, the team strategized when it made sense to work together on the four different accounts, and when it made sense to break into different teams. "We did have one singular creative path—supported by the team—but assuring the designs were unique and achieved each client's goals," explained Dolan. "So even when our clients had differing point persons, it all funneled up to a singular creative process."
One of the main goals of that creative process was to ensure each booth was given a distinct, creative design that captured the brand's aesthetic and goals. For Anastasia, for example, the team leaned into the brand's new lightweight neutral branding, along with the fact that it has been 25 years since Anastasia Soares founded the company. "So we leaned into neutrals, some of their bold new visuals, and the use of light to highlight the line—with giant screens telling the founder story," Dolan said.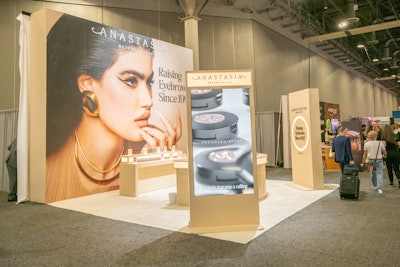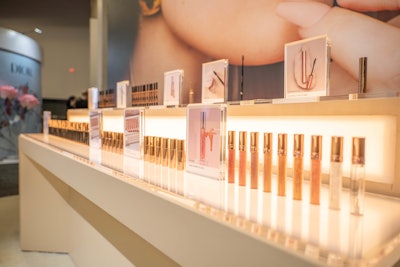 The Briogeo booth concept, meanwhile, leaned into the brand's clean hair care products that are made from natural and scientific ingredients. "They really wanted to convey science and clarity," Dolan said. "We had a lot of fun creating something that felt like a lab, but with a touch of familiarity."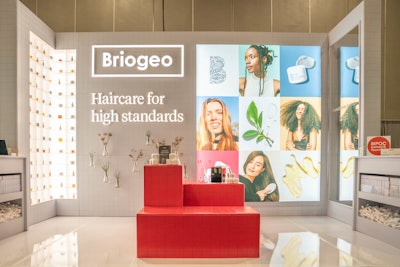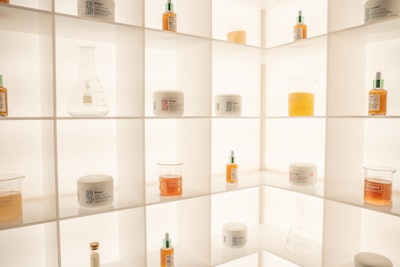 For hair tools brand ghd, the goal was to go bold to celebrate one of the brand's first major U.S. trade shows. "We took some of their brand DNA from their HQ in Europe—like the gold shimmer wall from their stores there—and added elements of their new tool, Duet Style, with incorporated connection to their recent pop-up at The Grove in Los Angeles that we produced," he said.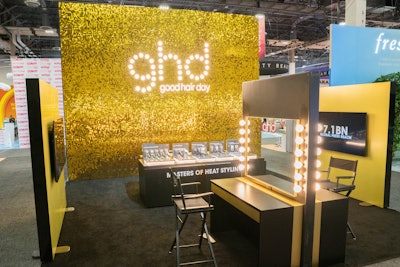 Finally, one of the show's more out-of-the-box booths came from skin care brand First Aid Beauty. "Their products are unique in that they address inconveniences we all encounter every day (and don't always want to talk about!)," said Dolan. "This concept of a convenience store evolved early on, and we loved the idea that you are immersed with the products as well as with the messaging that their brand uses to make skin care fun while also addressing everyday accessibility."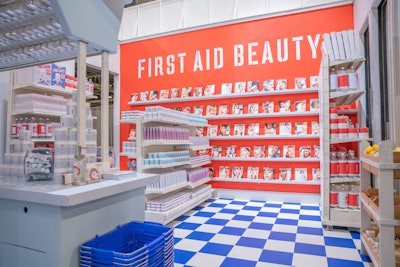 While the creative process was more collaborative, the Gladiator team was sure to give each project a designated lead to keep things on track in terms of execution. The key was being overprepared, said Dolan. "It's not easy to build four massive booths, all using their max height allowances for the show in four different corners of the floor! But we didn't have a challenge thanks to a lot of planning," he explained. "[Each booth] had been fully set up in our shop beforehand. The palettes were labeled methodically, our leads were on-site continuously at each set-up, and we moved crew around where they were needed based on the complexity of each build and support for each client."
Beyond the logistical challenges, Dolan noted that it can be tricky for a brand to stand out in the beauty industry and at a show like ULTA FLC. "We work a lot in the beauty space, and it's a challenging arena," he said. "There are new launches all the time, a lot of brands, and you have to find ways to stand out that tell the right story of the brand."
So what is working now for trade show booths? Dolan is noticing a rise in carefully considered lighting. "The use of light in as many varying ways as possible is very present," he said.
He's also seeing more substance in brands' trade show presences. "We tend to find the 'one gag' booth or photo op-only booth has faded. A photo op is great, but it can't be forced. The audience of this show in particular wants to learn, so we look at that through a lens of 'edutainment'—finding a way to educate in an entertaining manner. If there aren't multi-sensory connections, the attendees may either pass by or not spend much time connecting with the brand or the experience."
He continued, "Our approach at Gladiator is very non-traditional for a trade show booth, and I think that's why our clients come to us—for something that is distinctly unique!"