Grammys Stage Relies on "Combination of All Technologies"
February 14, 2011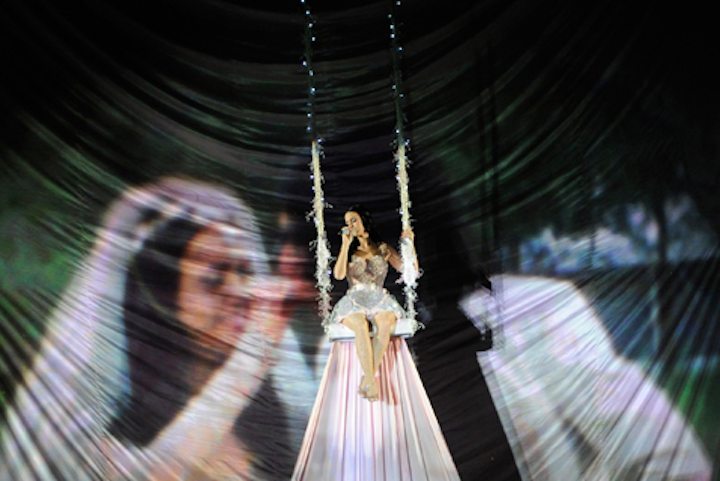 Photo: Kevin Mazur/WireImage.com
The 53rd annual Grammy Awards ceremony at the Staples Center on Sunday night was as much as showcase of technology as music, employing high-tech tools available across the audiovisual industry. "More and more, it's become a combination of all technologies," said Recording Academy vice president of production and process management Branden Chapman. "Rigged and motored elements, projections, Versatubes, digital wraps on set elements, sophisticated electronics incorporating into costuming. The lighting looks and the stage sets are becoming more complex, with people coming in on rigging, rising through the stage on elevators, looks changing throughout a single performance based on reveals. We're using more technology on a creative scale." Chapman called out the performances by Muse, Katy Perry, and Lady Gaga as "ones to watch" for their "technical sophistication."
Included in the set design were 1,200 high-definition Versatubes, which displayed motion graphics programmed to match each artist's set. The tubes were configured horizontally and acted as bands of imagery flanking the LED displays, close-down walls, video screens and each step in the staircases. The tubes acted as a lighting effect at times, and as a moving video display at others.
"The line continues to blur between lighting and video at this show," explained David Smith of ShowPro, which assisted Video Equipment Rentals and Full Flood, the vendors behind the show's lighting and video design. "Any given visual seen on the broadcast would be difficult to label as video or lighting. Lighting instruments are now acting as LED displays, and LED video displays are being used to illuminate parts of the set. It's an exciting time to be in high-tech production." The lighting designer on the show was  Bob Dickinson, with Jon Kusner as the assistant lighting designer.
The Grammys are produced by a huge committee, with the entire team led by executive producers Ken Ehrlich and John Cossette, and the Recording Academy also maintaining a high level of involvement.
Featured Venues/Suppliers: