4 Systems for Evaluating the Success of Events and Meetings
November 15, 2012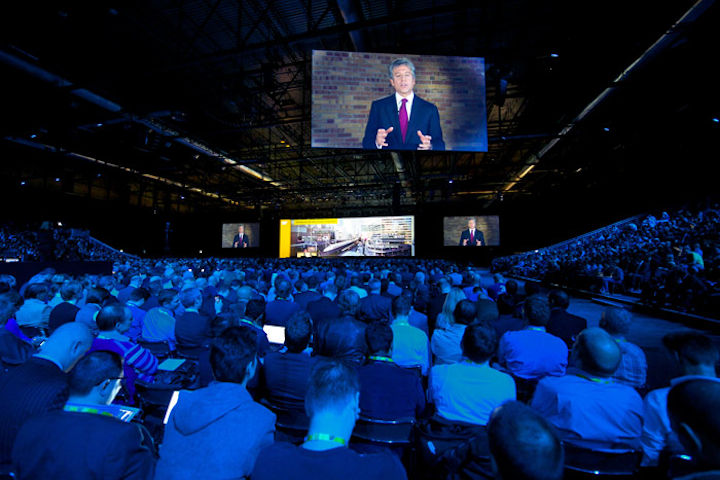 Photo: Wolfram Scheible
Meetings, conferences, and trade shows represent a significant budget item for many corporations, which puts pressure on planners to justify the value of that investment. Regardless of the type of event, the only way to evaluate return on investment (R.O.I.) is to establish measurable objectives and then determine if those goals are met. Here are four companies that can help planners gather feedback from attendees, sponsors, and other stakeholders.
1. Audience Metrix
Kevin O'Neill and Christopher Korody have been involved in audience measurement for more than 12 years, and in March they formalized those services by launching Audience Metrix. One of its most high-profile clients is SAP, for which the company provides evaluation services of the annual Sapphire Now conference and many smaller events throughout the year.
"What we are trying to do is work at a senior level so the value of the data is relevant to all the departments instead of just the event team, and it can work across a variety of event portfolios. The goal is that somebody does something with this information. That it is actionable," said Korody. O'Neill and Korody work directly with corporate leadership to determine what is valued by the organization, what they hope to achieve at their events, and what to measure. Then they use tools such as surveys, focus groups, one-on-one interviews, and telephone interviews to gather that data. "We'll also take the registration data, we'll take the survey data, we'll take the session evaluations, and we'll fold that into a single set of metrics. We are interested in trying to get to a broader, more integrated view of what's going on than just a single survey," Korody said.
As for cost, Korody said "it can run into the low six figures," but part of their work involves training corporate staff so that within a few years that company can manage the measurement process on its own. Additional clients include PeopleSoft, Sun Microsystems, and the JavaOne Developer conference.
2. Meeting Metrics
Meeting Metrics provides an online, D.I.Y. system, primarily suited to measure the effectiveness of business meetings and educational events. Planners purchase a license, currently priced at about $400 annually for a new user, that provides access to the online system, training, and support, and then they purchase individual surveys based on the needs of their events.
"Most survey tools are designed to be multipurpose. We went in the opposite direction; we built narrow and very deep," said Ira Kerns, managing director of Meeting Metrics. "So we have an inventory of more than 1,000 best practice meeting survey questions at the fingertip of the user that cover a broad range of needs for meeting surveys." The system has nine customizable survey templates that measure attendees' needs and results across the life cycle of a meeting, from pre- to post-event evaluations. Users work with their own online dashboard to create surveys, transmit them to attendees via email, and analyze the data that comes in.
The Meetings Metrics system is based on the more than 25 years of experience of parent company GuideStar Research, which used to provide in-person meeting measurement services. "That is very labor intensive and very expensive. What we've done is remove the consultant and replace the consultant with a meeting-intelligent system that already has done many of the things the survey administrator would have to think through," Kerns said. "We've thought it through, and we've given them the tools, ready-made. So with some training from us, they become a practitioner of meeting measurement." Companies that have used Meeting Metrics include Audi, McDonald's, G.E., and Johnson & Johnson.
3. Constellation Communication Corporation
Ed Jones, president of Constellation Communication Corporation, said his company's approach is to focus on whether clients are making money from their events, and if not, what they need to change to make the events pay off. "We have an R.O.I. model that applies to face-to-face marketing events. It not only figures out if a company is making money doing events, but it also helps to right-size events. It tailors the investment and the resources and the human resources to the size of the event opportunity," said Jones.
The company works with planners to develop objectives for their events in the categories of business development (lead generation, customer relationships, etc.) and marketing and communications (brand development, press influence, etc.). "We believe you need three perspectives to understand how well your event marketing program works. You need the visitor perspective, you need the staff and stakeholder perspective, and you need an outside, objective look at your accomplishments and some sort of measurement program that gives a performance perspective," said Jones. The company gathers this feedback using various phone, email, and in-person survey tools, and by sending consultants to attend a client's events.
Planners can choose the level of services, including telephone-only evaluations, starting at $1,750 per event, and a three-day on-site evaluation that includes an analysis of exhibit effectiveness, staff and visitor interaction, exit surveys, and post-event press evaluation at a cost of $15,000 per event. Constellation Communication's clients include Adobe, Owens Corning, Chase Bank, and the R.S.A. Security Conference.
4. SurveyMonkey
Planners using Eventbrite to manage registration and promotion of their events now have access to online survey company SurveyMonkey. The partnership launched in October and integrates SurveyMonkey's tools into the Eventbrite dashboard. Planners can choose from four new, customizable event feedback surveys and transmit them to all registered attendees via email. The system is being developed so data from the two systems will tie back to one another.
"So you might want to know if the survey respondents were a certain type of attendee that purchased a certain type of ticket. You will be able to map that data from Eventbrite back to the survey data," said SurveyMonkey C.E.O. Dave Goldberg. To create a survey on Eventbrite, planners must sign up for one of SurveyMonkey's plans which include a free option for small events with 100 respondents and more robust options costing $17, $25, or $65 per month.