2018 Preview: Event Tech Predictions From Industry Experts
Augmented reality, facial recognition, and blockchain are on the radar of these forward-thinking event professionals.
January 3, 2018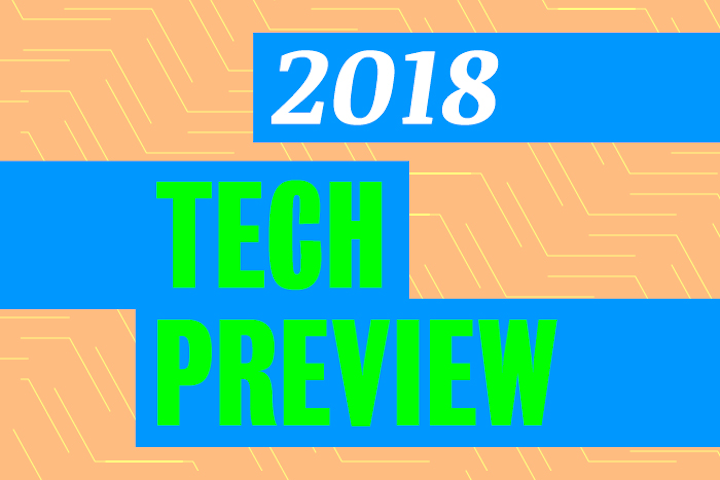 Illustration: Cornelia Stiles/BizBash
BizBash asked event professionals known for their expertise and innovation in technology to identify the new or emerging technology that has the most potential to transform the way events are planned or experienced, as well as the event technology they will be focused on learning more about in 2018. Here's what they had to say.
Wilson Tang, vice president of digital experience, Freeman
"The technology that has practically everyone in the world thinking about how it will transform their business is artificial intelligence. Beyond work that can be done by machines, like manufacturing and transportation, jobs that used to be performed by human beings (like law and accounting) are quickly being transformed by A.I. As more and more data becomes available in the event space, A.I. has the potential to truly personalize events by replacing or augmenting practices like matchmaking, recommendations, personalization, and much more. It's only a matter of time before A.I. becomes powerful enough to apply to creative practices.
"In 2018, computer vision will become an area that we will focus on learning more about. Connecting the real world and the virtual world has always been a prime challenge in how we apply technology in the event space. With computer vision, machines will be able to 'see' the real world and derive analytics like attention and demographics to everything from breakout sessions and interactive experiences. Being able to recognize objects and people will bridge the gap between the digital world and the real world in unexpected ways."
Mark Stewart, president and chief innovation officer, WonderMakr
"In our minds, it's less about a single technology and more about the creative ways that multiple technologies can be combined into an intelligent system to enhance, simplify, and amaze your guests. Starting with planning, for each key metric you can assign an emerging or mature technology to track or facilitate that, and then look at how these technologies can be combined to work together as a cohesive experience. One of the easiest ways to gauge the real potential of a technology is the nature of its creation. Is it open-source so you can reimagine what it can do for you, or is it a closed technology that only works one way? Most of our clients don't want limitations, so we keep a focus on open-source software and hardware that can be used to craft custom experiences, products, and technologies to fit any objective or measure of success.
[PULLQUOTE]
"Specific technologies we will invest into with more learning and experimentation include neural networks, machine learning, image and object recognition, smart sensors, the internet of things, and, of course, we will keep a close eye on blockchain technologies that will allow for more secure event ticketing and guest validation. Separating the humans from the machines will become harder and harder, and these different technologies will be battling it out at online and offline events."
Melissa Hamilton, senior vice president and director of integrated production, Momentum Worldwide
"Everyone is talking about 2018 being the year for augmented reality, and it certainly has the potential to transform the way events are planned or experienced. 2018 will be the time for brands to test transformative technologies like mixed realities, cognitive intelligence, or connected devices. Momentum built AR experiences for our clients five years ago, and by going through that process we're ready to have real discussions with our clients about the good, bad, and ugly of playing in that space.
"[In 2018], I'm particularly excited for experiences where our customers truly forget there's tech involved because the creative, technology, and activation are so beautifully blended and executed. It's exciting for us to think about wireless headsets, smaller but equally powerful equipment, and phones that can deliver the layers of 'reality' that once were only relegated to gaming machines. … We've begun connecting devices in new ways to help us track customer experience pre-, during, and post-experience, as well as integrate with our clients' systems for customer management. It's the combination of technologies that makes both me and my team excited."
Sarah Sebastian, creative director, Rose Gold Collective
"Some of the trends we saw break into the event space last year are still trends worth mentioning, including mixed reality, virtual reality, and artificial intelligence. In the coming year the trend is combining the technologies for a much more experiential approach to the usage. Technology such as artificial intelligence is giving us collective data live and post-event that allows us to actually and finally analyze and quantify some R.O.I. to the experiential marketing event experiences we are executing.
"We are always exploring new technologies and how to better connect content and experience between brands and their audiences in a live event, so I am watching the fast-evolving artificial intelligence space grow immensely, and it's still considered in its infancy. Smoother check-in processes, on-demand concierge, and live data capture on guests are all capabilities within artificial intelligence that I am enjoying watching it grow and integrate into our clients' event needs. Another overall trend we are focusing on in 2018 is technology that allows guests to be fully immersed. Whether that is the newest dome screens/projector capabilities or the future evolution of virtual-reality technology that can alter multiple senses from scent to visuals, we are looking to
elevate the live experience through technology."
Jake Lee-High, C.E.O. and creative director, Future Colossal
"Mixed reality devices, like the Hololens, have the ability to redefine events. As technology and storytelling pull event-goers further from reality, being grounded in the built landscape, in the moment—boundaries, lighting, sound—is important. Mixed reality bridges the physical and digital divide, and creates opportunity instead of constraints. This is important to us, as we see technology as the driver behind events and experiences, not the experience itself. You want your tech to support individuals as they connect with each other, the space, the mood, and further those relationships in ways that can't be forced or manufactured.
"As an innovation lab we are constantly exploring new technologies, and we continue to be excited by how multisensory integrations affect the experience. Diving into the realm of food tech to better employ taste, refining our ability to pinpoint and replicate smells, and programming multi-channel spatialized sound. Through 4-D effects, we are able to transform spaces and create lasting physical memories."
Mattheis Carley, manager of exhibition operations, GES Events
"The possibilities of artificial intelligence are endless. I think it will keep evolving in unexpected ways and has the power to drastically change how events are planned and experienced. A.I. can help streamline processes on the back-end and inform decision making. A.I. is not technology for technology's sake, but something that can enable more powerful storytelling and human connection. There is tremendous potential for experiences to become even more personalized through sentiment prediction and curation.
"[In 2018, we will explore] LED and its myriad applications for lighting, video, interactive, special effects, and anything else we dream up. The speed with which LED tech continues to advance is remarkable. New products are constantly rolling out as everything keeps getting smaller, lighter, and faster. Its uses are broadening and the barriers are lowering."
Daniel Ha, director of creative technology, Spinifex Group
"We'll continue to see amazing activations in 2018, leveraging smarter, more passive intelligence (Google Assistant, Siri, Alexa, IoT, and A.I. is a given), actual intelligible analytics (keen.io), experimental technology symbioses (for example, Acura Mood Roads), all with an emphasis on shareability. Just a quick scan of 2017's Q4 headlines—Facebook's AR Studio, iPhone X, Snapchat's Lens Studio, Magic Leap One, and so on—it's not a stretch to assume that brands and agencies will (re)use all sorts of mixed reality, which feature greater fidelity and more realism than ever before. And yet, I doubt this new wave of M.R. tech on its own will have significant impact the experiential industry. What continues to push the event industry forward is the focus on creating rich, seamless, and captivating experiences, which necessitates the creative application of technology in general. Experiential has been, and will continue to be, a perpetual Rubik's cube, a maze that once solved, will present another twist and turn."
Josh Kell, vice president of digital and brand marketing, Switch
"We're starting to look at using technologies like AR or VR beyond just a consumer-facing experience or tactic. These technologies can be put to use well before an experience ever takes place. For example, in the past, a site check would allow us and our clients to walk around an event space and point out where things would be set up. But it was a flat experience using printouts and blueprints and site diagrams and tape measures. With advancing AR technologies we can show our clients exactly what everything is going to look like in the space at scale. They no longer have to imagine how the footprint comes to life—they'll actually be able to see it using AR. It also makes it easier to move pieces around within AR and see how it affects the overall look, feel, and flow of the space, saving time and headaches when setting up the actual event. The same can be done with VR When designing a large event space we can use VR to transport clients to the space and allow them to virtually walk around. This helps dramatically with selling an idea, and also allows clients to give more informed feedback and direction. 
"And those are just a couple of examples. How can agencies use emerging (and established) technologies to help with brand ambassador recruitment and training? How can A.I. and predictive analytics allow us to plan better event spaces or audience experiences? These are the types of questions we're starting to ask ourselves beyond the standard, 'What happens when the audience puts on the headset?'
"In 2018 we'll be focused on discovering more about A.I. and machine learning to help us develop more thoughtful and impactful event experiences in the future. Using a wide range of data, from R.F.I.D. tags to event flow and interaction time to audience sentiment pulled in various ways from different social media channels, we can feed all of that into a computer program designed to do a better job of analyzing the information and predicting future results. Our experiences—whether a one-time large event, a trade show booth we activate throughout the year, or a sampling program that is on the road for 36 weeks—can use these predictive analytics to better inform our planning and set up our clients, and us, up for greater success."
Brent Turner, senior vice president of solutions, Cramer
Facial recognition: "In 2017, we saw range of compelling experiments by brands using facial recognition in live environments, including JetBlue testing facial recognition boarding passes at Boston's Logan Airport, to the new security systems at Dubai's airport, to Alibaba's experimental shop, Tao Café, using facial recognition for payments, and on. Within the event space, the work of Austin, Texas-based start-up, Zenus, has caught our eye. Their new platform is using facial recognition for onsite event check-ins, replacing tablets and touchscreens at registration booths."
Augmented presentations: "From large general sessions to broadcasts of events, we—as creators and attendees—are constantly thirsty for new ways to consume a speaker's presentation. For large-scale events, using technologies from companies like Vizrt, we expect to see more broadcast-style AR-based content to become integrated into keynote presentations. For video-centric presentations, we love the potential of Prezi's new AR tools that merge the presenter and their visual assets into a single screen. For attendees, we expect to see more AR glasses that provide closed captioning of the live event, similar to the London's National Theatre's smart glasses they provide for the deaf to enjoy live theater."
Live VR events: "Events will continue to be an area of experimentation and value-driving for virtual-reality technology companies. Through 2017, LiveLike and NextVR have expanded their offerings within VR for sporting events. Attendees can use VR to join their friends and 'sit' in a stadium's V.I.P. box to watch a live match. Additionally, during its recent user conference, Mark Zuckerberg announced Oculus Venues. Rolling out in 2018, Oculus Venus will enable up to 1,000 attendees to simultaneously watch live sports, concerts, and more. Finally, the coming implementation of YouTube's new 180-degree VR specifications will mainstream a 180-degree viewing angle that is much more appropriate for stage-centric live events. All together, the expanding technologies and new experiences to consume live events in a VR will drive bigger attention from event organizers of all types."
Gaze-based interfaces: "In the coming year we expect gaze-based interfaces—using eye tracking to control an interface—to be the hot trend in experience design."
Artificial voices: "Over the past few months we've seen interesting voice-centric technologies come to market. Google's new Pixel Buds can, in near real-time, translate nearly 40 languages. A San Francisco start-up called BableOn is able to translate what we each say without the need for the other person to have a headset. These technologies could potentially make it easier for international attendees to both understand content and network with people throughout all areas of an event or meeting."
Blockchain: "Blockchain, the underpinning technology behind the rise of cryptocurrencies like Bitcoin, is being explored for use in many other business areas. ... In the event space, start-ups like Blocktix now offer a counterfeit-resistant solution for ticket distribution and ownership."
Tahira Endean, event producer, #BCTECH Summit, BC Innovation Council
"We like to think it will be artificial intelligence or augmented reality, but I believe no one application of event tech is going to be the winner. It will be about integrating the most suitable technology to meet stakeholder objectives and participants' desires for ease of access, personalization, and for many, a sense of 'cool,' all tying into the experience. Content delivery using visual, aural, and other performance or sensory elements to evoke emotion is our new norm, and—when mixed with touchable, human elements—a formidable design combination.
"I want to continue to dive into data, cognitive meetings, and using artificial intelligence to ease the stress of questions with tools such as chatbots; creating touchpoints with social wearables and even robots; and how stronger integration with personal devices will deepen trust-based peer connections and opportunities for learning, and ultimately deliver the transformative experiences individuals and organizations both seek."
Featured Venues/Suppliers: