Venues Investing in More Sophisticated Virtual Site Visits
With better technology, meeting and event venues now offer informative and interactive tours for planners.
July 30, 2018
This tour of the Atlanta Marriott Marquis starts out like a typical site visit. There's the walk past the check-in desk, with a glance skyward to check out the hotel's futuristic atrium. Then there's an elevator ride up to see the Marquis's largest ballroom. But in another flexible meeting space, air walls open and close with the toggle of a button. A map pops up on demand, and info boxes appear with helpful notes for event planners like room square footage and other specs.
That's what it's like to explore the Atlanta Marriott Marquis on a laptop through the hotel's new virtual tour experience. The high-resolution tour covers everything from the front door to 164,000 square feet of the meeting space and everything in between, all captured via a 360-degree camera rig atop a remote-control rover by tech company Artists of the Industry. Marquis sales managers are able to virtually walk planners through the entire hotel just by sharing their computer screens.
"We just had a customer do the site visit two days ago via this virtual tour. Her comment to our sales manager was, 'I feel like I'm in a video game,'" says Meinrad Lang III, director of sales and marketing at the Atlanta Marriott Marquis, who says that the tour helps event planners visualize the flow from floor to floor and meeting room to meeting room.
Lang and his colleague Shar Zeigler, the hotel's director of sales, also view the technology as a way to make it easier for planners to do business. Zeigler summed it up: "The cost, the time to fly out and take a look at the space—why not just share your screen and look at the space in your home office?"
Making a Virtual Impression
Thanks to virtual-reality technology and 360-degree photography, hotels and convention centers are finding ways to immerse event planners in a space—without them ever setting foot in the building. "They feel like they've actually been there, they know the experience they're about to get," explains Sandy Narvaez, director of sales and marketing at Hilton Waikiki Beach. Her hotel offers a virtual tour app from technology company YouVisit that is available in four languages and can be used on a laptop or a phone.
The app also solves a problem: Unlike a photo gallery, it conveys that even though the hotel is a block from the beach, rooms still boast gorgeous ocean views. "It really helps to decrease the number of times that we've lost a piece of business because they didn't quite understand that they would still be getting ocean views," she says.
Beyond being informative, interactive virtual tours can make a big impression on prospective planners too. Ashley Forrester, corporate director of communications and marketing for Events DC, uses Samsung Gear VR and Oculus Rift headsets to show the interior and exterior of the Walter E. Washington Convention Center and other venues, along with an up-close-and-personal look into various events held there. "By unveiling a fully immersive virtual reality experience, Events DC is continuing to deliver amazing customer experiences to drive technology throughout all of its venues as well as showcase Washington, D.C., as the innovation capital," she says.
Saving Planners Time
Obviously, for event planners located in another city, interactive virtual tours are incredibly helpful. Melissa Assencoa, director of sales at the New York event venue Helen Mills, invites her prospective clients from all over the world to hop on a virtual tour as soon as possible. "People will have a few questions and then I'll say, 'By any chance are you by a computer?' and likely they'll say yes. Then I'll just send them the virtual tour link and I'll walk them through it. It's so much easier rather than having 18 emails back and forth," she says.
"They can also zoom into the finer details," Assencoa adds. "If I have a corporate client who needs to take a look at the kitchen, that's fantastic. Instead of just having the photos, they can really zoom in and then they can use the tool when they want to bring in a caterer."
Virtual tours are also a powerful tool after an event is on the books. Orange County Convention Center's director of sales Rodney Gutierrez helps planners create custom space layouts for their events using an app powered by SketchUp. "They receive the interactive floor plan with their proposal letter so they're able to see and take a walk around on their own time in the convention center," he said.
At the Atlanta Marriott Marquis, the team originally envisioned the virtual tour as a sales tool, but it's now used by the hotel's event managers too. "Our customers were flying down sometimes two to three times prior to their meeting to walk the space again," Lang said. "We realized how efficient it would be if that customer didn't have to fly down here for the meeting. Instead they could just go on this tour with our event managers. Our event managers are beginning to utilize this with their customers with the hopes that maybe we are saving our customers time."
Working Around the Limitations
Assencoa is still surprised when she books Helen Mills for events with only a virtual site visit. "To be able to do that is the new wave of event planning. It's only going to get better from here, which is great," she says.
While this technology keeps improving, Narvaez at Hilton Waikiki Beach found a workaround for one limitation. "The lens that we used is a fish-eye lens. When we're out on our balcony in our guest room, it makes the ocean look further out than it actually is because of that lens," she says. A video is now integrated into the virtual tour to help give a more accurate depiction of the view.
There is, of course, another big difference between a virtual tour and real tour: "You don't get the sights, and the sounds, and the smells," Narvaez says.
The Atlanta Marriott Marquis is trying to work around that one too: Customers receive a shipment of caramel bacon popcorn and candied pecans straight from the hotel's kitchen to snack on during the virtual tour for another layer of immersion.
This story appeared in the Spring 2018 digital edition of BizBash.
Photo: Courtesy of Atlanta Marriott Marquis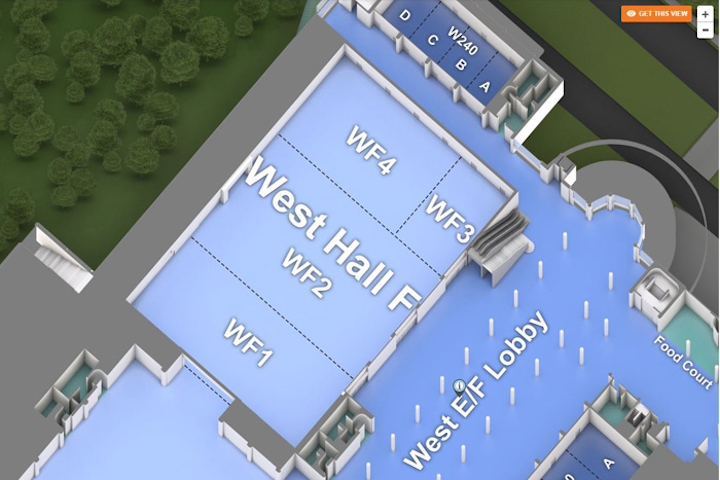 Photo: Courtesy of Orange County Convention Center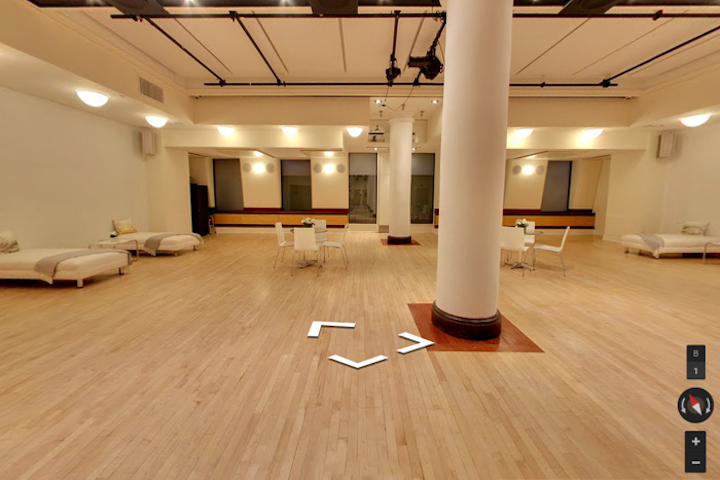 Photo: Courtesy of Helen Mills
Featured Venues/Suppliers: