BizBash to Honor Washington Event Professionals at Hall of Fame Ceremony
The honorees, as well as two rising stars in the event industry, will be celebrated at a ceremony on Thursday.
June 19, 2017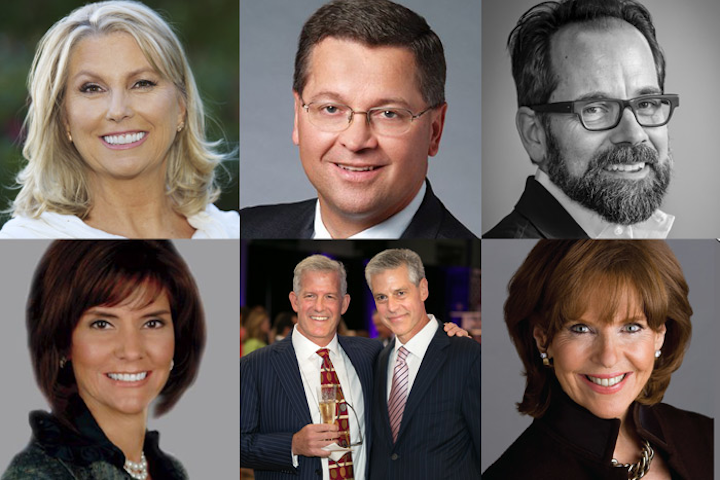 Photos: Sean Kelley (Hanson), Sergey Kolupaev (Mark and Eric Michael), Courtesy of Honorees (All Others)
BizBash will celebrate a group of vaunted event and meeting professionals in Washington by inducting them into the BizBash Hall of Fame. The honorees are Susan Ann Davis, Philip Dufour, Julie Hanson, Capricia Penavic Marshall, Eric and Mark Michael, and Michael Stengel. The ceremony, to be held Thursday at the RiverView Ballroom at Gaylord National Resort & Conference Center, will also recognize two rising stars in the industry: Rebecca McFarland and the team behind EnventU, a new organization that instructs high-school students on entering the event business. Chosen by the BizBash executive committee for their work, accomplishments, and contributions to the industry, the honorees join a distinguished group of industry professionals. The full list of BizBash Hall of Fame inductees can be found here.
Susan Ann Davis
Chairman, Susan Davis International
Davis has grown her agency into a global public affairs, strategic communications, and events company. Throughout her more than 35-year career, she has produced high-profile events and provided public relations counsel to heads of state, worldwide cabinet-level ministers, Fortune 100 C.E.O.s and heads of major institutions, and N.G.Os. Her event career began with her selection as the first woman to do advance work for a president of the United States. She has organized and directed international business summits, national conferences, inaugural galas, awards programs, and cultural, military, and historical institution dedications. She is an expert on public affairs, media strategy, protocol, event design and production, public events, complex multi-event logistics, diplomatic and congressional relations, and crisis management. Davis has provided strategic vision and management for events such as the Centennial Commemoration of Word War I; Gold Medal Awards Celebration for the World War II Women Air Service Pilots; the dedication and the 10th anniversary of the U.S. Holocaust Memorial Museum; the Japanese American Memorial dedication; the F.D.R. Memorial dedication; the Bicentennial of the Library of Congress; and the dedication of the Martin Luther King Jr. Memorial. She provided strategic counsel and management of the logistical and media teams for the opening of the Women in Military Service for America Memorial at Arlington National Cemetery, which included a 30,000-person dedication, 15,000-person march, 16,000-person series of luncheons, a 5,000-person gala, and a 7,000-person event in Arlington Cemetery, using more than 10 venues in three days. She led the event team for the dedication of the National World War II Memorial, which included the largest public seated event on the Mall at 160,000 people. A graduate of the University of Wisconsin, Davis has received numerous awards for her business and humanitarian work.
Philip Dufour
President and C.E.O., Dufour & Co Productions
Dufour has brought together more than 25 years of event management and production, corporate relations, sponsorship, and government affairs experience, and his signature style, to create his event production firm, Dufour & Co Productions. Prior to creating Dufour & Co, Dufour co-founded the J Street Group in 2005. This followed his tenure as director of development and events for the Elizabeth Glaser Pediatric AIDS Foundation, where he led a staff in creating, planning, and managing high-visibility development events that raised more than $8 million annually, attracted major celebrities, and garnered extensive media coverage. During the Clinton-Gore administration, Dufour served as social secretary to the Vice President Al Gore. In that capacity, he coordinated all special events at the Vice President's residence including foreign and domestic policy exchanges as well as official visits with heads of state, foreign dignitaries, corporate leaders, and members of Congress. He also served as Tipper Gore's deputy chief of staff, holding full authority over her schedule and accompanying her on foreign missions and domestic trips. Dufour previously worked in the Office of Protocol at the Department of State, was the first director of events for the Human Rights Campaign, and served as press secretary to a member of Congress. Originally from Louisiana, Dufour holds a bachelor of fine arts from Louisiana State University and has called Washington home since 1984.
Julie Hanson
President and C.E.O., Hanson Productions
Hanson is an industry leader in the design, planning, and implementation of high-profile events for a variety of corporate, industry, government, nonprofit, and political organizations. Hanson's career highlights include the opening of the U.S. Holocaust Memorial Museum, featuring a week of events involving audiences of up to 20,000 and featuring the largest gathering of heads of state since President Kennedy's funeral; the televised production of HBO's Concert for Valor featuring a global audience of more than one million people; and the annual Leukemia Ball, one of Washington's largest and most successful black-tie fund-raisers: Over the course of her tenure as producer the event has raised more than $50 million for the Leukemia & Lymphoma Society. Her expertise in logistics, permitting, and the production of large-scale events has earned her a diverse client base, including the Presidential Inaugural Committee, HBO, Nike, USA Today, Audi, Daimler-Benz, Chevron, the Smithsonian Institution, the American Cancer Society, the Leukemia & Lymphoma Society, the American Heart Association, Junior Achievement, and more. Hanson began her event career at a Washington-based public relations consulting firm, where she served as vice president of special events for more than 12 years. She opened Hanson Productions in 2003.

Capricia Penavic Marshall
Former Chief Protocol Officer of the United States
Marshall serves as ambassador-in-residence at the Adrienne Arsht Latin America Center at the Atlantic Council in Washington. She is president of Global Engagement Strategies, which advises international public and private clients on issues relating to the nexus of business and cultural diplomacy. She travels across the country speaking to organizations and corporations about her experiences, lessons she has learned throughout her career in public service, and how best to integrate cultural diplomacy into business. From 2009 to 2013, she was chief of protocol of the United States, bearing the rank of ambassador and setting the stage for diplomacy at the highest levels. In this capacity, she worked to leverage U.S. relationships with foreign governments developing strategies to transform global engagement. Marshall oversaw six state and official visits, numerous working visits, the G20, Nuclear Security, APEC, G8, NATO, and Sunnylands summits, and the protocol arrangements during travel with the president and secretaries of state to 42 countries. Marshall sought to create new methods of engagement to build international goodwill through a new division in the protocol office, Diplomatic Partnerships. The program created partnerships between the foreign diplomatic corps and business, government, and community leaders across America. From 1997 to 2001, Marshall served as deputy assistant to the president and White House social secretary. From 1993 to 1997, she was special assistant to First Lady Hillary Rodham Clinton. In addition to her bachelor's degree in political science from Purdue University, Marshall holds a law degree from Case Western Reserve University School of Law, where she received the Society of Benchers award in 2012. In 2013, she was awarded the Distinguished Service Award from the secretary of state and the Order of the Cross of Isabel La Católica from the ambassador of Spain. She is a member of the Council of American Ambassadors. Marshall is currently serves on the boards of the Case Western University International Advisory Board, the Strategic Planning Board, the Blair House Restoration Fund, and the Council of American Ambassadors.
Eric Michael
President, Occasions Caterers
Mark Michael
C.E.O., Occasions Caterers
Twin brothers Eric and Mark Michael grew up in Baltimore. After graduating from Georgetown University (Eric) and Stanford University (Mark), the brothers stayed close to home and worked as many recent graduates do, as waiters for a local caterer. They felt there was an opportunity in the market for a different style of entertaining that used a global and more restaurant-like approach. They believed that the food and service at events should be just as pleasing and gracious as the best of restaurants, whether at a small dinner party or a large reception. In 1986, they started Occasions from their tiny apartment kitchen and gradually built a team of executives, chefs, captains, and waiters. Thirty years later, Occasions has grown but the focus remains the same: a boutique approach to full-service catering with a focus on custom menus, creative decor, expert planning, and gracious service. As president, Eric provides creative direction and works with the team to create highly customized events. Mark, as C.E.O., leads business development, operations, and community partnerships. Occasions has worked with clients such as the National Gallery of Art, the Washington National Opera, the Washington Ballet, the Smithsonian Institution, the U.S. Department of State, MSNBC, Google, the Washington Post, the White House Historical Association, Facebook, Exxon Mobil, the Trust for the National Mall, and more. Occasions' work has been featured in the Washington Post, Martha Stewart Living, Martha Stewart Weddings, The Knot, In Style, Town and Country, Washingtonian, Art Culinaire, Food Arts, Forbes, and other lifestyle and event publications.
Michael Stengel
Senior vice president, Gaylord Hotels and Convention Hotel Strategy for Marriott International, Inc.
Stengel is senior vice president of Gaylord Hotels Operations and Marriott's Convention Hotel Strategy. Stengel has management responsibility for the four Gaylord Hotels; the pre-opening of Gaylord Rockies in Aurora, Colorado; the Inn at Opryland; and the entertainment attractions in Nashville including Gaylord Springs Golf Links, Wildhorse Saloon, and General Jackson Showboat, consisting of more than 8,400 employees and some 8,100 hotel rooms. Additionally, Stengel partners with leaders of Marriott's large convention and resort properties to identify and deploy proven initiatives that lift overall performance. Prior to his current role, Stengel served as market vice president for Marriott International's New York City hotels including five Marriott Hotels & Resorts and two Renaissance Hotels totaling more than 4,000 rooms. He had overall responsibility for sales and revenue management for more than 20 hotels in the New York City area and for the Washington, D.C., Marriott Marquis that opened in 2014. Stengel has held numerous executive positions with Marriott. He served as general manager of Marriott's Seaview Resort in New Jersey, and hotel manager and then general manager of the New York Marriott Marquis, where he was recognized in 2001 as General Manager of the Year for Marriott's Northeast Region. Previously, he was regional director of operations for the Northeast Region, director of food and beverage at the New York Marriott Marquis, and a member of the executive opening teams for the Marriott Desert Springs in California and the Atlanta Marriott Marquis. Stengel served on the Board of Directors of the Jacob K. Javits Convention Center in New York, the Executive Board of Directors of New York City's Convention and Visitors Bureau, and was chairman of the Times Square Alliance. Stengel graduated from Rowan University and resides in Alexandria, Virginia, with his wife.
Rising Star Honorees

Rebecca McFarland
Associate publisher, Washingtonian
McFarland is a native of Massachusetts and attended Bucknell University, where she studied business management and marketing. After graduation, McFarland moved to Washington to work at Washingtonian. During her 12 years at Washingtonian, she has worked in most of the magazine's departments, including art, advertising, marketing, and events. Now, in her position as associate publisher, she conceives and oversees all of Washingtonian's events, ranging from 75 to 10,000 guests. She has added 31 new events to Washingtonian's portfolio, including Washingtonian's Whiskey Festival, Taste of Georgetown, and the Inaugural Ball. In her downtime, McFarland enjoys spending time with her husband and 18-month-old son.
EnventU
EnventU is a one-of-a-kind workforce development initiative designed to introduce and nurture an interest in event-industry career opportunities for D.C. public high school students. Business leaders and industry professionals guide students from underserved communities as they produce a real event for a local client. Students learn about and make decisions regarding catering and decor, audiovisual elements, lighting, graphic design, and more over 10 weeks. EnventU makes it easy for industry veterans to inspire and help cultivate the next generation of event professionals as in-class guest speakers and mentors or as guides through the inner workings of their businesses during supplier field trips. Since the inaugural session in 2015, more than 100 students have created and/or staffed corporate holiday events, trade shows and expos, professional conferences, and a 3,500-attendee rock concert. EnventU currently serves students at Woodrow Wilson Senior High School, Frank W. Ballou Senior High School, and Columbia Heights Educational Campus in Washington, D.C. EnventU's founder is Latoya Lewis, who previously worked at Events by Andre Wells and Universal Music Group.
Featured Venues/Suppliers: