This Week in Los Angeles: Playboy's PG-Rated Exhibit, a Basketball-Theme Bus Stop, the Manufactory's Newest Opening
West Coast bureau chief Claire Hoffman covers the week's biggest event news.
March 22, 2019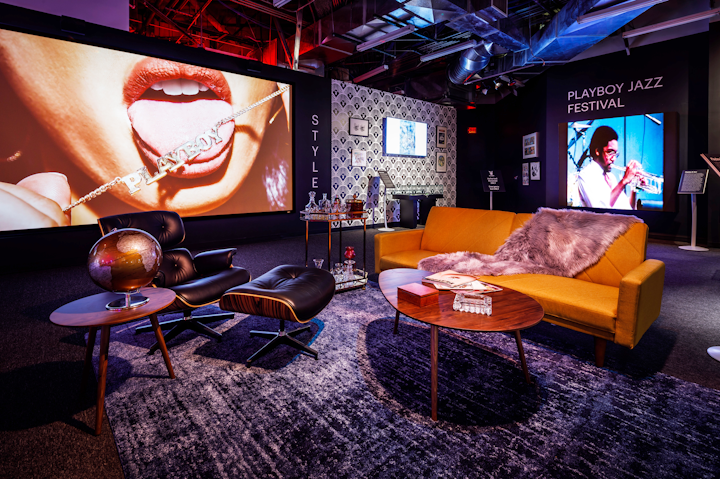 Photo: Sean Twomey/2me Studios
LOS ANGELES— Welcome to BizBash's Los Angeles-based column, where West Coast bureau chief Claire Hoffman covers the week's biggest local news. Got a tip? Get in touch!
Moves & Milestones
ANSA Productions, longtime producers of the Los Angeles Auto Show, promoted Terri Toennies to president. The 35-year industry veteran previously served as executive vice president and general manager. ANSA Productions has also named Elly McCloud vice president of marketing and communications, and Maureen McGrath vice president of sales and partnership relations.
The Wayfarer DTLA has named Jessica Rincon its general manager. The 156-room hotel is slated to open this summer.
Torrance-based rental firm Choura Events has acquired design and fabrication company Studio Concepts.
In Case You Missed It
We summarized some key takeaways from ILEA Los Angeles's "Meet the Masters" panel, which covered the issue of transparency and integrity in event sales. We also took a look inside some gorgeous bohemian-style event ideas to get you ready for Coachella.
In the News
What appeared to be a meteor headed toward downtown Los Angeles on Wednesday night turned out to be a stunt from Red Bull. Los Angeles Times: "The commotion was caused by Red Bull Air Force, the energy drink's team of skydivers, who were wearing custom wingsuits fitted with LED lights and pyrotechnics while filming a video celebrating the final super moon of 2019. They jumped from a helicopter 4,000 feet above L.A. and flew one mile, pulled their parachutes at 1,000 feet, and landed near the InterContinental Los Angeles Downtown hotel, a spokesman said."
Advocacy organization Time's Up and national women's club the Wing are collaborating on a series of events designed to advance women in the workplace. The Hollywood Reporter: "In addition to working together on programming that seeks to 'empower' women in the professional world, the Wing will offer a Time's Up meeting space going forward. ... The Wing is opening a location in West Hollywood in spring 2019; it currently boasts clubs in New York, Georgetown, and San Francisco."
The Luxe City Center Hotel has long been a popular spot for political fund-raisers—but public records show that bills aren't always being paid. Los Angeles Times: "A Times review of campaign records found no evidence of payment by at least seven politicians involved in three separate fund-raisers at the Luxe, whose owners spent several years seeking city permission to redevelop their property. ... Had the Luxe intended to contribute food or other services, the politicians who received them would generally have been required to report them as campaign donations."
Surprise Event Metric of the Week
40 percent: The percentage of jobs that Town & Country Event Rentals is hired for the same week the event is taking place. Company founder Richard LoGuercio shared the statistic during ILEA Los Angeles's "Meet the Masters" panel last week, where he discussed how last-minute the industry has become.
Venue Buzz
This week saw the opening of Alameda Supper Club at the 40,000-square-foot Manufactory L.A. downtown. A collaboration between Chris Bianco and Chad Robertson, the eatery emphasizes shared dining and has a 16-person private dining room, an indoor bar, and an outdoor patio and bar. The menu from chef de cuisine Lee Foden-Clarke is designed to be shared, offering Italian, Mediterranean, and Northern European fare.
In hotel news, the Anaheim Marriott completed a $32 million guest room renovation this week.
Overheard
"I think Joe opened the restaurant so he could have a place to party with his friends."
—An anonymous employee of popular eatery Simone discussing the owner, director Joe Russo. A new feature in Los Angeles Magazine alleges that the five-month-old restaurant is in disarray, leading to the departure last week of executive chef Jessica Largey. 
On the Scene
We checked out digital phone service company Visible's activation in West Hollywood. The brand worked with marketing agency Madwell to transform five bus stops along Santa Monica Boulevard into stadium bleachers, a bathtub, a movie theater, and other scenes, all to promote the idea that you can sign up for Visible anywhere.
What's Next
The Nickelodeon Kids' Choice Awards take place Saturday at the Galen Center with host DJ Khaled; Avengers: Infinity War has the most nominations.
Also this weekend is Sunday's Los Angeles Marathon, sponsored by Sketchers Performance. In addition to the marathon itself, the Health & Fitness Expo will take over the Los Angeles Convention Center with more than 120 exhibitors showcasing the latest developments in sports, fitness, and nutrition. The expo is free and open to the public.
Looking into next week, the 30th annual Glaad Media Awards take place at the Beverly Hilton on March 28. Beyoncé and Jay-Z will receive the Vanguard Award for being allies with the L.Q.B.T.Q. community; Sean Hayes will also be honored, and Ross Mathews will host.