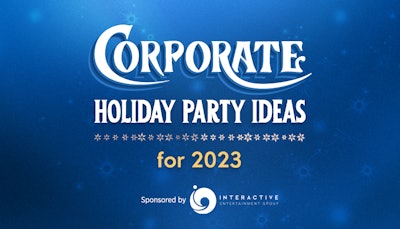 This year's annual holiday party ideas feature is sponsored by Interactive Entertainment Group, a nationwide event production company offering innovative entertainment and technology-driven experiences for corporate events and activations.
Some companies returned to the office full time this year, others remained remote, and many now do a combo of both. This means there isn't a one-size-fits-all plan when it comes to corporate holiday parties in 2023. They need to fit a range of group sizes and settings, while still capturing the merrymaking spirit of the season.
Most of all, this year's holiday events need to bring executives, employees, clients, and colleagues together—even if it's simply a party of five. So, we've rounded up ideas with a focus on in-person parties—including menu options, venues, activities, and more—that can work for any number on the guest list.
18 Corporate Holiday Party Ideas for Large Groups
15 Corporate Holiday Party Ideas for Small Groups
10 Corporate Gift Ideas for the 2023 Holiday Season
For additional holiday event inspo, check out these 10 festive experiences to light up the season.
---
Editor's Note: While our features may be sponsored by standout companies, to ensure our content remains impartial, sponsors do not have the ability to review or curate any part of the features themselves.