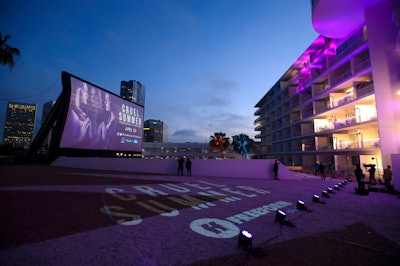 LOS ANGELES—First came the virtual premieres with jam-packed mailers and interactive experiences. Then, entertainment brands began building out creative drive-in screenings that evolved into immersive, decor-filled drive-thrus. So, what's the next step in the evolution of COVID-safe premiere parties?
Enter: the "vertical screening." Conceived by Freeform for the two-episode premiere party of its new thriller series Cruel Summer, the unique, socially distanced event took over 80 rooms of the Beverly Hilton hotel on April 15. Each room offered prime balcony views of a 70-foot-wide screen on an adjoining rooftop.
"Cruel Summer is such a unique series with narrative twists and turns that viewers are constantly surprised and excited," explained Joe Ortiz, Freeform's senior vice president of content marketing, who worked with Gold Sky Productions on the event. "We knew as a team we wanted to create a premiere event that could also surprise people by way of the experience. We really challenged ourselves to dream as big as the show and to find a new concept that had never been done."
To immerse guests in the world of the show, which is set in the early 1990s, each of the hotel rooms was decked out in '90s nostalgia, including authentic magazines from the era, photo collage boards of pop culture moments, inflatable furniture, bespoke amenity boxes, and branded pillows and blankets. On the menu were elevated versions of '90s favorites like Hot Pockets and Whatta Burgers, plus candy like Pop-Rocks, Gushers and Dippin'Dots.
"As a creative team, it has been incredibly fun to step back in time when the Internet was dial-up, alt-rock ruled the airways and scrunchies were not worn ironically," said Ortiz. "We even installed concert-grade speakers in each guestroom so viewers can hear the incredible series soundtrack."
To ensure a safe experience, each room had capacity restrictions in accordance with hotel regulations, and guests were guided through the hotel via a "no touch" check-in procedure. (Attendees were also invited to stay the night in their respective rooms.) A drone was used to capture footage of the series' stars—including Olivia Holt, Chiara Aurelia, Blake Lee, Harley Quinn Smith, Brooklyn Sudano and Allius Barnes—on their own balconies and broadcast the footage on the screen.
"First-to-market ideas always come with new logistical challenges," noted Ortiz. "There just isn't a roadmap, because it's never been done before. Honestly, that's when you know you're breaking new ground. It takes asking more questions, staying flexible and having the right partnership with vendors to solve challenges collaboratively. In the end, it's a massive team effort."
Ortiz added that the success of and lessons learned from this event will certainly carry into future Freeform gatherings. "Every challenge really does force you to find innovative solutions. Jump head-first into a challenge and good things will happen," he noted. "Also, don't forget the power of a great theme or a unique time period—it allows people to dive instantly into a rich, new world."
And remember that every detail matters. "The smallest, well-thought-out element can leave people with an enormous and lasting impression of the brand," Ortiz said. "When it comes to events, sweat the details."
Scroll down for a look inside the vertical screening.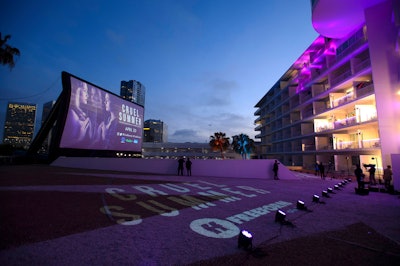 Photo: Freeform/Matt Petit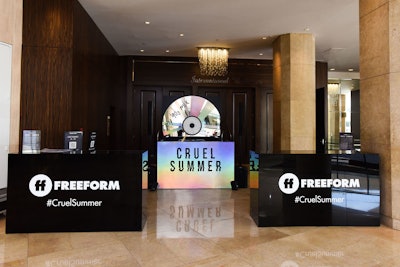 Photo: Carly Otness Photography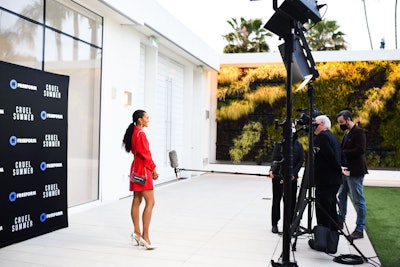 Photo: Carly Otness Photography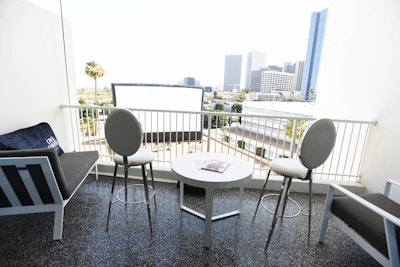 Photo: Carly Otness Photography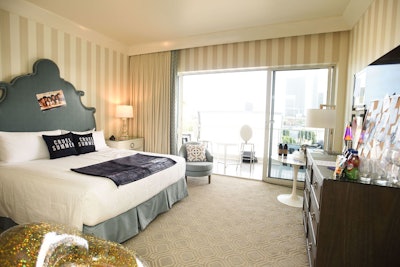 Photo: Carly Otness Photography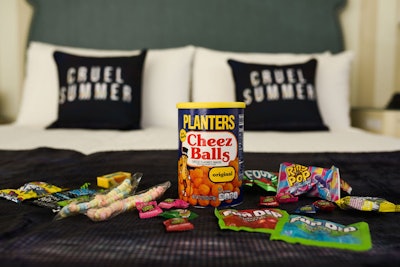 Photo: Carly Otness Photography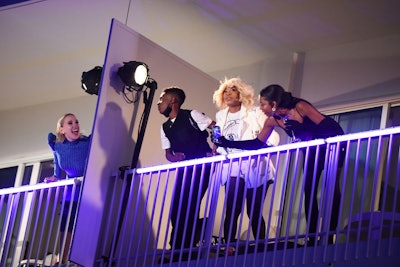 Photo: Carly Otness Photography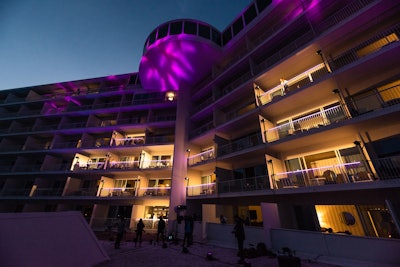 Photo: Carly Otness Photography
Photo: Carly Otness Photography