5 Ways to Create High-R.O.I. Meetings and Incentive Programs
Find out why return on investment is not just a matter of money-spent versus revenue-generated.
December 8, 2016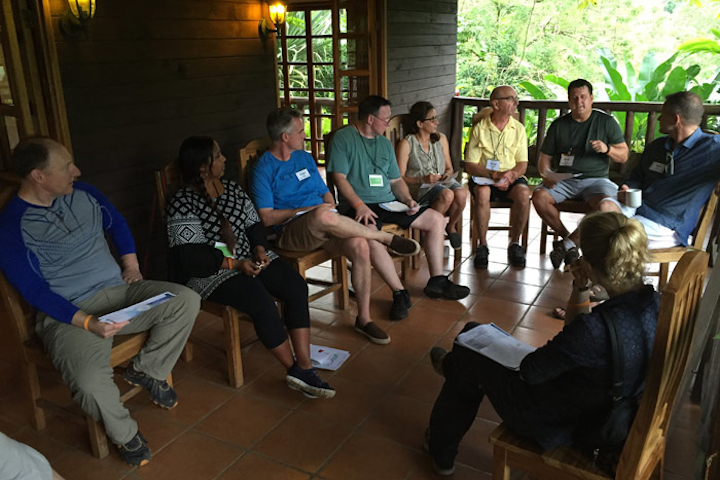 Photo: Mitra Sorrells/BizBash
According to Meeting Professionals International, about $280 billion dollars is spent annually on meetings and events in the United States. Years ago, it was common for companies to simply see this spending as an operating expense—and the idea of calibrating the return on that investment was not a priority.
But in the past decade, as budgets have gotten tighter and technology has facilitated better data collection, planners are being asked to show the return on their spending, particularly for big-budget events such as incentive travel programs and large-scale sales meetings.
The typical way organizations have evaluated R.O.I. is through simple mathematical calculations—for example, by comparing the amount spent on an incentive travel program to the growth in sales during the incentive period. But that is not adequate, according to Kent Cisewski, president of Fusion Performance Group. Cisewski hosted a small group of executives from companies such as AIG, HD Supply White Cap, and AmeriLife Group at an Executive Thought Leader Summit at the Springs Resort & Spa in La Fortuna, Costa Rica, in late October, where he shared his model for maximizing and measuring R.O.I. for meetings and incentive programs.
"The behavioral process of understanding what motivates and changes behavior—that has to be looked at as you spend these dollars for high investment meetings and incentives," Cisewski says. "What are people's blind spots, what do they need to learn, what do they need to be trained on to be more successful. Then you have facts to work with instead of assumptions."
He advises that companies start with pre-program metrics, combining interviews with executives to understand what they want to deliver and surveys of attendees to understand what they want to get out of the experience. "Measuring and monetizing attitudes and opinions is the art of R.O.I," he says.
One of the Costa Rica retreat's attendees was Monique Rochard-Marine—the manager of meetings, events, and tradeshows for Cardiovascular Systems Inc.—who produces five corporate meetings each year. Marine explained how she used Fusion's strategy to revamp her company's largest annual sales meeting, and it delivered the results she was looking for.
"We constructed a survey that allowed us to get into the minds of our attendees to understand what they wanted from the meeting, and then we built a program that catered to them, which in turn allowed them to be more engaged," she says. "So for me, my R.O.I. was increasing the productivity of my sales team. And it's way bigger than just a number. It's about getting our sales team on board with the objectives and messaging of the company and fostering relationships they have with clients."
Once a company determines the outcomes it wants to deliver through the incentive program or meeting, Cisewski believes there are certain programmatic elements that can help maximize the value of those events. He designed the Costa Rica summit as an example of those key components, which include:
1. A "wow" destination. 
This is particularly important if the goal of the event is to incent attendee behavior, for example to drive sales. It should be held in a location that participants might otherwise not be able to visit on their own.
2. An unconventional format.
Try to structure the program in interesting and unusual ways. For example, during the summit, participants spent a day at Rancho Margot, an off-the-grid eco-resort and working farm. In addition to touring the property, the executives participated in brainstorming sessions while sitting on the balcony of a cabin in the woods.
3. Opportunities for attendees to face their fears.
While in Costa Rica, attendees participated in a variety of adventure activities, such as rappelling and jumping from waterfalls, all led by a local destination management company, Desafio Adventures.
"When you are talking about corporate meetings and incentives, really trying to get people to think outside the box, they know if they send their teams here to Costa Rica that they'll go away with a life-changing experience," says Christine Krishnan, owner of Desafio Adventures. "There is so much that will create the long-lasting confidence that groups need to work effectively when they get back to the office."
4. Immersing guests in local culture.
Guests watched a performance from a local dance troupe and visited an elementary school to learn how students are learning math and science by tending to the farm on their property.

5. Lacing content and experiences together.
Throughout the summit, speaker and business-strategy consultant Amy Hutchens, who goes by the name AmyK, led discussions that helped attendees see the connection between what they were seeing and doing around Costa Rica and how it can relate to success for their companies.
Featured Venues/Suppliers: