How Do You Keep Guests Happy While Waiting in Line?
Lines happen. Event pros share how they keep attendees comfortable, informed, and entertained before they make an entrance.
January 17, 2019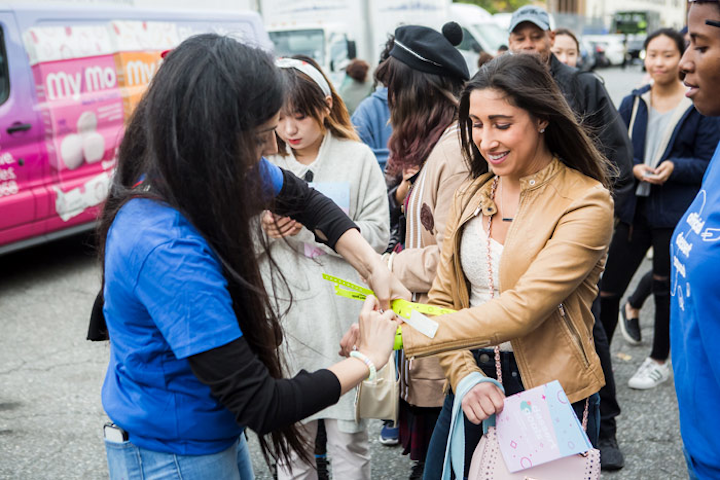 Photo: Pratya Jankong/Dessert Goals
To enter the after-parties for the Golden Globes, anyone who didn't attend the ceremony gathers in a parking garage about a mile away. Used for both security and space issues, the process causes the crowd of celebrities, executives, and members of the press to wait upwards of 90 minutes before being shuttled to the parties. "There has to be a better way," noted a fed-up Rachel Zoe to Variety this year.
While there may not be a better way to deal with such a high-profile crowd, event planners around the country have, in fact, found ways to keep guests comfortable and entertained in the inevitable lines that come with large events, trade shows, and festivals. In addition to using pre-registration and mobile check-in to speed things up, planners are offering interactive entertainment, fun beverage options, and other tricks to keep guests happy. Here are their go-to moves. 
1. First things first: Keep everyone informed as much as possible. Lance Fensterman, the global president of New York-based convention organizer ReedPop (the team behind such massive public events as New York Comic Con and PAX), uses mobile push notifications to let people know if panels are full. His team also creates dedicated social-media handles, such as @NYCClines, to update attendees. "It helps us keep fans informed across all our shows," he explains. "Just giving them proper updates goes a long way."
Sarah Cissna, owner of Washington, D.C.-based event firm the Side Lobby, agrees. "For long lines, it's helpful to have a staff member 'man' the end of the line—they can confirm what the line is for, that it's the end, and any other questions the guests might have," she says. "If there are any breaks in the line, that's another point where you want a staff member—it keeps folks from accidentally cutting the line and it's another point where guests can get questions answered."
2. Make the actual check-in process as smooth as possible. Can you add more staffers or tables? Add mobile check-in? Or allow people to pre-register? "Mobile check-in is the way to go," argues Trish Simitakos, owner of Trish Star Events in Washington, D.C. "If you have the budget to incorporate the technology, let guests check themselves in—then they can just come in and get their badges and speed the whole process up."
Valerie Bihet, owner of Miami-based event firm the Vibe Agency, notes that allowing guests to check themselves in can actually boost morale—even in situations where it doesn't necessarily cut down on the amount of time. "If people are engaged, they will be less frustrated," says Bihet, who compares the process to self check-in kiosks at an airport. "If you're not standing in the same position for 10 minutes, you feel like you're making progress." (One bonus: This process cuts down on the amount of staffers needed for check-in.)
[PULLQUOTE]
3. See if timed entry makes sense for your event. For certain large events, such as food festivals, Pop Productions' Miraya Berke recommends timed entry. The co-founder and C.E.O. of the popular Dessert Goals festival allows a new batch of 300 attendees to enter every 90 minutes. "We figured out a ratio of space, vendors, and attendees so there is more room to move around and eat desserts and less time waiting in lines," she explains.
Guests are encouraged to arrive 15 minutes before their timed entry, and staffers with mobile devices walk the line to check everyone in. "While guests wait they can read the map of what's inside, and we have music playing. Sometimes we have photo props outside for guests to snap pictures with," says Berke. "Right when their time slot opens, they can head inside and make the most of their experience."
4. If there's no way to avoid a long line, make sure guests are comfortable. "If the line is outside, plan for possible swings in the weather," notes Simitakos. "Tents really aren't that expensive; even if it's a gorgeous day, not having the sun beating down on you while you're in line makes a big difference."
For New York Comic Con in 2015, Fensterman partnered with Progressive to offer something called "Protector-corns"; guests just needed to tweet the phrase #LineInsurance and a Progressive representative would come hold their spot in line. "It let fans camping in line go get food and use the bathrooms without having to worry about missing something," he explains. The line-holders also entertained the crowd with impromptu dance parties, trivia, and other engaging touches.
Meanwhile, at Anime Expo—another large public fan convention, this one held in Los Angeles—organizers created shoulders in the hallways where attendees could sit down while waiting in line.
Offering food and beverage is, of course, another option; cold water bottles on a hot day can go a long way—as can a glass of champagne. Cissna fondly recalls an event she once attended that had a long valet line at the end of the night; organizers had set up a hot chocolate cart offering to-go cups. "The guests all seemed to be in good spirits, even though the line was long," she remembers.
Similarly, Raul Rodriguez of Miami-based event agency 2R Creative suggests having a bartender who can mix signature cocktails for guests in line. "No pre-mixed drinks here," he says. "With cute garnishes and tasty drinks, your guests can occupy their time with unique sips. This and an Instagrammable moment—like a unique and over-the-top backdrop—may add a bit of a wait, but two 10- to 15-minute wait times are much more bearable than one 30-minute wait time."
Rodriguez does not, however, recommend serving much food to guests in line. "Serving food before the actual event is somewhat odd—it draws attention to the lines and wait times, and your guests aren't ready to eat as soon as they've arrived."
5. Offer interactive entertainment. Simitakos suggests having something as simple as a magician doing card tricks up and down the line. "A small crowd forms, everyone gets distracted," she explains. "It's something that is engaging, and it's total escapism."
She also recommends making any food or beverage served interactive, such as a flavored soda station or a rolling bar cart. "You can even go to the dollar store for props and do impromptu photo booths on the street," she says. "Just give them a little bit of fun."
Bihet agrees and suggests having music playing or even offering silent disco options. "And if you have the opportunity to put up TV screens for guests to watch, it can definitely help people be more patient," she adds. "You can even have a sponsor's promotional video or information playing—if people are in line, they will watch it."
Look to the theme parks for examples of ways to make the line feel like part of the event, suggests Rodriguez. "[Theme parks] have mastered the art of keeping you entertained and distracted. With entertainment and decor tying in the overall event design, guests' eyes, ears, and minds are occupied with wonder and awe."
Featured Venues/Suppliers: