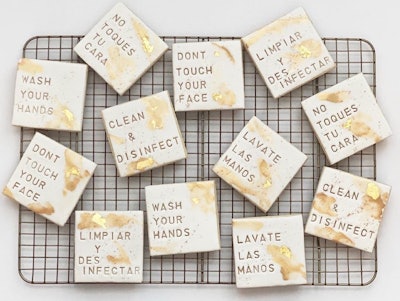 Photo: Courtesy of Lady Bird Houston
As the coronavirus causes widespread event cancellations for the foreseeable future, event caterers, florists, venues, and other vendors have had to think quickly. For many, that has meant evolving their businesses—and focusing on philanthropy.
Late last week, for example, the Staples Center in Los Angeles, along with its catering team Levy Restaurants, drew headlines for donating 7,000 pounds of food to local homeless shelters in the wake of suspended N.B.A. events. Across the country, Pittsburgh's PPG Paints Arena, along with the Pittsburgh Penguins and Aramark, donated perishables to 412 Food Rescue.
They were far from the only ones. In Manchester, New Hampshire, Celebrations Catering donated 400 pounds of corned beef from canceled St. Patrick's Day celebrations to a local homeless shelter. In Denver, Occasions Catering coordinated with the nonprofit We Don't Waste and donated large quantities of unused prepped food to the Denver Rescue Mission. In Los Angeles, floral design company Mark's Garden gave items from a canceled event to local churches, centers for the aging, and homeless shelters. In Arlington, Virginia, Bayou Bakery, Coffee Bar & Eatery is partnering with local nonprofit Real Food for Kids to serve free lunches to children affected by school shutdowns. In Columbus, Ohio, thousands of meals from the Arnold Classic—a bodybuilding competition that had planned to draw 200,000 people last week—were donated to victims and first responders of the recent tornado in Nashville. The list goes on and on.
And on Sunday, the always-philanthropic José Andrés announced on Twitter that several restaurants in his Think Food Group are being transformed into "community kitchens" in conjunction with Andrés's nonprofit World Central Kitchen; the spaces will offer to-go meals to people in need for five hours per day.
Even event technology companies are finding new ways to help, including tech rental company Fello. In an effort to support remote working and learning, the company has created a rental program for schools and nursing homes. Tech packages—which can be delivered directly to schools or homes and have flexible, discounted pricing—include iPads that can be equipped with LTE data, plus kid-friendly cases, parental security controls, and pre-programmed education apps.
"As soon as the closures were announced, we were contacted by several local schools to help them prepare for distance learning," explained Zalmy Raskin, C.E.O. of Fello, in a press release. "We immediately realized that many schools would be facing the same challenges, and so we put together a discounted program to support those districts with iPads for students who do not have devices or internet connections at home."
Meanwhile, transportation company AOT Global and a coalition of other limousine companies in Florida, the Midwest, and the Northeast have teamed up to transport older Americans who may be stranded at vacation rentals in Florida. The nonstop rides, which have discounted pricing, will offer door-to-door service in disinfected vehicles.
In addition to discounts and donations, several event vendors have already shifted their focus to better serve their communities—and their employees. Like many caterers, Haute Chefs L.A. launched a family meal delivery service on March 11; the company is also phasing in delivery of some grocery essentials such as sanitizing wipes and toilet paper.
Jennifer Coman, Haute Chefs' director of marketing and events, told BizBash that the company is using servers who had been cut from events as delivery drivers. "We converted from event planners and catering creators to logistic managers and delivery drivers," she said. "We tapped into some of the servers that depend on us for event work to 'serve' our clients in a different format: delivering packaged food."
The team is careful to keep the family meals accessible, with pricing comparable to that of a grocery store. Coman says they also try to keep a light-hearted tone in their communications. "The first week's menu didn't skimp on butter and was intentionally composed of comforting, cozy meals," she noted. "The second week, we are collaborating with local favorites and spreading the love with some brands we admire locally and are including them within the family meal. We are one big family, after all."
Bars and bakeries are also finding ways to adapt. West Hollywood bar Employees Only, for example, has begun delivering cocktail kits throughout the Los Angeles area; the D.I.Y. kits are available through Postmates and offer everything except the alcohol and the ice. And in San Francisco, the bakery Butter&—which normally caters weddings and other events—has begun making "quarantine cakes" decorated with PSA's such as "don't touch your face" and "pretend you're an introvert." "People can send them to each other, even if they can't eat them together," Butter& founder Amanda Nguyen told People magazine. "In times of social isolation and fear, it's human connection, acts of love, and comfort food that will get us through it."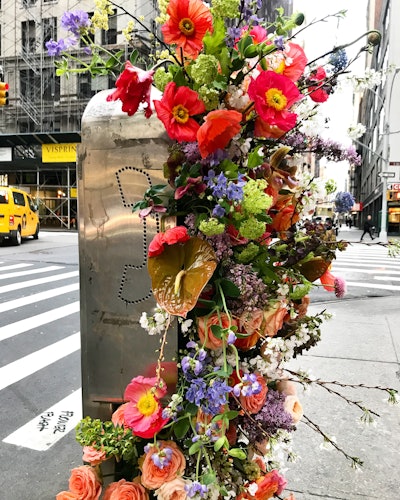 Lady Bird bakery in Houston is taking a similar approach and using leftover baking materials to create "quarantine cookies" with PSA slogans. All proceeds will go to the Houston Food Bank.
Many floral designers are also refocusing their efforts on home delivery—and getting creative. New York-based Lewis Miller Design recently repurposed flowers from a canceled event to create an eye-catching "flower flash" in an effort to cheer up passersby in Manhattan. Miller has been repurposing event florals to create these works of public art since 2017 and told BizBash it was a no-brainer to use blooms from a canceled event, too.
"LMD has always held sustainability at the forefront of our designs. When we can, we use repurposed flowers from events, and days-old flowers from our vendors that would otherwise be thrown into the trash," said company founder Lewis Miller. "With the conditions as they are now, everyone is adjusting to the 'new normal' and we are all facing challenges on a professional and personal level. … But what really seems to be bubbling up to the surface is the desire to still create and to share the work with others in the hopes it brings people joy."
As for shuttered event-friendly venues, many are making themselves available to their communities as needed. In Los Angeles, for example, the convention center and the Los Angeles Memorial Coliseum are reportedly being considered for quarantine sites if the hospitals run out of space. Meanwhile, museums around the country are live streaming family-friendly content and virtual tours.
As for the Shedd Aquarium in Chicago? Well, it is choosing to support its community in the ultimate feel-good way: through penguins. A group of rockhopper penguins was recently allowed to explore the shuttered aquarium, in a moment that quickly went viral on Twitter.
See BizBash's coverage of how COVID-19 is affecting the event industry at bizbash.com/coronavirus.