How This Annual Gala Used Eclectic Decor to Keep Things Fresh
Held before the museum's temporary closure due to COVID-19, the California Science's Center's Discovery Ball fundraiser shook things up with two out-of-the-box themes and a new after-party layout.
April 28, 2020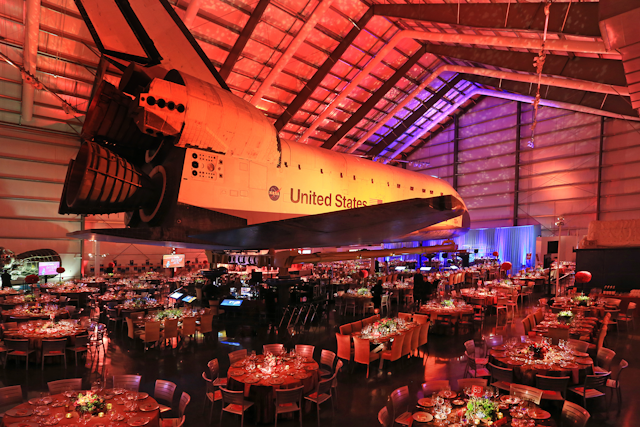 "Inside the pavilion, guests were treated to an elegant, ethereal, and even a bit understated and humble dining environment under the space shuttle Endeavour, as they were asked to imagine themselves as the honored guests at the first dinner party on Mars," said Sion. The dinner space featured a color palette of burnt terra-cotta and cerulean blue, which was lit by Images by Lighting to evoke the colors of the Martian landscape.Photo: Nadine Froger PhotographyLOS ANGELES—When's the last time you attended to an elegant, black-tie gala featuring drone paparazzi, bartenders wearing astronaut suits, an eye-catching installation of Chinese takeout boxes, and a whopping one million LEGO bricks? For supporters of the California Science Center in downtown Los Angeles, that's not such an outlandish question—and the answer is March 7 at the museum's annual Discovery Ball fundraiser. 
"Discovery Ball patrons over the past 22 years have come to expect the unexpected," said Christina Sion, the museum's vice president of food and event services, who has headed up the gala's planning since the beginning. After all, previous editions of the event—which is annually one of the city's most-anticipated fundraisers—have offered upscale takes on out-of-the-box themes such as King Tut, the human body, and even dogs.
This year's event, held before the COVID-19 pandemic forced the museum to temporarily close, tied into the center's new LEGO-theme exhibition, The Art of the Brick, which features more than 100 LEGO interpretations of classic art from artist Nathan Sawaya. Feeling inspired by the eclectic exhibit, Sion's team decided to embrace not one but two fully realized—and completely distinct—themes: LEGO bricks and Mars. While the two classic concepts don't naturally seem to go together, Sion said her team was inspired by NASA and LEGO Group's history of collaboration on STEM-related projects for children and adults. 
But before guests could travel through space, they enjoyed cocktails in an upbeat, color-blocked space inspired by the classic toys. "Ironically, unlike the challenges that last year's dog theme initially presented, this year's featured exhibit actually elevated the concept of LEGO for us, and provided the perfect artistic backdrop for the black-tie fundraiser," noted Sion.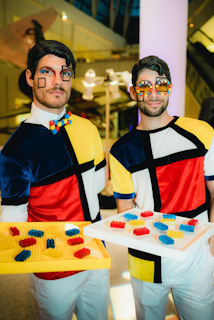 In one fun twist, performers served color-blocked Jell-O in the shape of LEGO pieces. The shots were infused with Scandinavian vodka (a nod to the Danish inventor of LEGO), plus edible glitter.Photo: Snap Yourself!
The event team took an art-focused approach to the reception's decor and photo-friendly vignettes. Highlights included staffing outfits inspired by Dutch painter Piet Mondrian, plus wallpaper that evoked Andy Warhol's pop art. "[But] given our more sophisticated, artistic take on this theme, we had to remind ourselves to pull back at times, and to make sure we tip our hat to the fun and nostalgic childhood memories of LEGO that guests would be expecting," added Sion. "Bowls of colorful LEGO bricks, LEGO books, and three dozen mini LEGO sculptures—built by our awesome Education team using LEGO kits—replaced flower cocktail table decor and encouraged guests to 'play.'"
While LEGO was always going to be the theme, Sion received a surprise gift a month before the gala: Sawaya himself invited the museum's team to his art studio, and offered to lend any items from his collection for the evening. "This amazing opportunity changed our design direction for the cocktail reception so that we could now showcase these additional sculptures in unique and fun settings for our gala guests," said Sion. Suddenly, the evening was rounded out with eye-catching items such as a 10-foot-tall giraffe, a colorful evening gown, and even the iconic orange couch from Friends—all made from LEGO.
When it was time to think about the dinner and after-party, Sion continued to embrace the unexpected. In addition to the decor transition, the team utilized a new after-party layout, choosing to transform the dinner pavilion through lighting cues and performers rather than moving guests to a new location. "Because the venue for this event [typically] remains the same from year to year, which could easily lead to complacency and a more formulaic approach for the flow of the event, we were motivated to create different uses of the Science Center to keep guests pleasantly surprised," explained Sion.
Dinner's "mission to Mars" setting offered an upscale and whimsical take on a space theme. Guests were asked to picture themselves as guests at the first dinner party on Mars, a feeling that was evoked through a cerulean blue and terra-cotta color palette, centerpieces made from simple flowers and branches, and pottery-inspired tableware. As the evening progressed into the after-party, costumed performers loosened things up with futuristic alien costumes and space-theme cocktails.
Check out the long list of vendors it took to pull off the gala, and keep scrolling for pictures and details from the nostalgia-filled cocktail hour, the elegant seated dinner, and futuristic after-party. 
VENDORS
Audiovisual Production: Seamless Video Solutions
Carpet: Primo XL
Catering: Good Gracious! Events (guest dinner), Command Performance Catering (crew), Bar One Complete Beverage Catering (bar), Ancient Peaks Winery (dinner wine)
Custom Stamps: PhotoStamps at Stamps.com
Decor: Edge Design & Decor, Backdrops Fantastic, Jackson Shrub Supply
Design, Event Production, Venue: California Science Center
Entertainment: Artists Creating Entertainment, Foto Spark, LA AllStars
Flowers: CJ Matsumoto & Sons
Graphic Design: I Five Design
Lighting: Images by Lighting
Linens: GBS Linens, Cloth Connection
Photography: Leroy Hamilton, Nadine Froger Photography, Snap Yourself!
Printing: Automation Printing Co.
Props: The Brick Bank 
Rentals: Town and Country Event Rentals, Hollywood Piano
Special Effects: Event Special Effects
Stage Manager: Lauren Coulter
Valet: Everpark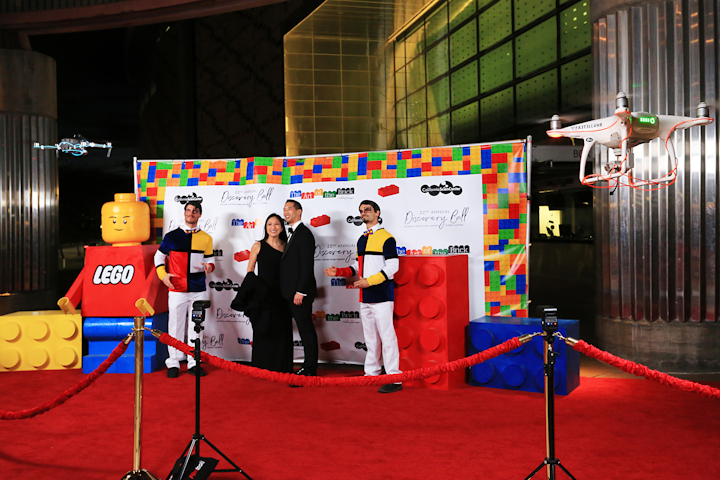 Photo: Nadine Froger Photography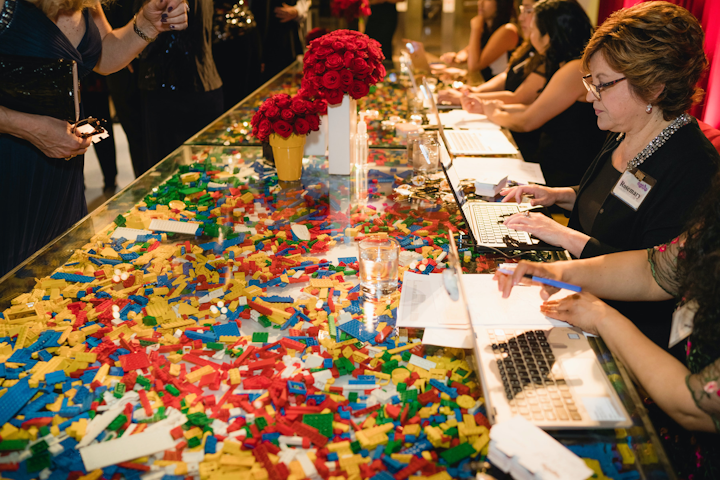 Photo: Snap Yourself!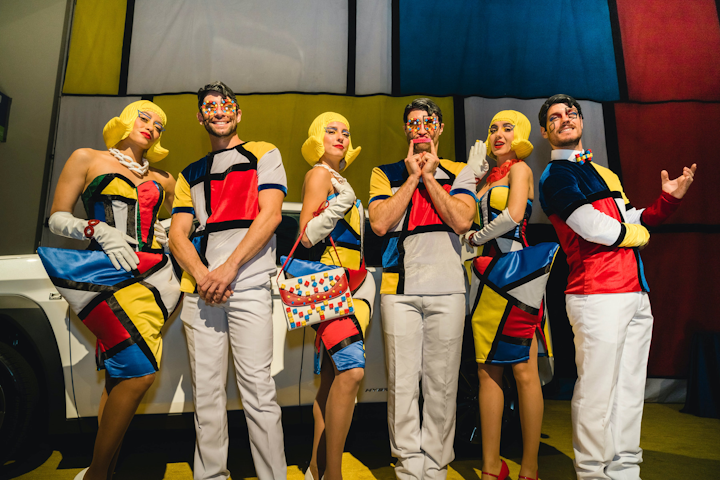 Photo: Snap Yourself!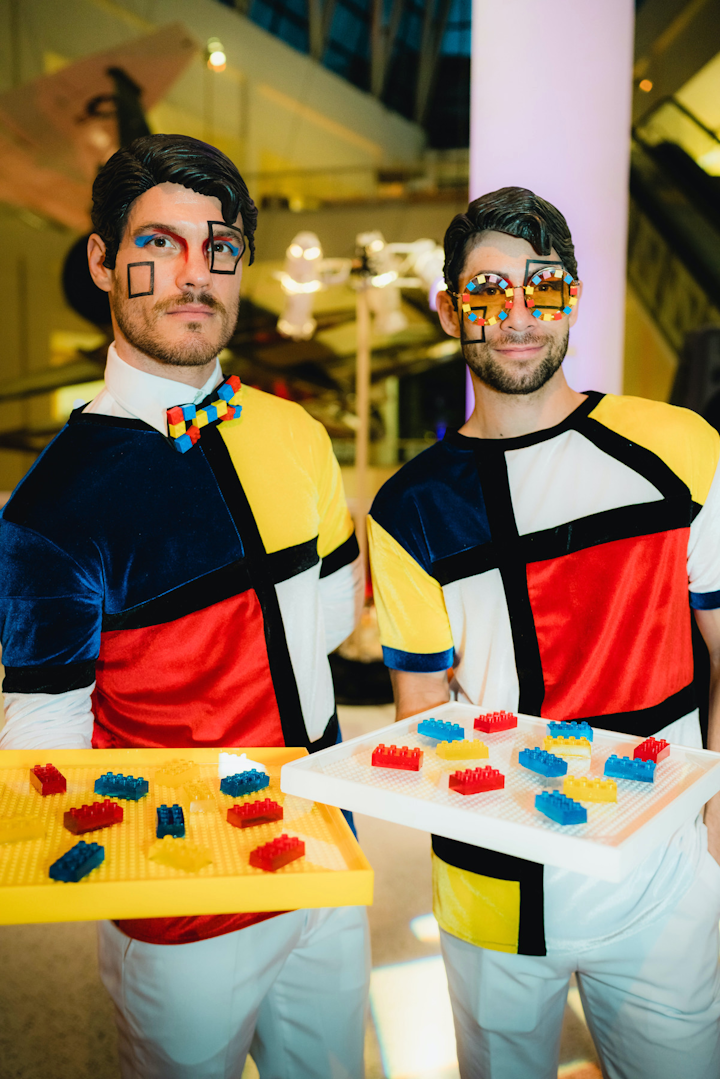 Photo: Snap Yourself!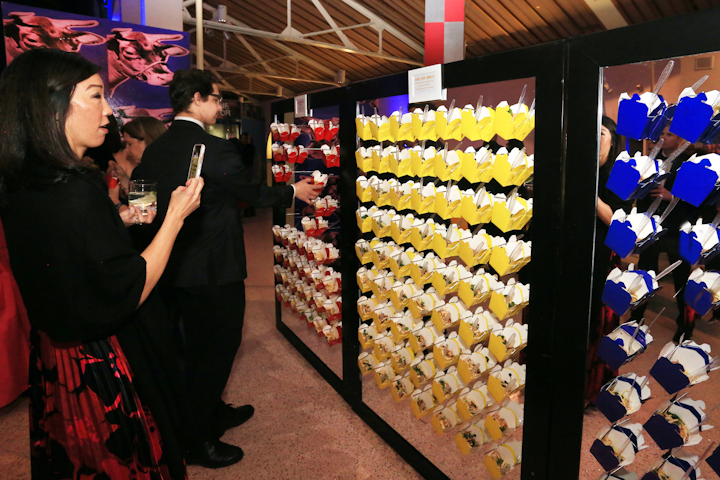 Photo: Nadine Froger Photography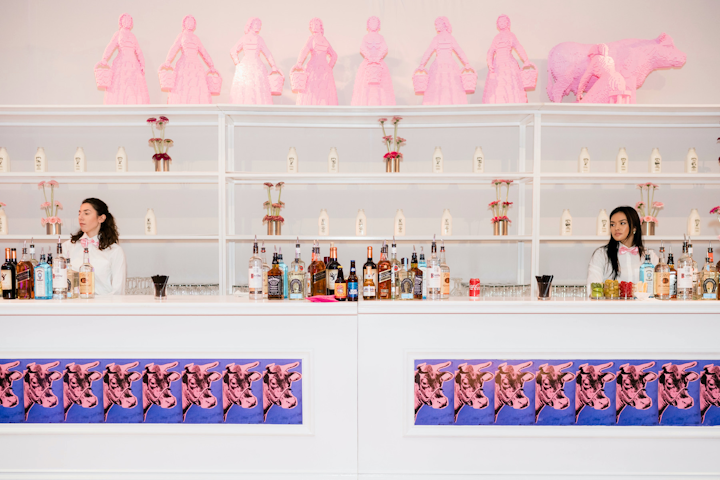 Photo: Snap Yourself!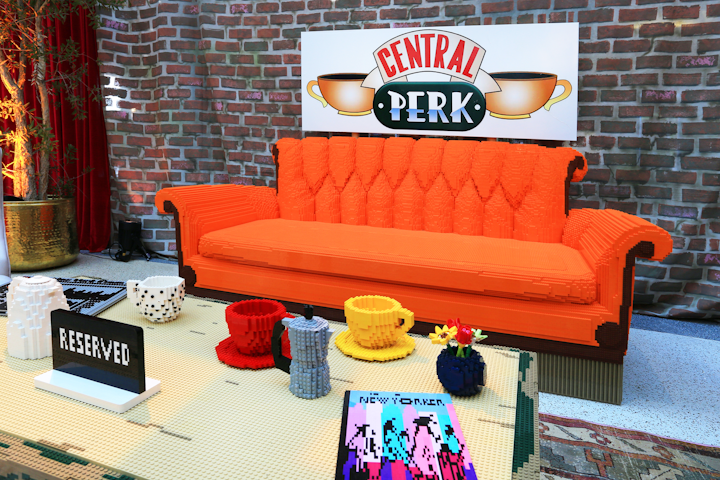 Photo: Nadine Froger Photography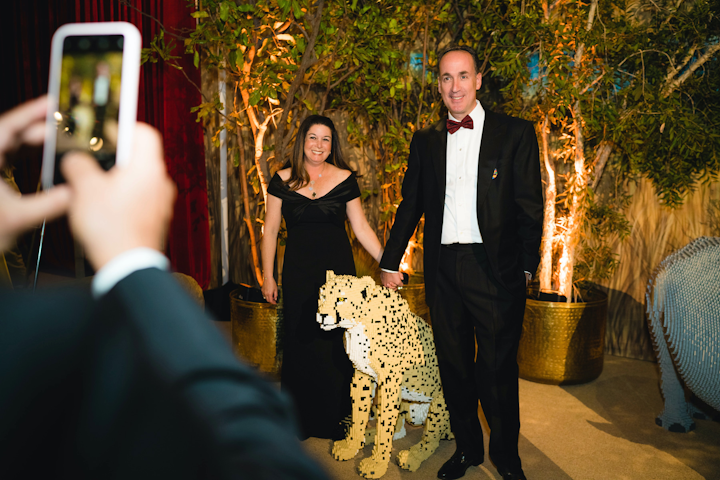 Photo: Snap Yourself!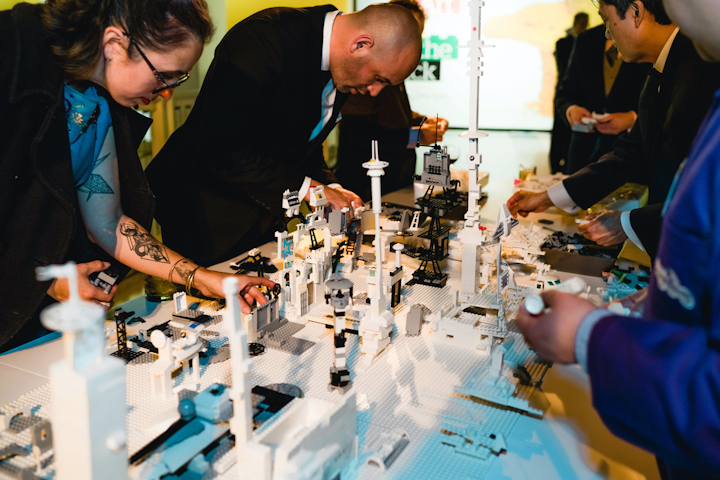 Photo: Snap Yourself!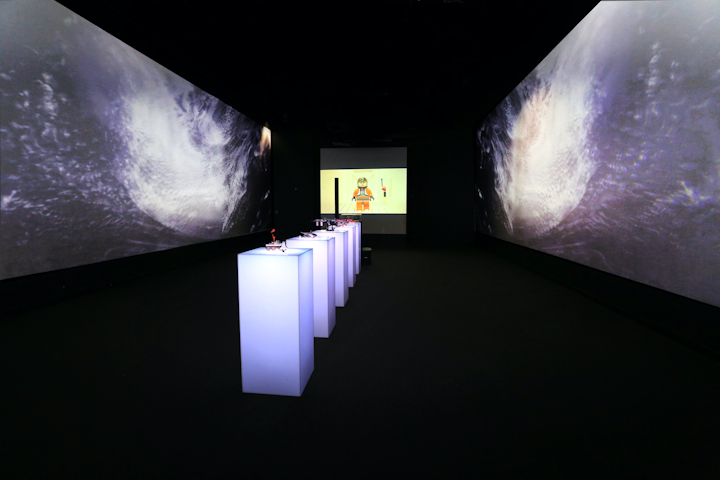 Photo: Nadine Froger Photography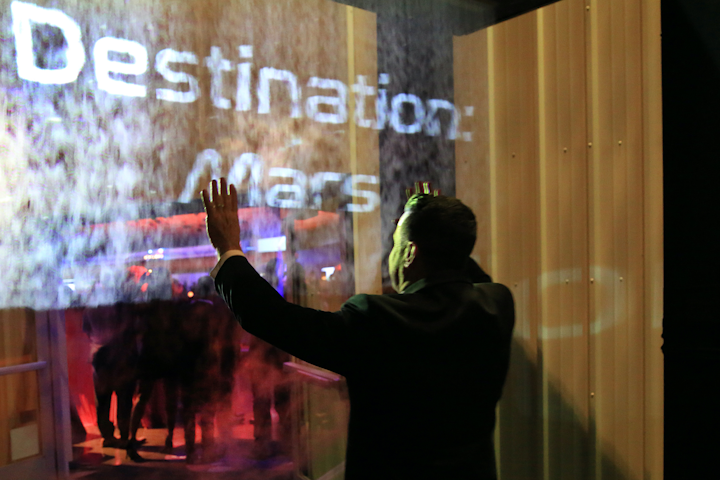 Photo: Nadine Froger Photography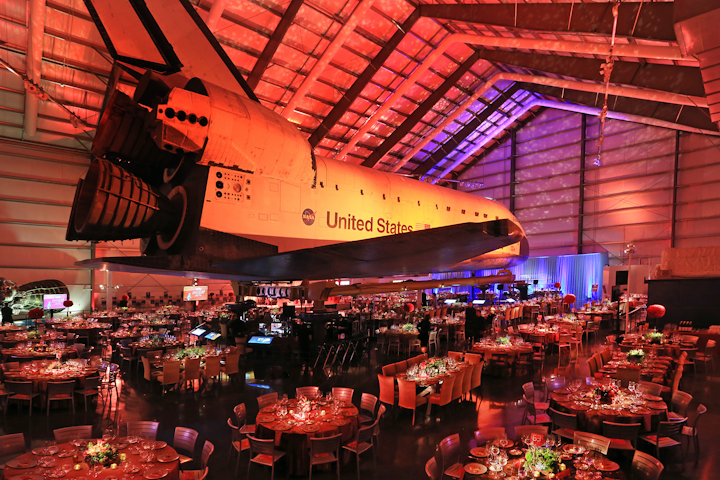 Photo: Nadine Froger Photography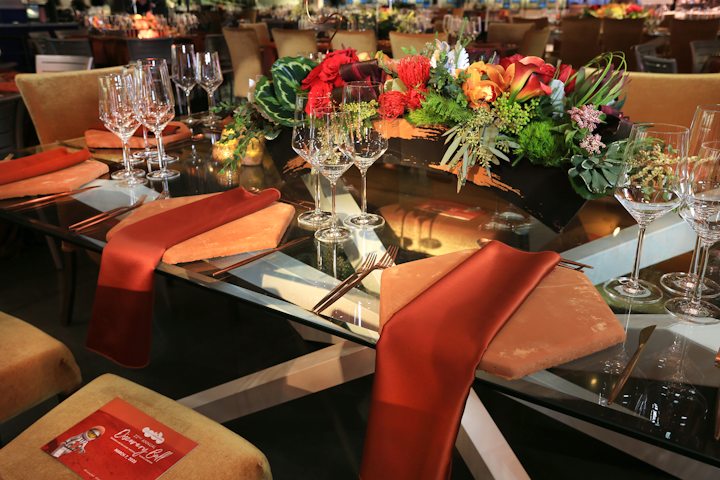 Photo: Nadine Froger Photography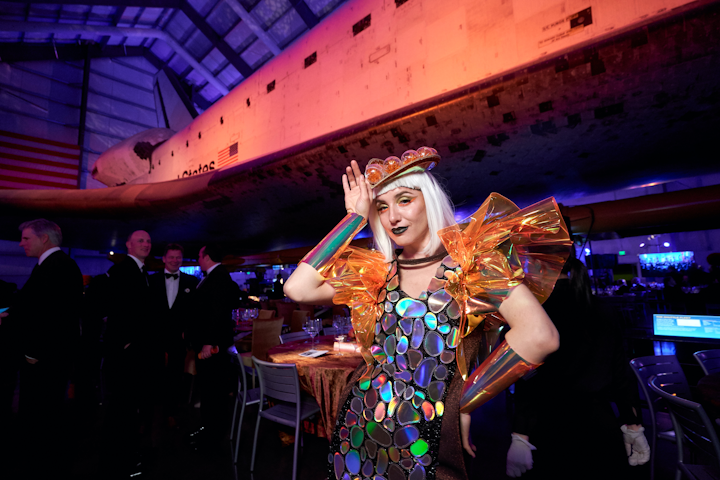 Photo: Leroy Hamilton Photography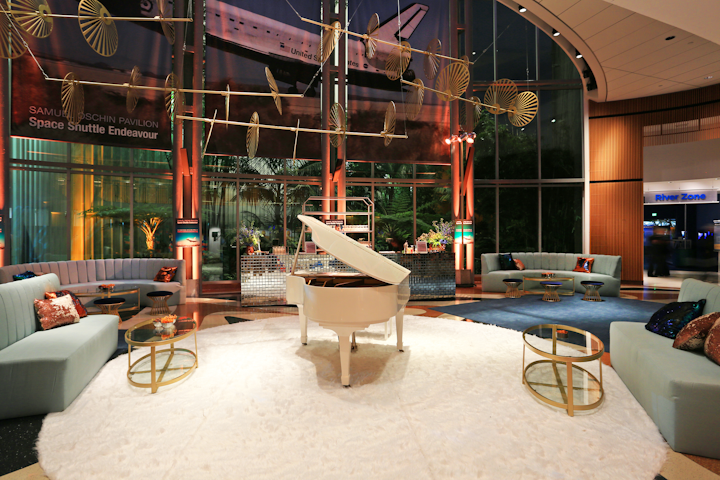 Photo: Nadine Froger Photography