Top 10 Innovative Brands 2019: #1 Bud Light
The beer brand tapped into nostalgia for its Dive Bar series, launched a new music festival for the Super Bowl, and inserted itself into one of 2019's most viral moments.
November 19, 2019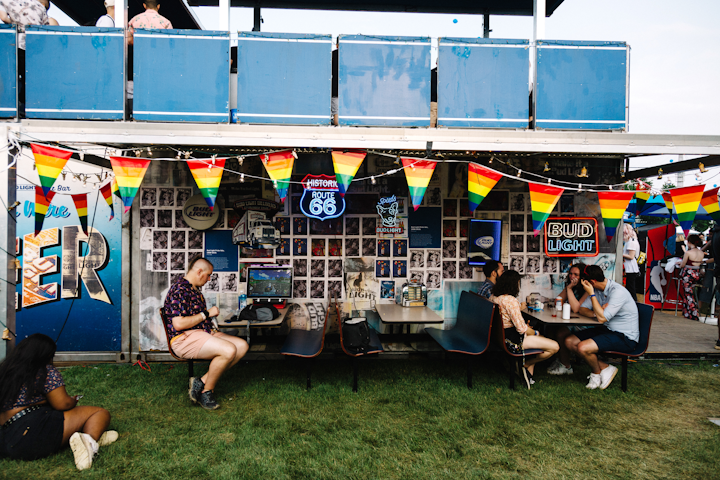 Photo: Vikram Valluri/BFA.com
Bud Light has never shied away from creating memorable and humorous stunts and events for music and sports fans. After parent company Anheuser-Busch topped $54.6 billion in global revenue in 2018—a growth of 4.8 percent—the beer brand doubled down on the fun factor for consumers when it came to experiential efforts.
The Bud Light Dive Bar, the brand's traveling music staple that launched in 2016, traveled to festivals including SXSW, Firefly, and Governors Ball this year, as well as new cities for standalone events. At festivals, the activation served as a concert within a concert by showcasing emerging artists in a dive bar setting. But the activation footprint grew, with more interactive stations and on-theme decor.
"We are always looking at opportunities to evolve our music programming and to bring our fans closer to their favorite artists," explained Joao Chueiri, vice president of consumer connections at Anheuser-Busch. "With our Dive Bar Tour series entering the fourth year, we looked to expand the locations and genres to hit markets we have never been in before."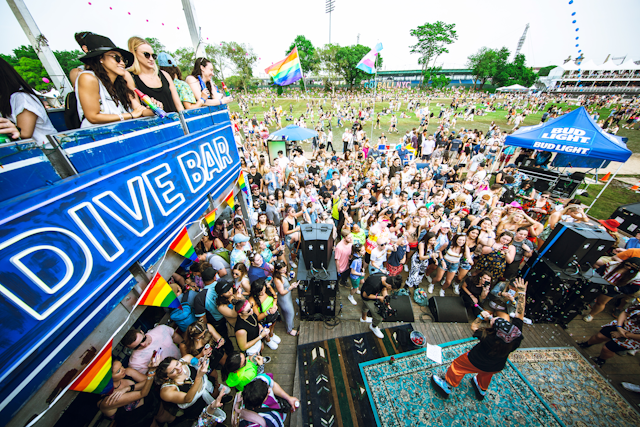 On the second day of the festival, the brand celebrated its long-standing partnership with Glaad and the beginning of Pride month by decking out the dive bar activation in gay and transgender pride flags. Emerging L.G.B.T.Q. artists performed on the branded stage. Engine Shop produced the activation.Photo: Courtesy of Bud Light

This year's Dive Bar elements included the BeerBox, a branded vending machine that also cools and opens cans of beer for guests. The machine was implemented to reduce long lines at bars and increase overall beer sales at festivals. Alongside the high-tech element, Bud Light also brought vintage vending machines, which dispensed prizes and cigarette boxes that contained tickets to a stitch shop. Guests who won a ticket could get a free, custom-embroidered hat, tote bag, or denim jacket on site. 
The activation also took on more of a dive bar aesthetic, with on-theme imagery welcoming guests and decor that included a wall plastered with vintage Bud Light ads and neon signs. The activation also hosted special events—during the second day of Governors Ball, the brand partnered with Glaad to hold its first all-L.G.B.T.Q. artist line-up at the activation, which coincided with the beginning of Pride month in June.
Additionally, the Dive Bar continued its tour series with stops in Denver and San Francisco, as well as a second-year tour partnership with Post Malone that included a limited-run merchandise pop-up ahead of his stop in New York, and specialty cans that featured the rapper's face at his own Runaway Tour. 
The brand's involvement in music festivals this year also included holding its own. The first Bud Light Super Bowl Music Festival in Atlanta took the brand's sponsorship efforts to new heights, with a three-night event that included a celebration of hometown rappers such as Ludacris and Migos, a concert headlined by Post Malone and Aerosmith, and a closing night featuring Cardi B and Bruno Mars.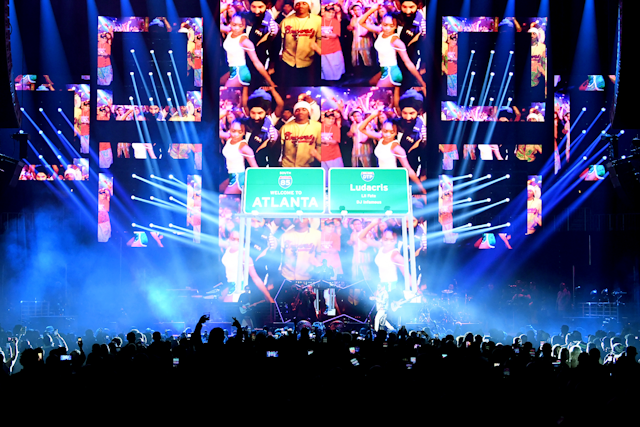 Bud Light held its first music festival for the Super Bowl at the State Farm Arena in Atlanta. The first night, which was presented by EA Sports, paid tribute to the city with rapper Ludacris as the headliner. The stage featured I-85 highway sign replicas that displayed the names of performers. Bud Light worked with On Location Experiences to produce the three-day event.Photo: Kevin Winter/Getty Images for Bud Light Super Bowl Music Fest / EA Sports Bowl

"As the official beer of the N.F.L., we wanted to show up in a new way to get fans in Atlanta excited for the big game and saw this as the perfect opportunity to merge two key aspects of our programming—sports and music—together," said Chueiri. "We knew we wanted to bring some of the biggest names in music together across different genres. The event was a hit, with more than 36,000 guests in attendance over three days."
Bud Light's involvement with professional sports events continued, touching the N.F.L. but also extending to baseball and esports. A year after Bud Light introduced the Victory Fridges—beer refrigerators that were unlocked at local Cleveland bars when the Browns won their first game in two years—the beer brand reintroduced the fridges in a pop-up store themed around the N.F.L. team. In September, the brand activated a pop-up called B.L. & Brown's Appliance Super Store, which was decked out in blue and orange and offered fridges that were available for purchase. For the two days that the store was open, the brand sold more than 2,000 fridges. 
"Everything that Bud Light does from a sports standpoint is about celebrating moments, whether it is your team winning a championship or, in the Browns case, ending a very long winless streak. Our job is to not take over these moments, but rather amplify and make them better with our product," Chueiri said. "The overwhelming response to last year's fridge program, and the vast number of people asking for Victory Fridges for their own home, led us to our 2.0 execution of the Victory Fridge this year."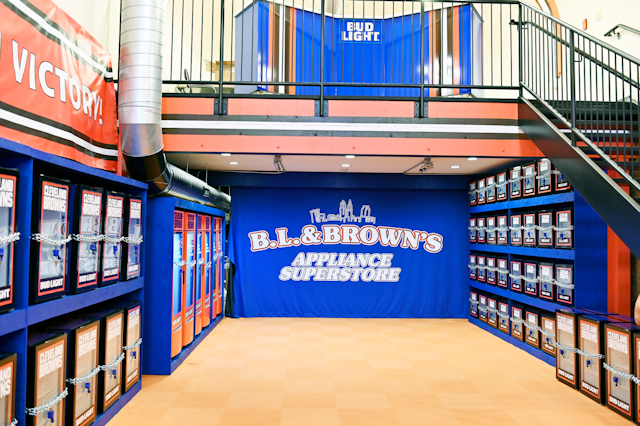 The brand brought its Victory Fridges back to Cleveland with a pop-up store themed after the Browns. The so-called B.L. & Brown's Appliance Super Store was decked out in blue and orange and offered fridges that were available for purchase. The pop-up opened with a chain-cutting ceremony led by W.W.E.'s the Miz, former Browns players, Mayor Frank Jackson, and the Bud Knight mascot.Photo: Duane Prokop/Getty Images for Bud Light

At the esports Overwatch League Finals in Philadelphia in September, the brand challenged at least 100 fans to help move a payload of a truck from one lot to another at the Wells Fargo Center. More than 300 fans helped move the vehicle, which resulted in free Bud Light served at the stadium. 
The brand also tapped into one of the most viral moments of 2019: "Raid Area 51," a Facebook event created as a joke that encouraged people to storm Area 51 in Nevada—and ended up garnering more than one million R.S.V.P.s. While the Facebook event and a planned festival by the same organizers both fell through, Bud Light hopped on the conversation by teasing an alien-theme can on Twitter. When followers asked if the can could actually be made, Bud Light challenged them to retweet the photo 51,000 times, after which the brand would produce a limited-edition can. 
Bud Light went on to produce the cans, and partnered with the official, last-minute "Storm Area 51" music festival in Las Vegas in September, where the brand sold the cans plus alien-theme merchandise.
"We never anticipated our consumers to be so excited for a redesign of our product, but this has inspired us to strive for similar opportunities," noted Chueiri. For the future, Chueiri stressed that Bud Light will continue to leverage cultural moments in sports, music, and other industries to create experiences that put its consumer base first.