This Week in Los Angeles: Cadillac's Reflective Booth, the Main Museum's Virtual Exhibit, Burbank's New Hidden Cocktail Lounge
West Coast bureau chief Claire Hoffman recaps the week's biggest event news.
November 9, 2018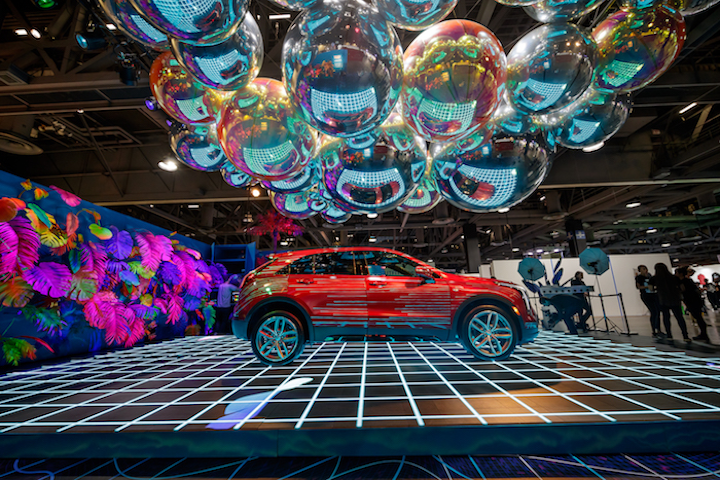 Photo: Courtesy of ComplexCon
Welcome to BizBash's new Los Angeles-based column, where West Coast bureau chief Claire Hoffman recaps the week's biggest local news. Got a tip? Get in touch!
In Case You Missed It
We rounded up festive fall cocktail ideas from Los Angeles venues including Spago, A.O.C., and Bar Toscana. We also spoke with Adobe's new head of inclusive design about how the recent Adobe Max conference, held in October at the Los Angeles Convention Center, created a welcoming, accessible environment for all guests.
In the News
A gunman killed 12 people at Borderline Bar and Grill in Thousand Oaks late Wednesday night. The bar had been hosting a country night geared toward college students. NBC News: "The venue opened in 1993 and describes itself as a 'haven for country line dancing folks of all ages.' It says it's hosted many famous acts including The Beach Boys. Thousand Oaks was ranked the third-safest city in the United States this year, according to the data analysis website Niche." https://nbcnews.to/2yVz8cQ
Downtown L.A.'s Main Museum's latest exhibit takes place entirely on Instagram. Los Angeles Magazine: "The institution's current exhibit takes accessibility to another level by breaking out of a physical space altogether. On Instagram, the Main Museum is currently hosting Office Hours: In Focus, which the museum's creative team believes to be the first museum-curated exhibit on the social platform." https://bit.ly/2PgdjPm
On Tuesday, California residents voted to keep the state's so-called "gas tax," which funds transportation projects. Curbed Los Angeles: "In October, [L.A. mayor Eric] Garcetti warned that if Proposition 6 passed, it would delay some of the area's most significant transportation projects, including a train station along the Crenshaw/LAX Line that would connect passengers to the airport." https://bit.ly/2OwM91w
Moves & Milestones
Lake Arrowhead Resort in the San Bernadino National Forest has named Robert Vazquez Pulido its new executive chef.
Actress and activist Cynthia Nixon, singer and actor Billy Porter, and producers Fenton Bailey and Randy Barbato will be honored at this year's OUT100 Awards, taking place November 15 at Quixote Studios.
Venue Buzz
Located inside the new Castaway event space in Burbank, the Green Room is a new speakeasy-like cocktail lounge that opens today. The space is open on Fridays and Saturdays, and guests choose one of three ticketed reservation experiences: the seven-seat bar, the 80-seat lounge, or the 25-seat patio. Cocktails served in hand-blown glassware are inspired by the film industry, such as a Beauty & the Beast-inspired drink served in a bell jar and garnished with rose petals. The stylish venue, designed by Hatch Design Group, has an elegant jade and gold color palette and hilltop views of Los Angeles.
Overheard
"I've failed more times than you've tried, but I'm okay making mistakes. In my industry, you drink your mistakes."

—WhistlePig Rye Whiskey's master distiller, Dave Pickerell, who passed away unexpectedly on November 1. The quote was displayed during a WhistlePig event on Monday night at L.A.'s York Manor. Originally intended to mark the release of the brand's new whiskey, the event served as a celebration of his life. 
What's Next 
The inaugural Los Angeles Coffee Festival takes place this weekend at Magic Box at the Reef downtown. The event will feature live music, art, and local food and cocktails, plus a coffee mixologist competition, an interactive zone dedicated to latte art, coffee-inspired film screenings, and more.
Meanwhile, the People's Choice Awards, one of our Top 100 events, takes place on Sunday night at Barker Hangar. This year's edition moved from January to November to avoid a crowded award season and will be broadcast on E! for the first time.
And next week in Santa Barbara is FestForums, a conference for festival industry producers, event planners, and artists. Panel topics will include safety at festivals, talent booking, and the emerging market of gourmet food festivals. It takes place at the Hilton Santa Barbara Beachfront from November 14 to 16.
Featured Venues/Suppliers: