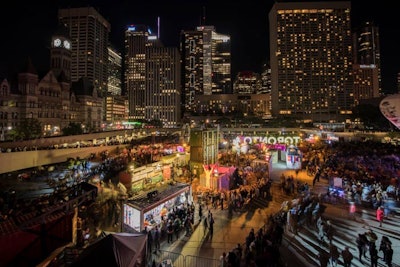 Photo: Ben Roffelsen
With Canada's 150th birthday celebrations done and dusted, plenty of events in Toronto took the opportunity to grow and change this year—or take a hiatus and make plans for the future.
The music events scene saw some of the biggest changes this year, with hometown hero Drake failing to announce a date for OVO Fest and the iHeartRadio Much Music Video Awards falling off the list after pushing its party from June to August. But electronic, dance, and hip-hop festival Veld makes its debut on our list, now in its seventh year and expecting 80,000 at its weekend party in August.
The Toronto fashion landscape has changed dramatically in the past year, as the men's and women's fashion weeks are under new management and top our list of events in that category. Also in the fashion scene, Toronto Fashion Week returns to Yorkville, having been bought by a local consortium, and the Fashion Incubator has canceled its New Labels show.
The PEN Gala Dinner, with its high-profile attendees, joined the Media and Literary category, as did the Writers' Trust Gala, another sold-out event that features a $50,000 fellowship award. And the Toronto Public Library Foundation's fund-raiser returned this year—now named Biblio Bash—after a year off.
Other events in growth mode include the Queen's Plate, which added a day to its long weekend festival; the Festival of Beer, which is adding Thursday-night events; and the Canadian Open golf tournament, which will increase its purse by $200,000.
Events that ended in the past year include Taste of Toronto—which was replaced by a new event, Tastemaker Toronto—as well as the Cassies marketing awards and FFWD: Advertising and Marketing Week.
To choose and rank the annual events on this list, we look at several factors, including economic impact, buzz, innovation, and an event's prominence within the communities it intends to serve.