ROM Stages Two-Part Fund-Raiser
The museum opened its recently completed renovation with a formal dinner and separate gala party.
August 23, 2007
The
Royal Ontario Museum
unveiled its $270 million Michael Lee-Chin Crystal addition at a two-part gala fund-raiser for 1,000 donors and supporters. Designed by architect Daniel Libeskind, the addition was comprised of five interlocking, self-supporting prismatic structures that interface with but are not attached to the original historic ROM buildings. The gala, dubbed the "Singular Event and Big Bang Party," was designed and produced by
Theideashop
and began on Bloor Street outside the new entrance, continued through Spirit House, and into the four-storey Hyacinth Gloria Chen Crystal Court. Part one of the fund-raiser, the Singular Event, was a formal dinner for 500 guests in Samuel Hall Currelly Gallery. Part two, the Big Bang Party, drew another 500 guests into the newly developed space for a night of exploring and dancing.
Designing Trendz
worked with Theideashop to create a crystal-inspired look for the Singular Event dinner. Decor elements included custom "liquid metal" table linens from
Chair-man Mills
, metal chairs, and crystal votive and pillar candle holders with yellow orchids atop long mirrors on rectangular tables. Overhead, crystal strands and long branches of orchids hung from the cathedral ceiling. Similarly, crystal strands and barren branches with attached tea lights hung from a tall light truss resting on the ground. Restaurant Associates, the ROM's food services partner, catered the dinner, which was attended by project architect Daniel Libeskind, lead donor Michael Lee-Chin, and the Honorary Hilary M. Weston, chair of the construction fund-raising campaign. Theideashop arranged for the musical entertainment, inclduing Tanya Tagaq, iDrum, Continuum, and much more.The after-party unfolded in five separate rooms all furnished by Contemporary Furniture Rentals who completed the looks created by Theideashop. One of the rooms featured a lounge with colourful emerald coloured couches, black-and-white damask patterned pillows, yellow carpets, and yellow plastic-topped square cruiser tables with yellow flowers and green candles. Another room had a red carpet runner with long black high-top tables, high black Louis Ghost bar stools, and mirrored containers filled with bright red roses. Yet another lounge area contained black carpet flooring, periwinkle couches topped by black leather pillows, and white coffee tables flanked by black Louis Ghost chairs. Arrangements of blush pink and white blooms paired with silver Bourgie lamps on high-back tables softened the look in this space.
The after-party entertainment included performances by the East Village Opera Company and jazz musician Bill King, a supper club cabaret show with George St. Kitts and the
B-Girlz
, and a "nightclub" area featuring DJ Matt C's raucous mixes accompanied by visual projections from artist Lane Franklin of Freethought Project.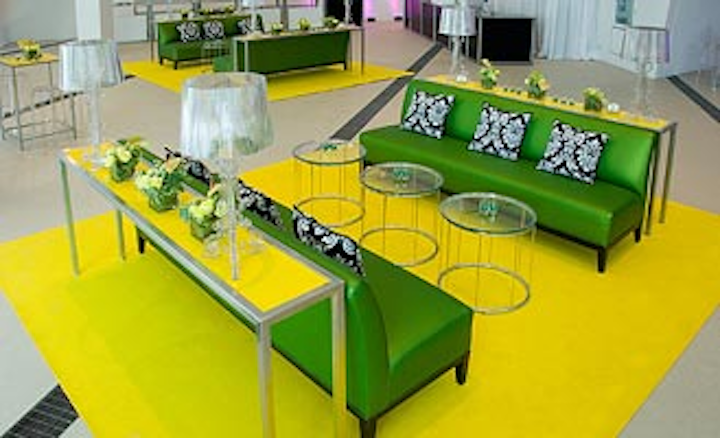 Contemporary Furniture Rentals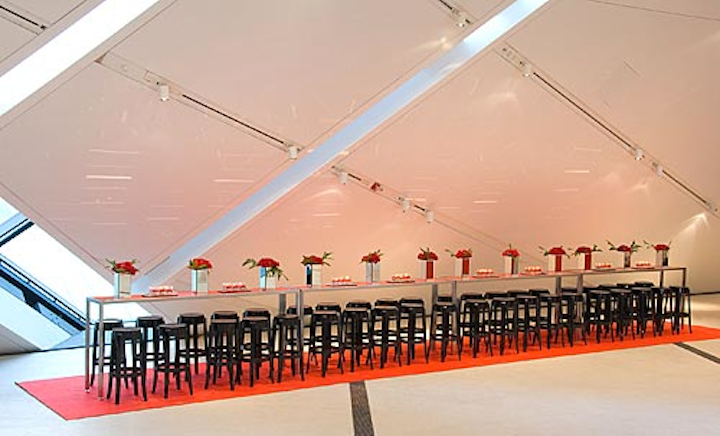 Photos: Contemporary Furniture Rentals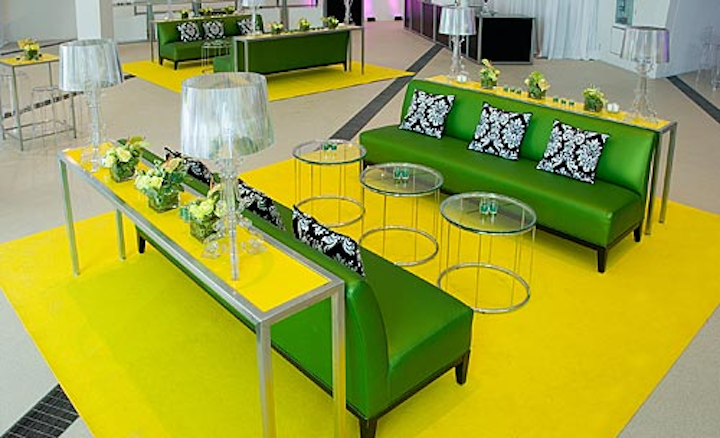 Photos: Contemporary Furniture Rentals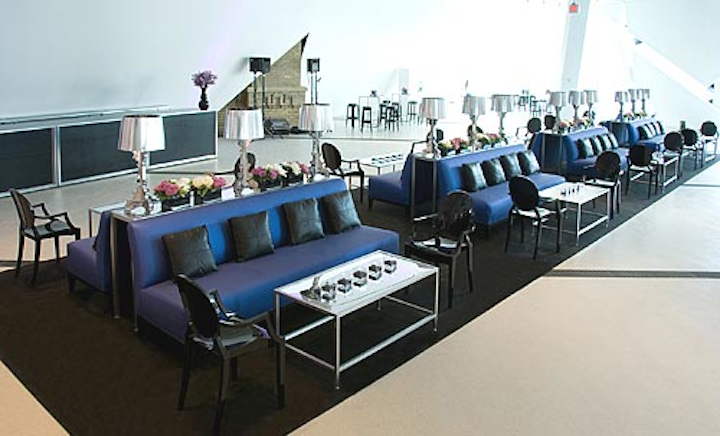 Photos: Contemporary Furniture Rentals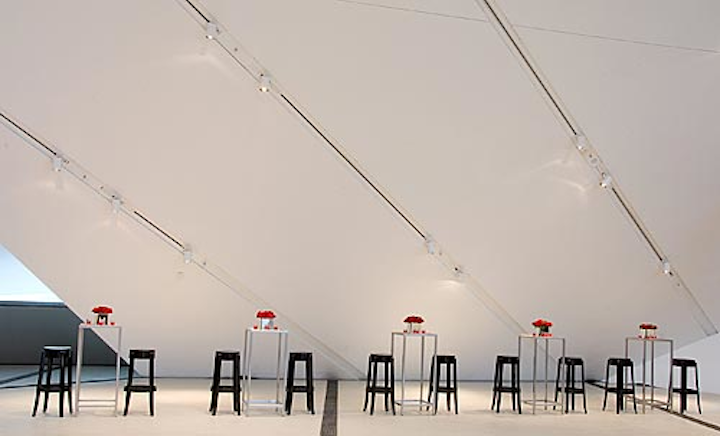 Photos: Contemporary Furniture Rentals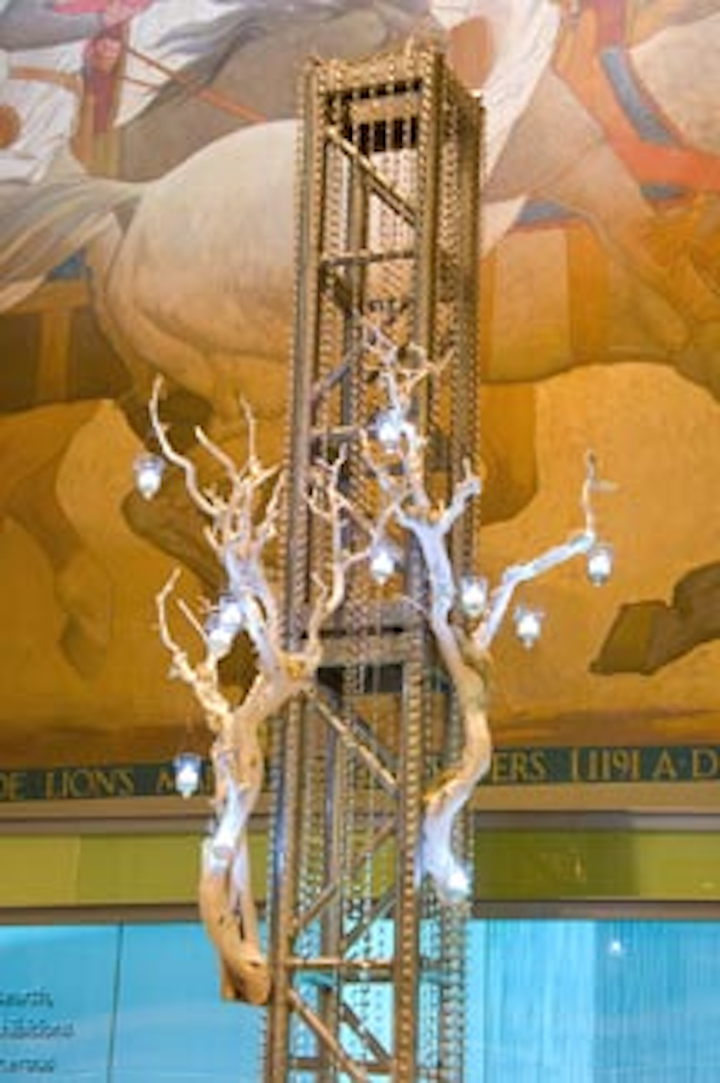 Photos: Designing Trendz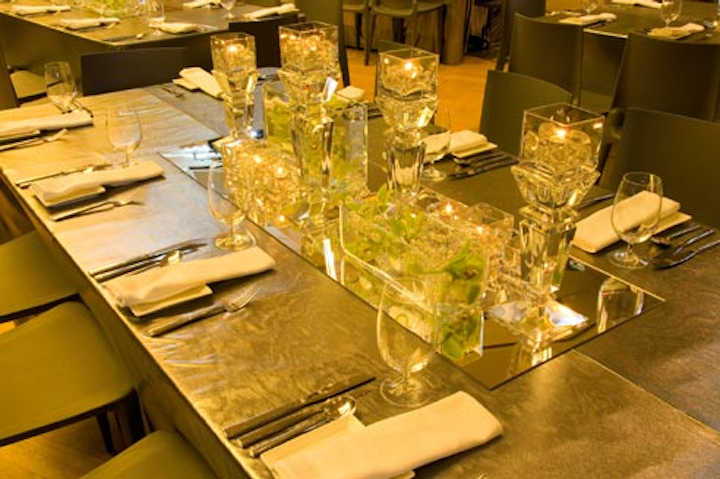 Photos: Designing Trendz
Featured Venues/Suppliers: