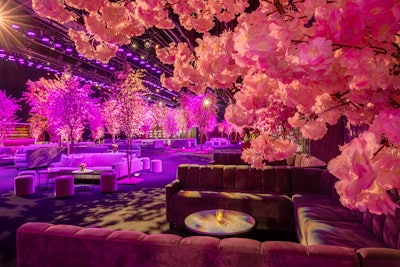 LOS ANGELES—Taking over a transformed Shrine Auditorium stage immediately following the ceremony, the SAG Awards' official after-party always offers event design inspiration, from last year's Cuba-theme artwork to previous years' Parisian street scene and mirror-filled nightclub setting. The force behind the eclectic designs is Event Eleven's Tony Schubert, who has been producing the invite-only event for 12 consecutive years.
This year's party, held on January 19, had a "cherry blossom forest" theme, mixing trees featuring various shades of pink blossoms with plush furniture, walnut details, and pops of pink. "I pitched an idea of a fall forest with beautiful amber and brown leaves, and my wife said it should be cherry blossoms," explained Schubert. "I guess she was right, because everyone loved the idea."
While most high-profile award shows have several glamorous parties around town, the SAG Awards are most known for just one. The gathering, which honors the charitable efforts of actors in their communities, has been hosted by People magazine for 24 years and typically draws the biggest names in Hollywood. Because of that spotlight, Schubert wanted to design something different from what he had done before.
"It's very important for our events to have their own voice," he said. "I never want our events to look the same year after year, and for the sake of the clients we want to make sure we're designing something that fits their brand and always shows them in the best light. The world sees this event—and it has to be something fresh and unique each year."
The guest list included Jennifer Aniston and Brad Pitt (who drew headlines earlier in the evening for their quick reunion backstage at the award show), plus Joaquin Phoenix, Renée Zellweger, Leonardo DiCaprio, Quentin Tarantino, and many more. Wolfgang Puck Catering provided the food, and DJ Michelle Pesce oversaw a boisterous dance party. Cocktails featured Chopin Vodka and Dorda Liqueur, while wine came from Cooper's Hawk Winery and Restaurants.
The 26th annual SAG Awards aired live on TNT on January 19, with big winners including the casts from Parasite, The Crown, and The Marvelous Mrs. Maisel; Robert De Niro received the Lifetime Achievement Award. In keeping with the trend from this year's Golden Globe Awards and Critics' Choice Awards, the SAG Awards served an entirely plant-based menu for the first time.
Scroll down for a look inside the lush, cherry blossom-filled after-party.
VENDORS
Audio: CBC Technical
Carpet: Primo XL
Catering: Wolfgang Puck Catering
Design, Production: Event Eleven
DJ: Michelle Pesce
Floral Design: Floral Crush Studio
Furniture: Event Eleven, FormDecor Furniture Rental
Lighting: Images by Lighting
Rentals: Town & Country Event Rentals
Scenic: Whalefilm
Trees: Green Set Inc.
Venue: Shrine Auditorium and Expo Center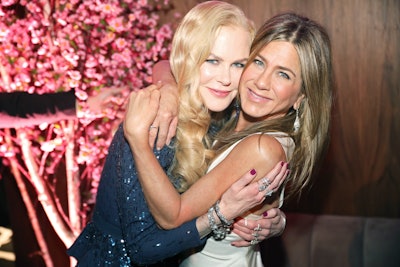 Photo: Colin Young-Wolf/Invision for People Magazine/AP Images