This Week in Event Venues: Convene's Virtual Meeting Options, Plus Hotel Openings, Safety Protocols, and More
Rounding up the latest news from hotels, convention centers, meeting spaces, restaurants, and other event venues across the United States and Canada.
June 18, 2020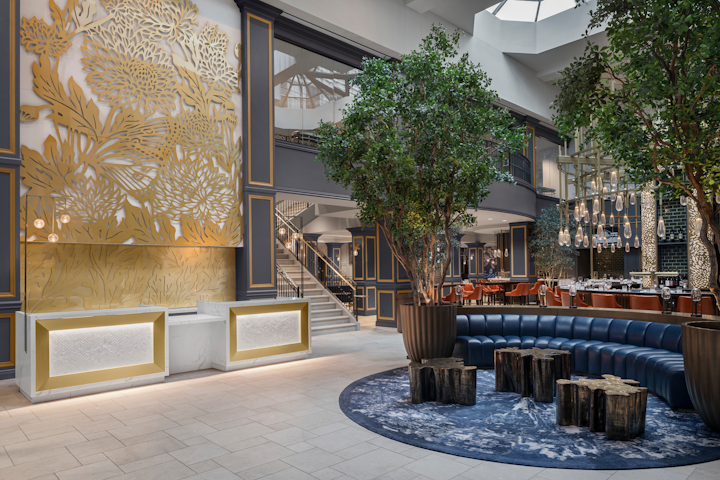 Photo: Courtesy of The Lytle Park Hotel
As hotels and event spaces begin to cautiously reopen after coronavirus-related shutdowns, we're here to round up the biggest news of the week—in one convenient place. Got a tip? Get in touch!
Spotlight On: Going Hybrid
On BizBash this week, we took a look at what hybrid events—with small in-person audiences and larger virtual audiences—may look like in the coming months. Venues around the country are already preparing for this new, new normal, including Convene, which offers co-working and meeting spaces in Boston, Chicago, Los Angeles, New York, Philadelphia, Washington, D.C., and London. Earlier this week, Convene launched new proprietary technology for virtual meetings—which includes a team of virtual meeting producers to guide clients through the process—plus enhanced products for hybrid meetings. 
Local News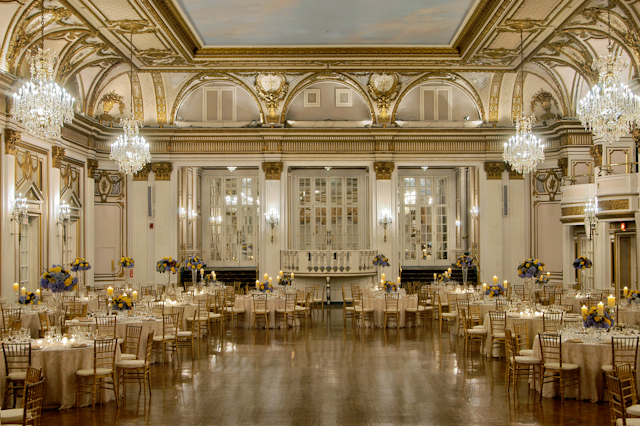 Boston's 383-room Fairmont Copley Plaza plans to reopen on August 7.
Northeast
While New York City is still in phase one of its reopening—in which restaurants are restricted to takeout and delivery—some bars and eateries are reportedly allowing crowds to gather outside their venues. After a video of crowds at St. Mark's Place went viral this weekend, Gov. Andrew Cuomo threatened to reinforce stricter lockdowns in Manhattan and the Hamptons. The city has deployed more than 2,000 "social distancing ambassadors" to remind people to stay six feet apart and to wear masks. 
In other New York venue news, Long Island's Nassau Coliseum, which hosted roughly 200 events per year including sporting events and concerts, is closing indefinitely. Onexim Sports and Entertainment, which operates the arena under a lease from Nassau County, is reportedly seeking investors to take over operations.
In Boston, meanwhile, outdoor event space The Lawn on D has been converted into a reservation-only restaurant with 700 seats. Each of the 180 tables is at least six feet apart, and digital menus are accessed with QR codes. The space is sponsored by Citizens Bank, with food and beverage from Rebel Restaurants. 
In more Boston news, the historic Fairmont Copley Plaza hotel plans to reopen August 7. The hotel will offer the "We Still Do" wedding package, which includes a 10-person ceremony, photo ops, a wedding cake, and a 10-percent discount on a 2021 reception. Packages start at $1,000; couples can pay extra to livestream the wedding for family and friendsand can also add bar service, passed hors d'oeuvres, and an overnight stay.
And in Philadelphia, Logan Hotel is taking it a step further: The 391-room property is offering free use of its outdoor courtyard for wedding ceremonies with 10 to 20 guests. The program also includes photography by Philip Gabriel; florals from Robertson's Flowers and food from Urban Farmer can be added for additional fees.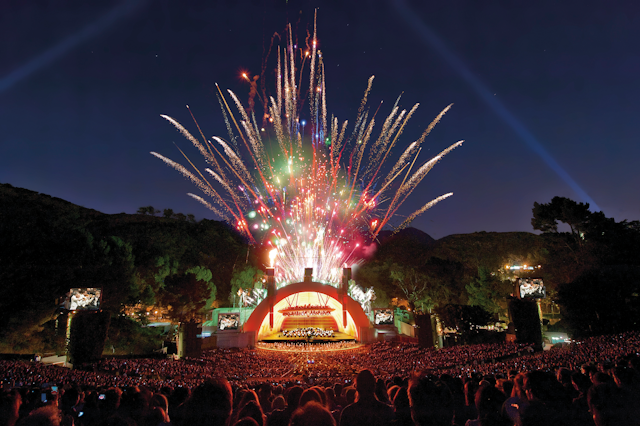 The Hollywood Bowl in Los Angeles introduced "Supper to Go" service this week.Photo: Courtesy of the Los Angeles Philharmonic
West
West coast cities also continue their gradual reopenings—in a safe way. The InterContinental San Francisco, for example, has introduced "Meet With Confidence," a new program designed for safe in-person and virtual events. The 556-room hotel has partnered with PSAV to offer audiovisual and virtual meeting capabilities for hybrid events, including the use of integrated audience engagement program Chime Live. Room plans have been redesigned to support six feet of physical distancing; in terms of food and beverage, there will be a single server for every 15 attendees. The hotel is also offering virtual tours of its 43,000 square feet of event space. 
In Las Vegas, resorts and casinos continue to open in phases. MGM Resorts will open The Luxor on June 25, followed by The ARIA, Mandalay Bay, and Four Seasons Las Vegas on July 1. The Bellagio, MGM Grand, New York-New York, and Excalibur opened earlier this month. All MGM properties will incorporate a new seven-point safety plan, which includes employee screening, physical distancing policies, standalone hand-washing stations, digital menus, and more. 
In other Vegas news, the upcoming Resorts World Las Vegas has submitted plans for an underground public transportation system that will connect the resort and the Las Vegas Convention Center. Passengers will be transported in all-electric Tesla vehicles in under just two minutes. Pending approval by the Board of County Commissioners, construction is expected to begin later this year.
And in Los Angeles, Proper Hospitality will debut its new brand, Hotel June, on June 22. The new property aims to incorporate Proper's design-forward style at a more affordable price point. The 250-room property's design features natural woods, native fabrics, handmade tiles, and local art; Steve Living of Happy to Serve You Hospitality Group oversees the food and beverage, which includes a two-level outdoor restaurant. 
Also in Los Angeles, the Hollywood Bowl may be closed for performances—but its food and wine department has introduced "Hollywood Bowl Supper to Go," which makes James Beard Award-winners Caroline Styne and Suzanne Goin's meals available for curbside pickup from Thursdays through Saturdays. Menu options include six different three-course meals, plus a hand-selected wine list.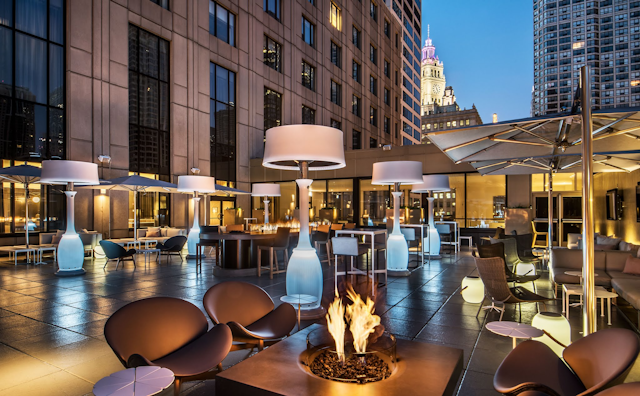 Upstairs at the Gwen's rooftop terrace has reopened for socially distanced dining by reservation only.Photo: Courtesy of Upstairs at the Gwen
Central
Throughout Texas, which began its reopening on May 1, some venues—including a dozen restaurants in the Houston area—are reportedly shutting down again after employees tested positive for COVID-19. But in more positive Texas news, The Plaza Hotel Pioneer Park opened in El Paso on June 17. The newly restored boutique property has 130 rooms and suites, an on-site Mexican restaurant, a rooftop bar and lounge, and a fitness center. There's also 7,967 square feet of event space. 
Further north in Illinois, as hotels prepare to reopen, the Illinois Hotel and Lodging Association has proposed a plan to allow guests to gather at 50-percent capacity in hotel meeting rooms, ballrooms, and public spaces. Currently, Gov. J.B. Pritzker's plan will permit 50 people to gather in phase four, but IHLA president and CEO Michael Jacobson is fighting for increased capacity. "The hotel and tourism industry are a critical component of the economy for Chicago and the state of Illinois, and our plan provides an important bridge to the future," Jacobson told NBC Chicago.
Chicago restaurants meanwhile, continue to reopen for outdoor dining. Reopenings this week include El Che Steakhouse & Bar, Gemini, The Loyalist, and Upstairs at the Gwen.
In Denver, the 128-year-old Brown Palace Hotel & Spa reopened last week. "The return to operation of The Brown Palace is something we've all looked forward to for the past two months," said general manager Nick Moschetti in a press release. "After uninterrupted operation for the past 128 years, this pause has allowed us to reflect on our place in Denver's past, present, and future. We have worked hard to ensure we are at our best, serving our guests to the level they've come to expect, with safety front of mind."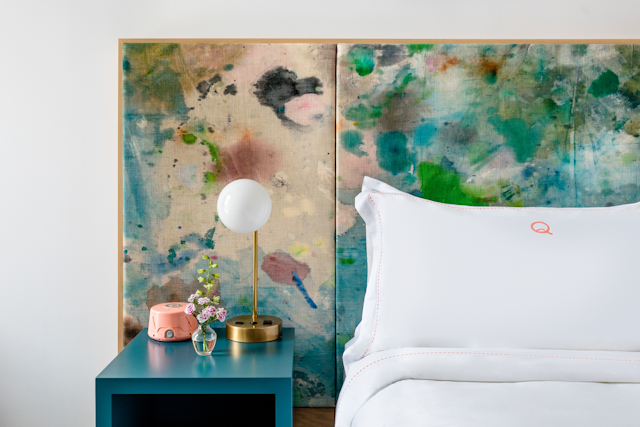 The 80-room Quirk Hotel opened in Charlottesville, Va., on June 1.Photo: Courtesy of The Quirk Hotel
Southeast
Southern Management Group's hotel division has launched EverStrong, a new comprehensive cleaning and sanitation program. The plan—which will be implemented at mid-Atlantic properties The Hotel at the University of Maryland, Cambria Hotel College Park, The Hotel at Arundel Preserve, and Bear Creek Mountain Resort & Spa—is built on four pillars: physical distancing, cleanliness, active monitoring, and rapid response. 
In other Mid-Atlantic hotel news, the 80-room Quirk Hotel opened earlier this month in Charlottesville, Va. Situated adjacent to two historic farm homes dating back to the 19th century, the art-focused property incorporates a variety of relics from Charlottesville's past, and includes an in-house art gallery. There's also 11,000 square feet of indoor and outdoor event space, including a rooftop, an outdoor screening pavilion, and a bi-level yard. 
In Nashville, BentallGreenOak, Flank Management LP, and Geolo Capital have joined in a three-way venture to acquire the Hutton Hotel. The 250-room hotel has more than 20,000 square feet of event space, as well as a 5,000-square-foot social club and entertainment venue, three dining concepts, and a Tesla Model S house car for guest transportation. 
In Florida, The Greater Miami Convention & Visitors Bureau has launched Miami Shines, a recovery campaign to support hotel- and tourism-industry openings across South Florida. The program includes promotional incentives across restaurants, hotels, museums, spas, and attractions. "Our number one priority at the GMCVB is to responsibly drive demand to our partners in Greater Miami's tourism industry," said William D. Talbert III, president and CEO of the GMCVB. "The Miami Shines program helps create and keep jobs and helps the local economy recover now that beaches, hotels, and the hospitality industry are open once again."
In other Florida news, Greg Cook has been named general manager at the Ritz-Carlton, Amelia Island on Florida's northeast coast. Cook previously served as general manager of the Ritz-Carlton, Fort Lauderdale.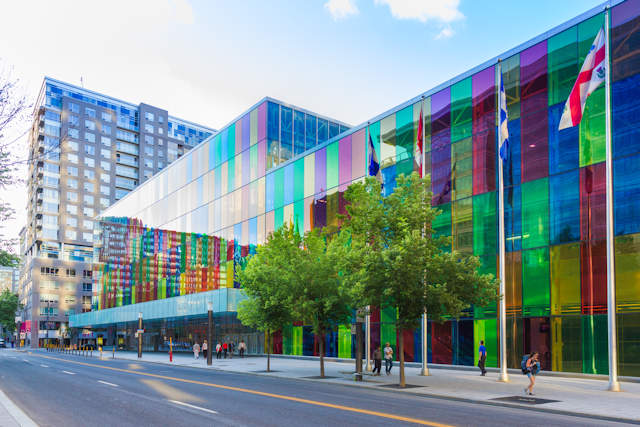 Palais Des Congrès de Montréal has 200,000 square feet of exhibition space and 65 meeting rooms.Photo: Courtesy of Palais Des Congrès de Montréal

Canada
Palais Des Congrès de Montréal is preparing to reopen by hosting hybrid events with partners Encore and GES. All rooms at the convention center will be reconfigured to comply with Canada's two-meter distancing measures, and a team of technicians and producers can add a variety of virtual components. "Despite the undeniable impact COVID-19 has had on the Palais' operations, the current situation is serving as a springboard for going forward with new digital opportunities that will enable us to further make our mark globally," said Robert Mercure, the venue's CEO, in a statement. "The convention industry is simply evolving, and the Palais and its new hybrid event solutions are at the forefront of this transformation."
And in Toronto, the Fairmont Royal York has opened its doors for socially distanced weddings. Ceremony packages offer backdrops by Forget Me Not Flowers, luxury dining set-ups in the ballroom, and photography by the hotel's landmarks. The company also announced that its Summer Afternoon Tea series is now available for takeout. (Want more Toronto-focused news? Check out our weekly column.)