This Week in Event Venues: Safety-Focused Swag, Revamped Outdoor Spaces, New Meeting Guidelines, and More
Rounding up the latest news from hotels, convention centers, meeting spaces, restaurants, and other event venues across the United States and Canada.
July 9, 2020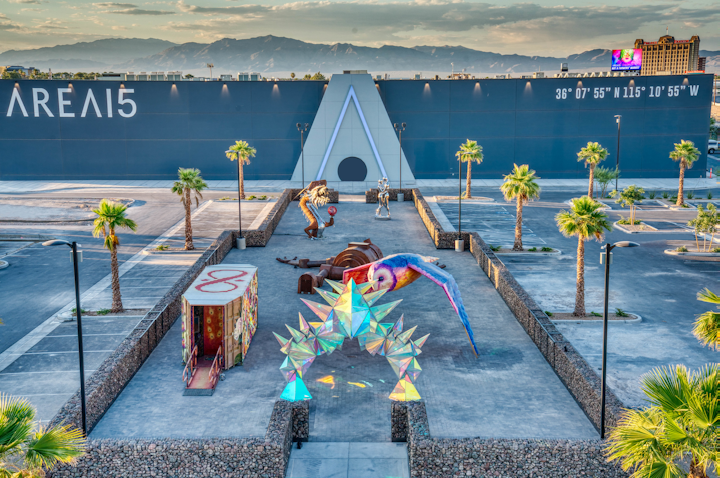 Photo: Courtesy of AREA15
As hotels and event spaces begin to cautiously reopen after coronavirus-related shutdowns, we're here to round up the biggest news of the week—in one convenient place. Got a tip? Get in touch!
Here are five things to know this week.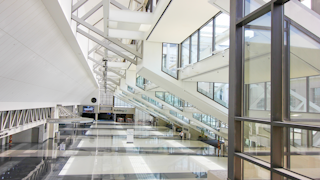 Atlanta's Georgia World Congress Center features 1.5 million square feet of flexible exhibit space.Photo: Georgia World Congress Center1. Meeting safety continues to be a priority.
As hotels, convention centers, and other meeting spaces reopen for small and hybrid events, safety and sanitation procedures continue to dominate the conversation. In late June, the Georgia World Congress Center in Atlanta became the first convention center to achieve the GBAC STAR accreditation from the Global Biorisk Advisory Council, which demonstrates best practices for cleaning and infectious disease prevention.
And just yesterday, California's Anaheim Convention Center became the second convention venue—and first on the west coast—to achieve the accreditation. "This is an important step in the eventual, safe, and responsible reopening of the [center]," says Tom Morton, executive director of convention, sports, and entertainment for the city of Anaheim. "Event organizers and attendees can have confidence that our facility meets the highest standards of cleaning, disinfection, and prevention. This accreditation is one part of a larger, comprehensive plan that will guide the Anaheim Convention Center in safely resuming meetings, conferences, and conventions when the time is right."
Related: Why Venues Across the U.S. Are Focusing Efforts to Attain GBAC STAR Accreditation
Hotels are also making conscious efforts to keep meeting attendees safe. For example, the 268-room Le Meridien St. Louis Clayton, a new property slated to open in the fall, will offer carefully thought out event space that encourages hybrid and satellite meetings and safe social distancing; highlights include sanitation stations, designated entrances and exits, and mobile service requests. The hotel will have 17,000 square feet of event space, including an open-air pool deck.
Gaylord Hotels—which recently reopened its four sprawling resorts in Colorado, Florida, Tennessee, and Texas—is also incorporating safe practices through Marriott's "Commitment to Clean" protocols. Each property has 400,000 square feet or more of meeting space, and the hotels are working closely with groups to reschedule events using Marriott's Meeting Services App, which allows for contact-free service. Other changes include reduced capacity, the elimination of self-service buffets, and more.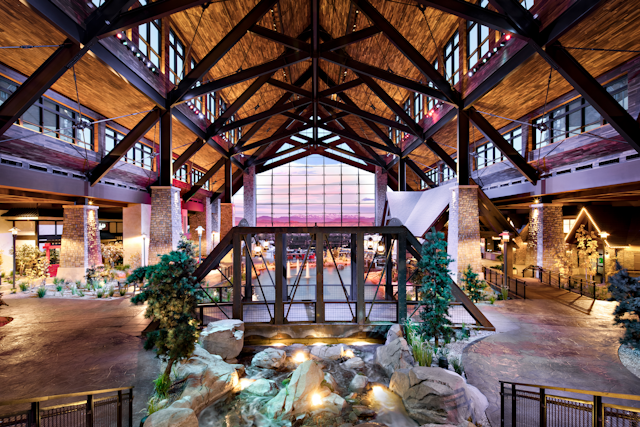 The 1,501-room Gaylord Rockies in Aurora, Colo., features a Grand Lodge with an indoor lake, plus a water experience with three waterslides and a 720-foot-long lazy river.Photo: Courtesy of Gaylord Hotels

2. Venues are offering custom PPE and other safety-focused swag.
As they work to keep guests safe, properties are also getting creative with customized hand sanitizer, face masks, and more. Macarthur Place Hotel & Spa, a 64-room boutique hotel in Sonoma, Calif., reopened on July 1—and each guest will receive the property's new custom hand cleaner, made through a partnership with Lotus Wei and featuring scents from local flowers. 
Meanwhile, the Confidante Miami Beach has teamed up with local artists to create custom-scented coconut hand sanitizers, plus art-inspired face masks for guests and employees. The 354-room hotel, which has 30,000 square feet of event space, is also offering virtual fitness classes, as well as "DIY celebrations in a box": Guests can receive an in-room or poolside kit with items such as bottles of Prosecco, pre-packaged decor, mini pies from a local bakery, and more; pricing starts at $149.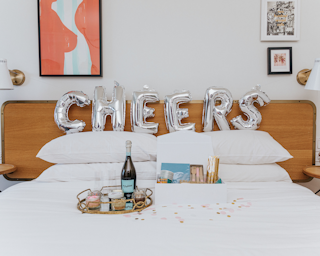 The Confidante Miami Beach's "Celebration Box" features gold disposable glasses, gold straws, wall decorations and balloons, a bottle of Prosecco, and desserts from Pink Pie.Photo: Courtesy of Confidante Miami Beach

3. Outdoor space is key right now. 
While certain cities such as Los Angeles have re-closed indoor dining due to recent COVID-19 spikes, outdoor space—generally considered to be safer during the pandemic—has been key. And venues are getting creative with it. In Playa del Rey, Calif., Playa Provisions from Top Chef winner Brooke Williamson has converted its parking lot into a new outdoor patio with socially distant tables, umbrellas, plexiglass barriers, and more.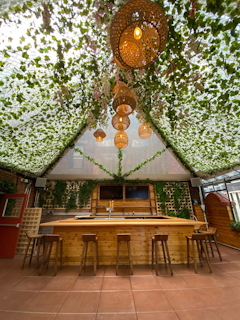 In New York, Japanese restaurant Sushi Lab has opened a new rooftop space that allows for social distancing.Photo: Courtesy of Sushi LabIn New York, the Sanctuary Hotel's Sushi Lab opened a new rooftop on July 1; the open-air space offers an eight-seat chef's counter plus nine additional tables that hold as many as 30 people while practicing safe distancing. The restaurant offers Japanese small plates from executive chef Frankie Chen.
Meanwhile in Vancouver, the historic Gastown neighborhood launched "Patiotown" this week. The city initiative provides access to nearly 500 outdoor seats across 20 patios. The Murals of Gratitude Exhibition, an outdoor art collective paying tribute to Canadian healthcare workers, will be on display in the district throughout the summer 
And in Las Vegas, upcoming art and entertainment complex AREA15 has introduced Art Island, a permanent outdoor gallery that showcases large-scale, festival-style artwork. Pieces come from artists Michael Benisty, Davis McCarty, Ivan McLean, and more; the gallery will be free to visit when the complex opens in September. "With many popular desert festivals being postponed this summer, the public will soon have a brand-new, ongoing opportunity to engage with the theatrical, interactive artwork synonymous with these events," says venue CEO Winston Fisher.

4. Hiring and promotions are still happening.
As the hospitality industry continues to cautiously open, there have been a number of high-profile job changes in the last few weeks. In Chicago, Laurent Boisdron has been named general manager of the highly anticipated Sable Hotel at Navy Pier. The 222-room hotel will have two on-site dining concepts, including what owners bill as North America's largest rooftop restaurant, plus 170,000 square feet of meeting and event space with a direct connection to Festival Hall.
Meanwhile, Evan Vargas is the new vice president of human resources for Enchantment Group, which operates four destination resorts; he's based in Scottsdale, Ariz. In Florida, the TradeWinds Islands Resorts—two beachside properties in St. Pete Beach that boast a combined 88,000 square feet of event space—named Bob LaCasse as managing director and Travis Johnson as hotel manager. And the Kimpton Cottonwood Hotel, a 205-room property opening in Omaha, Neb., in August, has appointed Mara Bouvier as general manager and James Schelnick as director of sales and marketing. The hotel will have 13,500 square feet of event space.
5. Virtual experiences continue to be in demand.
Virtual experiences are still a popular choice for museums and other venues. The Neon Museum in Las Vegas, for instance, launched a virtual tour experience this week that allows people to "walk" through the attraction's Neon Boneyard sign collection and explore more than 130 informational hotspots. Guests can view informational videos—including a 27-minute documentary about the restoration of the venue's massive Hard Rock Café guitar sign—or read written descriptions and view historical photos. The tour costs $10 for indefinite access.
"This virtual tour was created with a worldwide audience in mind," explains Rob McCoy, the museum's president and CEO. "With travel limited for the foreseeable future, enjoying an immersive visit to the Neon Museum, with all its spectacular sign design and history, makes an entertaining and educational diversion for people of all ages."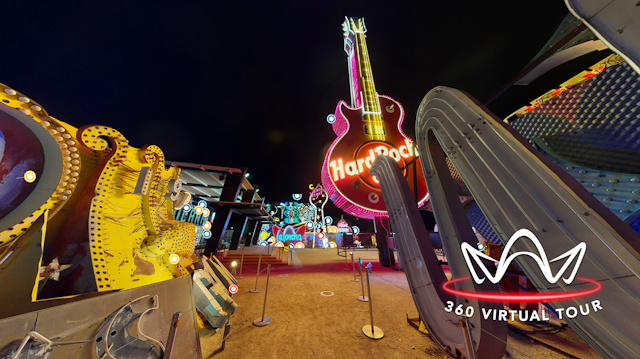 The Neon Museum in Las Vegas has launched a new virtual experience.Photo: Courtesy of Neon Museum

Bonus: New and Upcoming Openings to Know About
The 140-room Canopy by Hilton Austin Downtown opened on July 1. The six-floor property has an open-air interior courtyard, a full-service restaurant and bar, a terrace-level pool deck with downtown views, and a 24-hour fitness studio; the hotel is participating in Hilton's new CleanStay program, which establishes new standards for cleanliness and disinfection.
In Memphis, the Renasant Convention Center is on track to debut its $200 million modernization in October. Upon opening, the 300,000-square-foot property will boast a 118,000-square-foot, column-free exhibit hall, a 28,000-square-foot ballroom, 46 meeting rooms, a 2,100-seat theater, and more. Floor-to-ceiling windows will offer views of downtown Memphis and the Mississippi River, and the convention center will be connected to the 600-room Sheraton Memphis Downtown. 
And looking into early 2021, Ambiente is slated to open in Sedona, Ariz. The hotel will offer 40 private guest atriums, all built on stilts and with floor-to-ceiling, bronze-tinted glass walls. Each structure will have 360-degree red rock views, plus private rooftop decks, fire pits, and an outdoor daybed. The property will also have a communal, lagoon-inspired pool and a two-story lounge offering rooftop yoga, star-gazing, and other programming.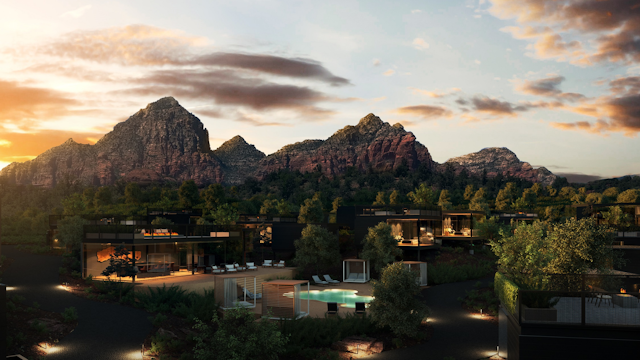 Ambiente will open in Sedona, Ariz., in early 2021.Photo: Courtesy of Ambiente