This Week in Event Venues: #RedAlertRESTART, Plus MTV's Outdoor VMAs, Arenas Becoming Voting Centers, and More
Rounding up the latest news from hotels, convention centers, meeting spaces, restaurants, and other event venues across the United States and Canada.
September 3, 2020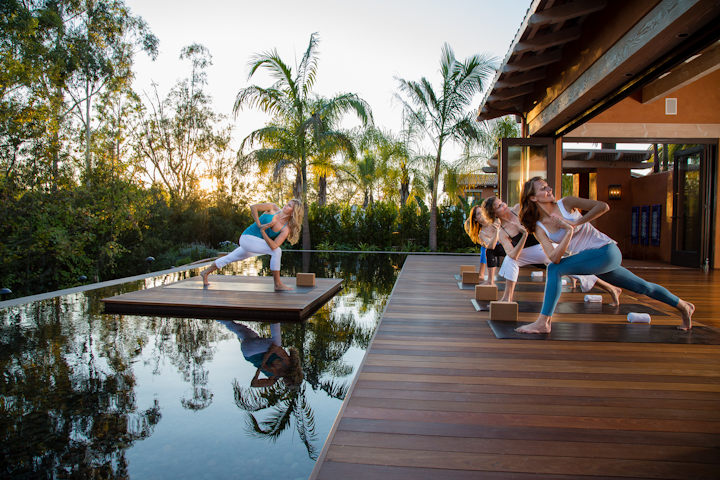 Photo: Courtesy of Rancho Valencia Resort & Spa
As hotels and event spaces begin to cautiously reopen after coronavirus-related shutdowns, we're here to round up the biggest news of the week—in one convenient place. Got a tip? Get in touch!
Here are six things you need to know this week.  
1. More than 2,000 North American venues were illuminated in red on Tuesday night.
On the evening of Sept. 1, more than 2,000 venues across North America were illuminated in red to raise awareness and support for the struggling live events industry. The show of unity was the brainchild of #WeMakeEvents, a two-week-old coalition of businesses, unions, and live events workers who are encouraging Congress to pass the RESTART Act and extend and expand PUA and FPUC. The coalition reports that more than 7,500 letters to Congress have been generated through its website.
2. The VMAs took over outdoor venues in New York.
After plans to hold the show at New York's Barclays Center were scrapped for safety considerations, MTV hosted its 37th annual Video Music Awards at various outdoor venues throughout New York on Sunday night. The Weeknd kicked off the show from Edge at Hudson Yards, the city's highest observation deck, while Keke Palmer hosted from Brooklyn's Skyline Drive-In. The show featured a mix of live and pretaped events; other performers included Lady Gaga, Ariana Grande, and Miley Cyrus, all of whom had reportedly been quarantined before their scheduled shoot and given COVID-19 tests before the show. The award show, produced by Den of Thieves, reportedly generated 40.1 million social media interactions—up 134% from last year.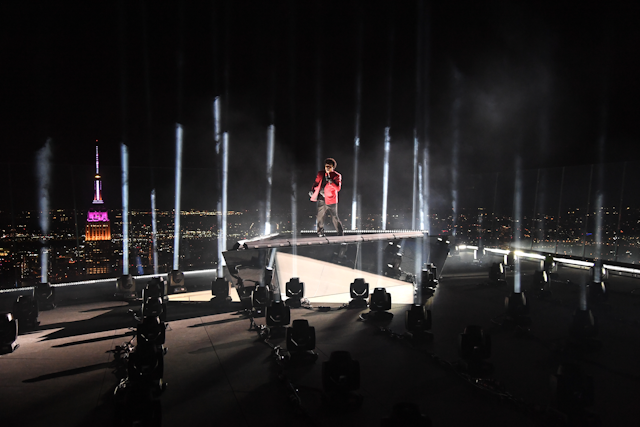 During the MTV Video Music Awards on Aug. 30, The Weeknd performed at Edge at Hudson Yards in New York, which is billed as the highest outdoor sky deck in the Western Hemisphere.Photo by Kevin Mazur/MTV VMAs 2020/Getty Images for MTV
3. More sports venues will become voting centers.
Two weeks ago, we reported that Dodger Stadium in Los Angeles would become a voting center for the 2020 presidential election in November due to the efforts of Lakers star LeBron James. And after a week of protests and strikes, most notably by NBA players over the police shooting of Jacob Blake, many more stadiums will join the initiative. The effort is part of the deal reached with NBA players, who agreed to resume the season with several new social justice initiatives in place.
"In every city where the league franchise owns and controls the arena property, team governors will continue to work with local elections officials to convert the facility into a voting location for the 2020 general election to allow for a safe in-person voting option for communities vulnerable to COVID," said NBA officials in a statement. "If a deadline has passed, team governors will work with local elections officials to find another election-related use for the facility, including but not limited to voter registration and ballot receiving boards."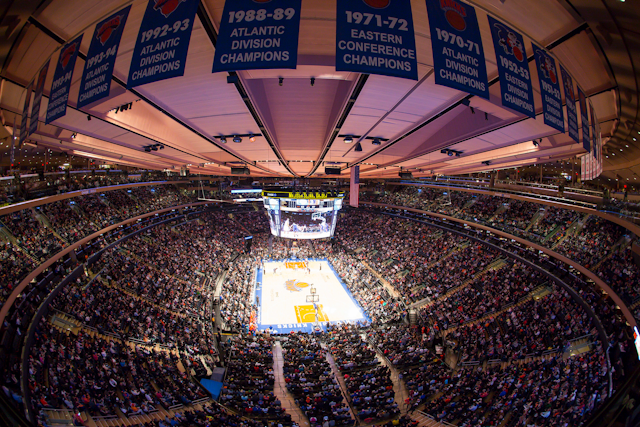 Madison Square Garden, home to the New York Knicks, is expected to serve more than 60,000 eligible voters, making it the largest polling site in New York City.Photo: Courtesy of Madison Square Garden
4. The Event Industry Council released a new safety guide for venues.
Last week, the Event Industry Council (EIC) released its Health and Safety for Hotels Accepted Practices Guide. The new guide merges guidelines from various hotel companies as well as resources from the American Hotel and Lodging Association (AHLA), and adds additional protocols surrounding transmission barriers, enhanced sanitization, health screenings, and food and beverage. (The EIC previously released an accepted practices guide surrounding meeting and event design.)
"The pandemic has prompted a renewed commitment in the travel industry to the health and wellness of guests, employees, and other visitors," said Hotels Work Group chair Mike Dominguez, CEO of Associated Luxury Hotels International. "The response from the lodging community has been rapid, fluid, and most importantly, a collaborative endeavor. This work is based on what we know today. And, we will update as we continue to learn more."
5. Hotels continue getting creative with outdoor space.
While COVID-19 restrictions are keeping many hotel fitness centers closed, properties around the country are coming up with a creative solution: moving it outside. Monarch Beach Resort in Dana Point, Calif., for example, has relocated all of its fitness equipment to an outdoor, capacity-controlled space, where the property is hosting more than 50 fitness classes per week. Meanwhile, Rancho Valencia Resort & Spa in San Diego is hosting outdoor yoga and open-air massages.
Fitness isn't the only thing going alfresco. The Chanler at Cliff Walk in Newport, R.I. is hosting socially distanced picnics and happy hours, while The Roundtree in Amagansett, N.Y., is booking outdoor dinners with private chefs. Meanwhile, San Diego's Rancho Bernardo Inn is hosting poolside "dive-in" movies, lawn games, and weekly garden tours.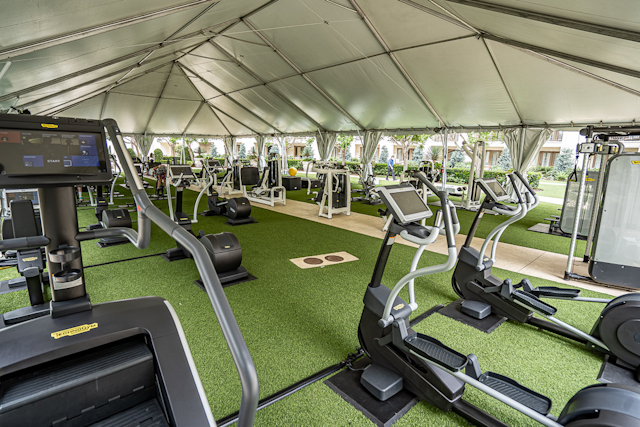 The Monarch Beach Resort relocated its fitness equipment to an outdoor, capacity-controlled space. The property recently teamed up with The University of California, Irvine, to establish health and safety standards.Photo: Courtesy of Monarch Beach Resort
6. Some meeting rooms are being redesigned specifically for hybrid events.
For example, the Inn at Virginia Tech and Skelton Conference Center has unveiled four designed conference rooms that use the same technology developed by the university for its classrooms. Each meeting room, which together make up more than 5,000 square feet, features front- and rear-facing Aver CAM 530 PTZ cameras, self-adjusting ceiling microphones, and AirMedia presentation systems that allow presenters to connect to the in-room projector from any location. There are also enhanced livestream and on-demand viewing capabilities, plus built-in features to prevent cybersecurity risks. 
Bonus: Don't miss BizBash's brand-new Virtual Site Visits guide, where you can explore the best event venues across North America right from the comfort of your home. Click here to start planning your next in-person or hybrid experience today. (Note that this is a sponsored guide and not directly affiliated with BizBash's editorial team.)