Fyre Films: BizBash's Guide to the Fyre Festival Docs
Hulu and Netflix released documentaries about the origin, planning, and crumbling of 2017's disastrous Fyre Festival—but which one should event planners watch?
January 21, 2019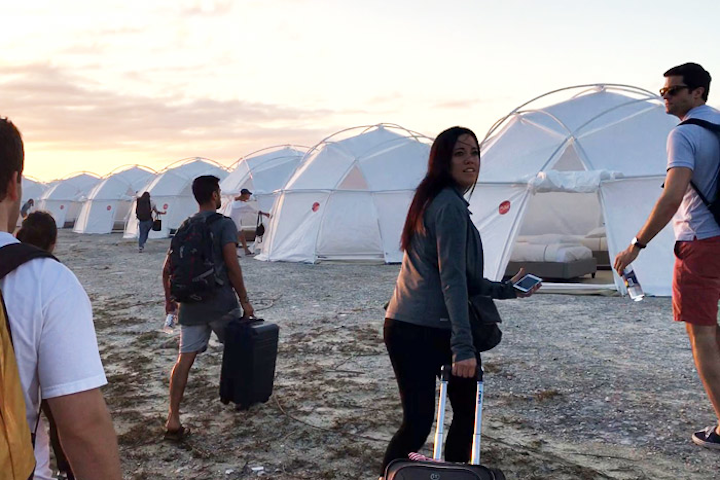 Photo: Courtesy of Netflix
By now, most event planners have probably heard of the Fyre Festival. The failed event, co-created by wannabe entrepreneur and now-convicted felon Billy McFarland and rapper Ja Rule, was initially promoted as the next big music festival and pop culture event, à la Coachella. But social media revealed that the April 2017 event in the Bahamas was a disaster—attendees discovered half-finished disaster relief tents as lodging, flimsy cheese sandwiches instead of upscale catering, a no-show by every promised headliner and celebrity attendees, and subsequent lawsuits from the scammed attendees.
Last week, Hulu and Netflix both released original documentaries about the notorious event. Netflix released Fyre on January 18 and Hulu surprise-released Fyre Fraud on January 14. The Netflix film, directed by Chris Smith, and the Hulu film, directed by Jenner Furst and Julia Willoughby Nason, both delve into how the catastrophic festival came to be.
Both films feature interviews with involved parties that include event planners and festival promoters, McFarland's former employees, festival attendees, and social media experts. Interviewees discuss their experiences and involvement with the lead-up, the days during, and the aftermath of the event—as well as dealing with McFarland, who's currently serving six years in prison for wire fraud. And both docs feature raw footage of what exactly unfolded on the island of Great Exuma, the festival site, along with pre- and post-festival meetings involving McFarland and his team.
So, which one should you watch? Well, if you're interested in getting all of the fascinating, hilarious, and disturbing details, the answer is both. Here are some of the unique perspectives of each film.
To get on the ground: Netflix
Hulu's doc spends a lot of time on the backstory of McFarland and his past ventures and has an overarching theme of the consequence of influencer culture. Fyre touches on those subjects as well, but the doc immediately takes viewers to the Bahamas with exclusive footage from a promotional shoot that involved supermodels including Bella Hadid and Chanel Iman—the infamous ad promoting paradise with swimming pigs was initially used to market the event. As the documentary continues, footage shows meetings with McFarland at Fyre Media headquarters. And for those truly looking for their fill of schadenfreude, Fyre features numerous clips from attendees, which show everything from the horror show that was the rush to claim a FEMA tent (initially billed as luxury lodging) to being locked in the local airport without food or water overnight.
To watch an exclusive interview: Hulu
One element Hulu's Fyre Fraud has that Netflix's doesn't is an interview with McFarland himself. While the interview doesn't necessarily provide anything revelatory, it does leave it up to the viewer to decide what type of person McFarland is—or the type of person he wants to be seen as. 
To learn how planners didn't stand a chance: Netflix
For those who want a detailed picture of the planning and the days leading up to the event, Fyre is the way to go. The doc features interviews with Andy King, the festival's creative consultant, and Mark Musters, the festival's creative director. The two organizers offer candid confessionals about important moments leading up to the doomed event—including the fact that planning should have begun at least a year before the date, not less than two months out. They also offer tidbits about the project's infeasible goals and some particularly shocking facts about the lengths some were willing to take for McFarland to make the festival happen.
For Influencer Culture 101: Hulu
People in their 20s and mid 30s who watched Fyre Fraud probably didn't need some of the on-the-nose stock footage and cartoons that are included to illustrate millennial and influencer culture. But for those who do need a lesson on how Fyre Festival was essentially a byproduct of Gen Y culture and social media—most of the people involved in promoting and buying tickets were millennials—Hulu's version presents a "millennial culture for beginners" class. Influencers who attended and promoted the event shed light on their experiences and what millennials crave, and interviews with journalists and social media experts also offer insight.
To get a local side of the story: Netflix
While Hulu's film features an entertaining interview with one of the local bartenders, Netflix's offers insight from multiple Bahamians who were unwittingly roped into the scam. The interviews provide humorous, shocking, and, at times, heartbreaking details about their experience helping set up the event and how it has affected them (and continues to do so).
To learn about McFarland's scamming origins and partnership with Ja Rule: Both
Both films focus on how McFarland started as an entrepreneur in New York; he founded Magnises, a members-only credit card company for wealthy millennials that offered benefits such as tickets to high-profile events (spoiler alert: these benefits didn't exist.) Along with covering his first venture, the two films also show how he came to partner with Ja Rule for Fyre Festival and touch on how the event was supposed to be a launching point for the Fyre app, a Tinder-esque swiping platform to book A-list performers at events.
To get the most objective take: Neither
While both films tackle the festival with a darkly humorous attitude, leaving almost no question untouched, both make questionable journalistic choices. Hulu paid McFarland to do the interview and failed to reveal the fee. And one of the producers of Netflix's doc is Jerry Media, the company McFarland hired to promote the festival. Jerry Media employees are interviewed prominently, and at one point discuss how they were directed to delete negative Instagram comments from the festival's account in the days leading up to the event.
To see the infamous cheese sandwich: Both
The star of both films arguably is the cheese sandwich—yes, that cheese sandwich. In both docs, interviewees recall the tweeted photo of two slices of American cheese on two slices of wheat bread, served with a small salad, which was served to hungry and distressed attendees. People interviewed in both films say that social media post is what truly turned the Fyre Festival into a viral, headline-making event for all the wrong reasons.