4 Tips for Planning Your Next Teambuilding Event
Here's what to keep in mind to make an off-site outing productive, effective, and fun.
June 12, 2015
From scavenger hunts to cooking workshops, teambuilding events help groups and company employees build relationships, acknowledge accomplishments, resolve issues, and ultimately promote a better working environment. Teambuilding experts share their tips for making the most out of office outings:
Set goals.
Whether mediating the company's reorganization, celebrating an achievement, or addressing a problem, the teambuilding event should have a clear objective. "For example, if a company is merging two teams they may be experiencing issues around trust and cultural change or would like to focus on building and developing relationships within the new team," says Corinne Tatham, global client relationship manager for Alexandria, Virginia-based Catalyst Teambuilding Events. "It's best not to tackle every issue within one event. Focus on one or two rather than diluting the impact of the event with too many issues."
If the objective is simply to work better as a team, organizers should try to be specific about areas of improvement. "We often hear from clients who are looking to strengthen their team's ability to listen to one another profoundly; to brainstorm without fear of looking foolish; to manage time well; and to delegate," says Myles Nye, co-founder of Wise Guys Events in Los Angeles.
Choose the right activity for the company.
Once goals have been established, planners should pick a teambuilding event based on the company—not the latest trend. "Too often I get phone calls from companies saying, 'I heard about this cooking event and it sounds like fun. Let's do that.' But when I ask what they are trying to accomplish, they either have no idea or have chosen an event that doesn't meet their goals," says Sharon Fisher of Orlando-based event production company Play With a Purpose. For example, if the goal is to build camaraderie, a recreational activity like bowling, golfing, or a local 5K run could work.
Also, factor the demographics and psychographics of the group into your decision, Fisher says. "What is the gender mix? What is the age range? Physical limitations? What is their seniority level? Their job type?" These dynamics may dictate the type of activity that's most appropriate. Plus, activities that include alcohol, such as a wine tasting, may not be suitable for some groups, adds Scott Flynn, C.E.O. of Palm Harbor, Florida-based Best Corporate Events.
Keep team size small.
Regardless of the number of participants, when dividing up the group into teams, planners should keep the number manageable. "More important than an ideal number of attendees for an event is the number of participants per team. Be sure to limit the team size so that everyone is engaged. Larger teams allow for individuals to detach themselves while the rest of the team presses on," says Alan Ranzer, managing partner and co-founder of Impact 4 Good, a teambuilding company specializing in community service activities.
Fisher's rule of thumb is six to 10 people per team maximum, depending on the activity. "This gives you enough people to fill all the roles, accomplish the task, and allow everyone to participate, but it is small enough that teammates can't 'check out' without it being noticeable," she says.
Make it meaningful,
"Even if the group selects a teambuilding program that is highly focused on fun and laughter, we make the outing meaningful by dedicating the last hour to a debrief, where a facilitator leads a discussion about what the team achieved during the teambuilding outing and how to translate the experience back to the workplace," Nye explains. Moreover, organizers shouldn't lose ground on the progress made when a group returns to the office. Instead, set action points for employees to follow. "Individuals and teams need to have specific objectives, which they are accountable for in order to take things forward," Tatham says. "Without post-event objectives, individuals may be consumed by their day job, reducing the longevity of having the motivational shared experience."
Flynn adds that corporate social responsibility programs like a bike-building activity offer a charitable component that makes the experience meaningful even beyond the cubicle space.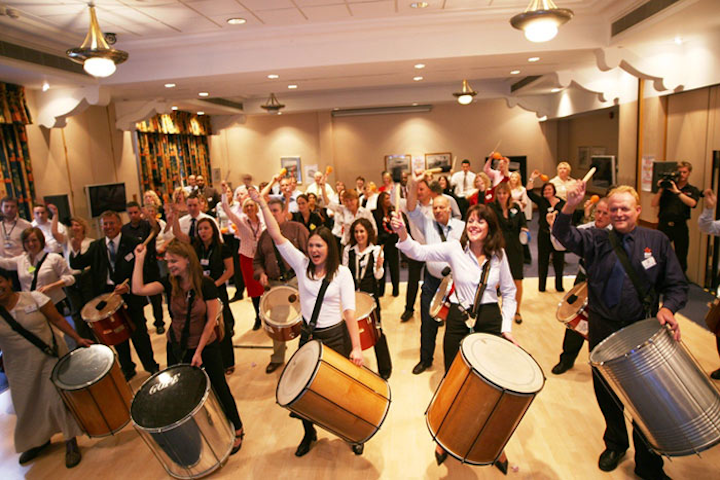 Photo: Courtesy of Catalyst Teambuilding Events
Featured Venues/Suppliers: