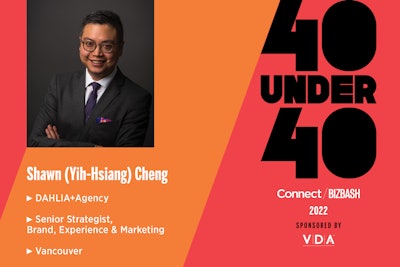 Shawn (Yih-Hsiang) Cheng, CMP, DES, is a 37-year-old senior strategist of brand, experience and marketing at DAHLIA+Agency. He's based in Vancouver.
What I do:
I am a change agent. I helped organizations navigate through their challenges in today's uncertain time. I assist companies to elevate themselves to the next level through strategy, content curation and experience design.
Why I love my job:
I love what I do because it encourages me to be curious at all times, and gives me the opportunity to empower others through strategy, innovation and creativity.
My career journey:
With over 10 years of experience in the business event industry, I have successfully designed and executed various types of events from cultural festivals and incentive programs to international congresses and conventions. I started my career in the hotel sector, then trained and grew through a tourism bureau and a nonprofit organization, and my last employment was with MCI Group for over seven years.
I am actively involved with industry associations and advocacy works. I recently served on the board of PCMA and MPI chapters and currently am an acting board member with the Global Events Collective and member of the BC Meetings & Events Industry Working Group.
I am also the co-founder of #EventProfsBreakShit, an online community of event professionals who come together to test and experience event technology together.
My greatest career accomplishment:
One of the proudest moments of my career was in 2018, when I helped a client transfer a scientific-focused trade show to a festival that was also open to the public. It generated huge media interest and was successful from both the finance and organizational prospectus.
How I helped my organization survive during COVID:
During COVID, I was part of an internal task force that developed templates, proceeds, databases and training for the sales and operations team. We helped the company reposition quickly in the market and were able to provide immediate support to our clients. I was also part of a local industry working group, in which we worked with the government closely to advocate on behalf of the industry and develop strategies and communications in support of the reopening efforts.
The time I averted a complete event disaster:
I was working on a project in 2019 in Latin America and a lot of things went wrong. Many unpleasant surprises happened on-site, and we were in crisis control mode at all time. Trusting our team and trying to breathe are the two [reasons] we were able to survive in the end.
My most memorable event experience in the past year:
I designed a virtual conference for an academic client last summer that received rave reviews. Many participants said it was the best virtual conference experience they had for the past two years. The secret? I deployed a metaverse-like environment to the program so they could walk around and interact with others naturally. It was before Facebook changed its name.
Best advice I've ever received:
This industry is small. Be careful of what you say, and don't f-ck up, because people will know.
Impressive stats or numbers I'm responsible for:
I took over an annual conference and increased the client's revenue by 15% and the company profit by 40%.
What's next?
I would like to continue to grow the #EventProfsBreakShit community, and I am working on a secret project that hopefully will bring some fresh air to the business event industry.
What I do outside of work:
I like to cook, play badminton and go hiking. I am also a wine, whiskey and coffee lover—I know, expensive bad habits!
Dream vacation:
I would love to do a coast-to-coast tour around Italy. It's on my dream board!!
Favorite icebreaker line:
Not sure if this still works in a post-COVID world, but ... where is the food station? What dishes do you recommend I try?
Connect with Cheng on LinkedIn and Twitter.
---
"Connect x BizBash 40 Under 40" is sponsored by VDA, an experiential marketing and event design agency based in Massachusetts that specializes in custom live, virtual and hybrid experiences.