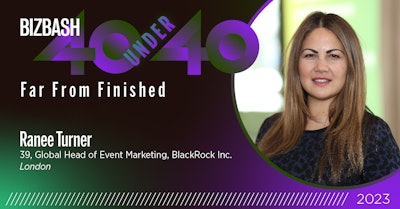 Ranee Turner, 39, is the global head of event marketing at investment management company BlackRock Inc. She's based in London.
My career journey:
The role I have today is one I have been nurturing since I was 19 years old. Upon completing my high school education, I pursued a part-time degree and sought to gain hands-on experience in an office setting. My first opportunity to do so came in the form of a job with a member-based association for tax professionals based in Sydney, Australia.
Within my first month at the company, an opening became available on the events team when a team member left. I was offered the chance to step in as a junior event manager and coordinate educational programs for their members. This opportunity proved to be the starting point for my career as I had no idea at the time how impactful it would be.
Throughout my career, I have accumulated a wealth of event experience across various industries, including fashion and PR, government, and financial services, where I am currently employed at BlackRock. Although I hail from Australia, I have lived in London for the past 17 years, and I have been a proud member of the BlackRock team for nine of those years.
What my day-to-day looks like:
As global head of event marketing at BlackRock, I am responsible for overseeing the firm's global event operations, setting the firm's global event strategy, and uncovering new opportunities to leverage the power of events to design impactful experiences.
My greatest career accomplishment:
One of my proudest professional achievements is the creation of a strong leadership team that not only works together seamlessly and brings a wealth of diverse perspectives to the table, but also supports and looks out for each other.
What inspires me:
I find inspiration in lots of things like art, travel, and food. But what I am always drawn to is seeing ideas come to fruition. That's what I love about events!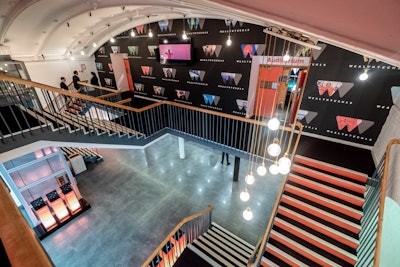 Some impressive stats I'm responsible for:
Over the past year, as a global team we successfully engaged with more than 30,000 individuals, including clients and employees, across more than 62 countries through our event initiatives.
My most memorable event:
An event that remains ingrained in my memory took place earlier in my career, prior to my current position. I was presented with the daunting challenge of transforming a resort property in Bali, Indonesia into an appropriate venue for a high-level corporate government event.
The task at hand entailed much more than just designing the on-site event experience. It involved leading coordination with cross functional teams, including the local foreign office and government, to ensure the smooth arrival and departure of attendees; obtaining the necessary equipment and supplies into the country; and securing the location.
One highlight of the event was seeing the attendees participate in corporate meetings within traditional Balinese huts, surrounded by the lush, tropical atmosphere. Despite the many challenges faced, I felt a great sense of accomplishment and gratitude upon the successful completion of the event and the positive feedback from those who participated.
A time I averted a complete event disaster:
I was once significantly let down by a venue the week before a large event. Due to a structural issue, they had to close the venue and didn't give us any pre-warning.
Faced with the challenge of having to cancel the event, I quickly shifted into problem-solving mode and reached out to my network of industry partners for help. Thanks to our collective efforts, we were able to secure a new location within 24 hours. I traveled four days earlier than planned ahead of the event to connect with vendors and align the new location, and the event was a huge success.
Stressful situations and unexpected problems are part and parcel of the event industry, but having a capable team with a solution-oriented mindset and a strong network of partners can go a long way!
My leadership style:
I like to create an environment that encourages and fosters creativity. I want my team of more than 20 event professionals globally to feel empowered and motivated to think outside of the box, bringing their unique ideas to the table.
Fostering a safe environment for collaboration and understanding that creativity often involves trying things that may not work out. I think it's important to be comfortable with a level of failure, viewing any setbacks as opportunities for learning and growth.
My ideal day OOO:
My ideal day OOO is somewhere warm and remote, preferably on a beach and spending time with my family.
---
BizBash's 2023 40 Under 40 list is sponsored by VDA, a Massachusetts-based experiential marketing and event design agency that specializes in custom live, hybrid, and virtual experiences designed to drive business growth through client collaboration and creative thinking.